The global megachurch has been engulfed by multiple scandals in recent months. As allegations of cover-ups, affairs and inappropriate behaviour do further damage to Hillsong's reputation, Tim Wyatt asks whether this pre-eminent Christian brand can weather the storm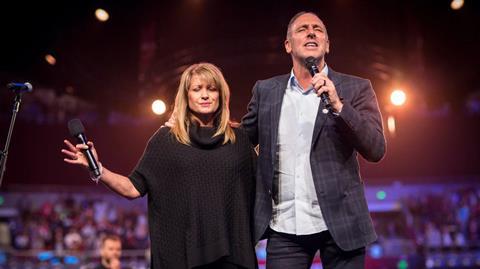 In April, the founder of Hillsong Church, Brian Houston, briefly posted on Instagram a screenshot of a text message. He claimed the communication came from a senior Hillsong Church board member, and showed they were making his wife Bobbie's church role redundant. "Are we supposed to act like this is all OK? It's not! Our beautiful church is losing its soul," he wrote. The spat – Hillsong later denied the text was notification of her redundancy – marked an astonishing fall from grace for the Houstons.
As recently as January, the couple were still the global senior pastors of Hillsong Church, a megachurch network which had grown from a church plant in the Sydney suburbs to an empire of 125 sites in 27 countries. A few turbulent months later and Houston's Instagram, which previously served its 705,000 followers a steady stream of upbeat inspirational quotes and videos of the tanned couple luxuriating in the Sydney sunshine, was embroiled in sniping at the church the Houstons had founded.
The first crack in the facade came last year, when Australian police announced Houston had been charged with failing to report historic child abuse carried out by his father, also a pastor, when he became aware of the crimes in the 1990s. In January, Houston took a leave of absence from leading Hillsong, vowing to fight the charges. "I vehemently profess my innocence," he said. The trial is expected to take place later this year.
Two months after Houston was charged, Hillsong's board revealed the leader had been the subject of two other complaints. In the first, he was accused of sending "inappropriate" texts to a younger member of Hillsong staff more than a decade ago, which led to her eventual resignation. Then in 2019, he had spent 40 minutes inside the hotel room of a woman attending a Hillsong conference late one evening. The board claimed the 68-year-old had become "disorientated" after mixing alcohol with his anti-anxiety medication and unwittingly entered the wrong hotel room. A few days later, Houston resigned, and the descent into acrimony began.
It is not the first time prominent Hillsong figures have seen their ministries implode. In 2020, Houston was forced to fire the high-profile pastor of their New York churches, Carl Lentz, who had admitted an affair. Hyper-cool Lentz, one-time spiritual advisor to Justin Bieber, had become famous – and then infamous – for building a church which was as much a celebrity hangout and merchandise machine as a house of God.
The day after Houston resigned, highly critical Discovery+ documentary A Megachurch Exposed aired on US television. It portrayed Hillsong pastors as overpaid bullies living the high life, funded by church donations while unpaid volunteers worked twelve-hour shifts running services and doing their laundry. When God Goes Viral was broadcast on the BBC last summer, it was the second-high profile documentary in as many years to take aim at the church network.
'Not again'
For many, the latest series of crises at the top of Hillsong are a wearying reminder of the never-ending carousel of Christian scandal. In recent years, Christian leaders as varied as Catholic disability pioneer Jean Vanier, conservative Anglican stalwart Jonathan Fletcher and globetrotting evangelist Ravi Zacharias have all been exposed as abusers.
no denomination, tradition, theology or church structure is immune to abuses of power or scandal
"My first response was 'not again'," said Graham Nicholls, the pastor of an independent evangelical church in Sussex and director of the church network Affinity. The enormous success of Hillsong's music ministry – their worship songs have been among the most-sung worldwide since the 1990s – and its fame beyond the Christian world meant the Houston's downfall was "embarrassing and sad", he said. "I feel just a great sadness for the reputation of Christ." But what the departure of the Houstons means for Hillsong Church remains less clear.
Reform
Jonty Langley, a Christian writer and communications consultant who attends one of Hillsong's churches in the UK said Houston was a fairly peripheral figure in his experience, despite the Australian's status as global senior pastor. Every now and then the regular services at his church would be interrupted by this "slightly strange but quite likeable guy called Brian Houston" from Australia, he explained. "He always seemed to be quite goofy…Nice, but not necessarily as smart as the head of Hillsong UK, and not particularly relatable to me." Although Houston was not especially involved in how individual Hillsong congregations ran, as founder-pastors, he and Bobbie set the tone for the whole movement in many ways. It is under the Houstons' leadership that Hillsong has transformed into a global, youth-orientated megachurch brand, with high production values and an achingly cool aesthetic, relatively out of keeping with traditional expectations of a church. And despite his fairly low profile, Houston was ultimately in charge: it was he who stepped in to fire Lentz in New York; his children all play major roles in the organisation; and Bobbie ran Hillsong's thriving women's ministry and Colour conferences. In their place, Phil and Lucinda Dooley have been appointed as interim pastors – former youth pastors at Hillsong Australia who were sent to South Africa in 2008 to plant a Hillsong church there.
In the current vacuum, the Hillsong board has announced that it is reflecting on how the megachurch movement could be reorganised under new forms of leadership. "The board has always endeavoured to act biblically and in accordance with good governance. However, we understand that there has been a significant breach of trust," a statement said. As a result, the Hillsong global board has been reconsidering its governance model which "historically placed significant control in the hands of the senior pastor" and is asking outside experts how to build in "higher levels of accountability".
Hillsong put a real emphasis on honouring leaders, which I'm moderately uncomfortable with
It's clear from leaked documents that the board is internally divided over how to reform Hillsong in the wake of the scandal too. In April The Guardian published a leaked letter from John Mays, Hillsong's head of HR, in which he recommended Houston be fired before he could resign. According to Mays, Houston believed himself "beyond disciplinary boundaries" and was left unchecked to act he wished. "Unfortunately, I believe this typifies the leadership that is foundational to many unhealthy people practices employed within our church," Mays wrote. He also decried the board's public explanation of Houston's contentious visit to the wrong hotel room as "dribble (sic)". However, in a sign of how messy the power struggles within the church have become, Mays himself has previously been embroiled in scandal. His married son Jason, creative director at Hillsong's music arm, sexually assaulted an American pastor's daughter while she was studying at Hillsong's Australian college. Despite pleading guilty to the charges of indecent assault in 2020, Jason Mays was kept on staff and only served a twelve-month ban from ministry. His victim, Anna Crenshaw, later said she did not feel able to report her assailant to Hillsong as it was his father, John, who would deal with the complaint.
Reaping what you sow
The overlapping controversies have been particularly damaging to the church because they align so worryingly with existing criticism. Many argue Lentz and New York Hillsong fell because they began to believe their own hype and allowed a culture of aloofness, unaccountability and celebrity Christianity to take root. And now, it appears that even the man who thought Lentz had gone too far believed that he could operate outside of the constraints of his own board. Langley said it was true that Hillsong had issues akin to so-called "founder syndrome" in start-ups, where charismatic leaders have too much power and few restraints or accountability.
"Hillsong put a real emphasis on honouring leaders, which I'm moderately uncomfortable with," he said. "It can turn quite toxic without intending to, and if you have a culture of somebody who is unable to be challenged, I find that really problematic. Everybody needs a boss who can get rid of them or discipline them." He argued the Houston scandal would, in the end, be good for Hillsong because it has forced the church to put a proper governance structure in place.
Learning the lessons
Nicholls, whose network Affinity recently published resources to help churches safeguard themselves against abuses of power, said movements like Hillsong were particular vulnerable to these kinds of scandals. In smaller independent churches accountability derives from personal relationships, he argued, while in larger, formal denominations there are bishops or other structures to oversee pastors. But Hillsong falls between the two models – too large and unwieldy for personal accountability and yet lacking any institutional framework as it is the creation of just one couple. He also noted leadership of churches in the New Testament tended to rest on a group, not an individual, and suggested multiple leadership could also mitigate against further crises.
However, as the lengthening list of fallen Christian leaders powerfully demonstrates, no denomination, tradition, theology or church structure is immune to abuses of power or scandal. "The Catholic Church is about as far from Hillsong as you can get and they've had a few scandals," noted Langley drily. Nicholls agreed, saying the story had immediately made him wonder not just how Hillsong had got it so wrong, but also where similar things might be happening in his own network of churches.
While more robust accountability and church structures cannot hurt, in the end Nicholls and Langley agreed that avoiding the controversy which has consumed Brian and Bobbie's decades of ministry comes down to choosing leaders with character and integrity. But Hillsong will ultimately be fine, Langley believes. "I'm sure behind the scenes there is panic and disarray, but I would say to them: chill out. The vast majority of people in your church don't care. It's not actually a cult – I was never there for Brian."

Tim Wyatt is a freelance journalist and the host of the 'Premier Christian Newscast'. The podcast features weekly analysis on the latest Christian news.
View full Profile