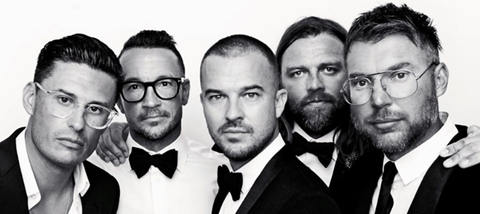 To the uninitiated the above photo may look like an album cover for a singing quintet. Five handsome chaps looking rather dapper. All that's missing are a few vintage mics.
But alas they are not. Instead they are five pastors who have more than Jesus in common. They're all friends with Justin Bieber.
The above photo was taken at a private celebration last Monday to mark the singer's marriage to Hailey Baldwin.
Here's the lowdown on the each of them, in order of left to right.
1. Chad Veach
After serving with Judah Smith at Churchome, Chad Veach moved to Los Angeles in 2014 and a year later founded Zoe Church (Zoe in Greek means "abundant life" and is pronounced "zo-AY"). Today the church meets in multiple locations with around 1,600 people attending each Sunday, including Christopher Pratt and his wife Katherine Schwarzenegger. Veach is married to Julia and has four children, including Georgia who has a rare brain condition and is the subject of his book Unreasonable Hope: Finding Faith in the God Who Brings Purpose to Your Pain.
Bieber link: Veach and Judah Smith joined Justin Bieber in 2017 for part of his Purpose tour. "I think he wanted, ugh, I hate to use this word, but 'positive influences,'" said Julia Veach of the arrangement.
He said: "Instagram built our church. Isn't that fascinating?"
2. Carl Lentz
Carl Lentz studied at Hillsong International Leadership College in Australia. In 2010 he co-founded Hillsong NYC, where he now serves as lead pastor. His first book Own The Moment was released in 2017. Earlier this year he expressed anger and sadness over a law passed in New York state which makes it legal to have an abortion to the last day of pregnancy.
Bieber link: Met through Judah Smith. Bieber spent time living with Lentz in 2014 as part of his effort to overcome destructive behaviour, including drug use. Later Lentz baptised Bieber in NBA star Tyson Chandler's bathtub. Lentz is also believed to have officiated at the couple's private celebration last Monday.
He said: "I will pray again that I never stop seeing the other side of the coin, the possibility of redemption, the audacious view that hope can arise in the middle of the worst of situations."
3. Rich Wilkerson Jr
Second cousin to David Wilkerson (of The Cross and the Switchblade fame), Rich Wilkerson Jr founded Rendezvous, the youth arm of Trinity Church in Miami which his parents led, between 2007 and 2015. He then popped down the road and planted VOUS Church. In 2013 Wilkerson officiated the wedding of Kanye West and Kim Kardashian, and in July preached at 'Sunday Service', a new weekly Christian gathering begun by West. You can read Premier Christianity's Profile interview with him here.
Bieber link: After briefly dating and breaking up, Justin Bieber and Hailey Baldwin rekindled their romance at VOUS conference in June 2018.
He said: "In my time of getting to meet some high-profile celebrities I think you start to feel for them in a lot of ways. When you get close to someone, you start to see their story — and compassion comes."
4. Joel Houston
Not technically a pastor, but Joel Houston is Hillsong's global Creative Director. The son of Hillsong's founders Brian and Bobbie Houston, leads Hillsong United who travel the world with their worship music and to date have produced 17 albums.
Bieber link: Co-founded Hillsong NYC with Carl and Laura Lentz.
He said: "Evolution is undeniable — created by God as a reflective means of displaying nature's pattern of renewal in pursuance of God's Word — an ode to the nature of the creative God it reflects — and only ever in part — not the SOURCE! Science and faith aren't at odds. God created the Big-Bang." It caused some controversy at the time.
5. Judah Smith
Smith took up leadership of Churchome (then called City Church), Seattle, in 2009 from his father Wendell. Today the church meets in six locations, including one in Los Angeles. Pro-golfer Bubba Watson and Seattle Seahawks quarterback Russell Wilson are among the church's members. Judah and his wife Chelsea recently launched the Churchome Global app, with the aim of "trying to take church to the palm of your hand". He has written a number of books, including The New York Times bestseller Jesus is .
Bieber link: Bieber's mum once played Smith's sermons while he fell asleep at night. When the two met Bieber said, "You used to put me to sleep with your preaching." The two have been close friends for many years and in August Bieber led worship at Churchome.
He said: "Sometimes we treat God like an antique chair, when, in fact, God is more like an IKEA couch. Not taking away his worth or his grandeur, of course. But in terms of relationship, we often treat God more like an expensive antique, when he invites us to treat him like an IKEA couch."
'Extraordinary people who love me'
In an Instagram post last month, Justin Bieber talked about the trouble that fame brought him and how he is today in a happier place, in large part due to "extraordinary people who love me for me".
He also spoke of God's love and wanting to be a good man. As for his wife Hailey — whose father Stephen Baldwin became a Christian following 9/11 — she has spoken of wanting to "represent Jesus". The couple regularly attend church together and have spoken of waiting until their wedding to have sex.
There may be elements of these five pastors' leadership that don't sit entirely comfortably with us. We may even read something about the Biebers, or see a social media post, and wonder how it aligns with the Christian faith. But there seems little doubt as to the good influence these pastors are having on the couple, who themselves have been remarkably open about their faith in Jesus. In a society which often sneers at faith, it's a brave thing to do. To their army of followers — and perhaps even us all — they are setting a positive example. Who knows just how much God will use them, and for that matter how much God will use this quintet of pastors in the celebrity world. It's an encouraging thought.
Enjoyed that? Get more articles covering news, culture, faith and apologetics in every print issue of Premier Christianity magazine. Subscribe now
Premier Christianity is committed to publishing a variety of opinion pieces from across the UK Church. The views expressed on our blog do not necessarily represent those of the publisher.