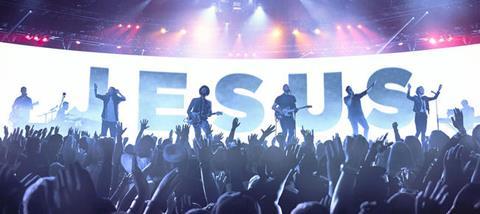 It's too much like a rock concert. They always bang on about money. The worship leader's jeans are too skinny. The criticisms of Hillsong Church are many and varied, ranging from the reasonable to the absurd.
It seems as if almost everyone has an opinion on this church. And having personally visited Hillsong's campuses in London, New York and Los Angeles, I can see why. Bright lights, dance music and perfectly choreographed services aren't what most people imagine when they picture a church meeting. But Hillsong has never been afraid to do church differently. And, while some Christians are critical of the church's methods, many of those outside of the faith are being drawn into Hillsong and encountering God in the process.
It's hard to overstate Hillsong's influence on evangelical Christianity. Many of us have stood with our "arms high and heart abandoned in awe of the one who gave it all" ('The stand'). Countless other songs including 'Hosanna', 'This is our God' and the Grammy award-winning 'What a beautiful name' can be heard in hundreds of churches across varying denominations.
Shout to the Lord
What began in the early 1980s with 30 people meeting in a school hall in Sydney, Australia is now a worldwide movement, with 130,000 people attending the church's weekly citycentre services in 21 nations. Hillsong London is one of the church's biggest hubs. It meets in three locations across the capital, with the biggest venue, the Dominion Theatre, playing host to the Bat Out of Hell musical during the week. The church also holds services in Guildford, Tonbridge, Oxford, Newcastle, Birmingham and Edinburgh. And Hillsong's European conference takes place inside one of the capital's biggest venues – the O2 arena. As if that wasn't enough, the church also takes over Wembley Arena every December for the UK's biggest carol service (30,000 people attended Hillsong Carols last year).
The style has got to be contemporary but the message is eternal
Hillsong's rapid global expansion is, in the words of its founding pastor Brian Houston, "a miracle". Why has it been so successful? "I can't give an explanation as to why God blesses certain things," Houston answers. The leader is keen to avoid using numbers alone to define his achievements. He proffers a different definition of success: "It is being effective in doing whatever God has got you on this earth to do…I think it really is understanding God has a plan and a purpose for your life and being committed to pursuing that."
One of the first signs that the church was beginning to have influence outside of Sydney was when a then little-known worship leader Darlene Zschech penned 'Shout to the Lord' in the early 1990s. In the pre-internet days, worship songs would often take months, if not years, to travel. But this song was different. Before a recording had even been made, Zschech had begun receiving letters from around the world thanking her for the song.
I give you my heart
Two years after 'Shout to the Lord' was penned, a young music student joined the church. Reuben Morgan had been writing songs since he was eight but was taken aback by the atmosphere at Hillsong: "The best way to describe it is there's this vacuum for new songs all the time. So if that songwriting gift is in you, it gets pulled out."
The first song the church "pulled out" of Morgan was 'This is my desire (I give you my heart)' in 1995. Morgan has gone on to write some of the church's biggest songs, including: 'My redeemer lives', 'Mighty to save' and 'Cornerstone'.
Morgan finds it "a mystery" why some songs travel and others don't. And he's often surprised at the songs that others pick up. But he adds that "singing the Bible" is important: "It really helps when you have a song that paraphrases a scripture people love."
To the ends of the earth
The songs are only part of the story. For Morgan, and many other leaders in Hillsong, their real passion is the local church. The 43-year-old says he loves leading worship on tours and playing at "huge celebrations", but he often wonders "where do these people go [afterwards]?"
"Some people go to an event but don't go back to a church. I always think when we're travelling what really builds the kingdom is churches."
At the time of our interview, Morgan is just days away from launching Hillsong's first service in Liverpool – "we cannot wait, we're on the edge of our seats!" It's the culmination of a long journey for the worship leader and his family. They left Australia in 2012 to lead Hillsong London's creative team. But after feeling called to church planting for some time, the family moved again, last New Year's Eve, to Liverpool.
"Pretty much since I became a Christian we've had a real passion for this part of the world," he tells me. And he isn't intending to move again: "Our plan is to be here for life. I don't have another plan."
It's not uncommon for local church leaders to feel irked when huge organisations such as Hillsong move in and plant a church on their doorstep. But Morgan says he's been "shocked" at how welcoming other leaders have been in Liverpool.
"I really do think there's something new and fresh happening. There's a real hunger for God to do something, and a spirit of unity. I haven't had any animosity from anyone, or any feeling of 'you're coming into our territory and what are you doing here?' People have been really generous and warm."
The man tasked with overseeing Hillsong's growing operations in the UK (the church is also planning services in Croydon and Reading) is senior pastor Gary Clarke, 58 (pictured, right). Since arriving in London nearly 20 years ago, Clarke has seen Hillsong's presence in the UK grow from 110 to 14,000. Most pastors would consider this a great success, but Clarke doesn't seem all that satisfied. When I point out that the reported seven per cent yearly growth of attendance at Sunday services is a figure many leaders would long for, he shoots back: "Seven per cent is good, but I'm not sure it makes me happy. When you're talking about all the people who don't know Christ, we've got a lot of work to do."
One thing Hillsong's critics and fans agree on is that the church is trying to be relevant to the culture. Clarke puts it this way: "The way we speak, and the style and the way in which we do things, has got to be contemporary, but the message is eternal."
We have as many 'not fans' as people who like us
One of the most revealing parts of my lengthy conversation with Clarke was when he said: "I don't see us as a church planting organisation." Instead he says Hillsong is "one house with many rooms". In less spiritual language, you could say, it's a franchise.
Every Hillsong location I've visited has had a 'welcome home' banner, a countdown video before the service, a brilliant sound system, more young people than older folk, a short talk on money and at least one smoke machine. The notices are delivered in the form of television-style adverts on the big screen. Usually, the only songs that are sung are written by Hillsong's own worship leaders. It's rare to see an event or book promoted unless it's connected in some way to the church. All of these elements point to a franchise model similar to McDonald's or Starbucks – it doesn't matter if you're in Bali, Kiev, Tel Aviv, Moscow or Bermondsey; you can expect the same service (in both senses of the word).
All I need is you
Gary Clarke first made a commitment to Christ at an evangelistic event in his home nation of Australia. "I can remember looking at Kenneth Copeland and thinking: 'There is something about you.' I haven't got a clue what he spoke about, all I know is that what he talked about resounded as truth."
A week after Clarke responded to Christ at the event, "two strange ladies" turned up at his workplace to "follow up". Clarke replied he had no idea what "follow up" meant and gave them the cold shoulder. He'd no concept of what being a Christian or going to church meant. So he carried on living life in the same way as before. It wasn't until two years later when Clarke found himself in church for a second time, that he recommitted his life to God and everything changed.
"I look back over those two years and I can see God at work in my life," he says, reflecting on his long journey towards discovering that Jesus was all he needed. "Nothing about my lifestyle changed, but when I walked in that second time I knew what I was doing and my whole life turned 180 degrees. I had to work it out. I find myself now, thinking, 'We've got to give people a chance to work it out.'"
This philosophy of giving people room to encounter God, and time to "work it out", might partly explain Hillsong's reluctance to talk about hot-topic issues from the front. It's all part of their seeker-friendly approach. Sunday services are designed to be as welcoming as possible for non- Christians.
Brian Houston's recent public stance against the legalisation of same-sex marriage in Australia would suggest the church, like most Pentecostal congregations around the world, holds traditional views. But, like many big churches, Hillsong isn't keen to talk publicly about beliefs many would regard as divisive. When Houston was asked in a press conference about the church's position on homosexuality, he remarked: "The real issues in people's lives are too important for us to just reduce down to a 'yes' or 'no' answer in a media outlet."
The mini-documentary Why is Hillsong so attractive to young people? And where does the money go? produced by The Feed has been viewed more than 250,000 times on YouTube. In it, a young bisexual woman who attends the church in Australia is asked how she feels about "the handful of passages in the Bible that say things like a man shall not lie with a man". Laughing, she replies, "I kinda just look over them! I would just read it and be like 'OK cool' and just flick the page."
This video came up in my conversation with Dan Blythe. He's worked at Hillsong London for eight years. When I ask for his job title he responds: "You'd think job titles would be clear, but they're not really. I guess it would be 'creative director of media' or something like that."
I put it to Blythe that regardless of your views on sexuality, choosing to ignore the Bible surely isn't a position that Hillsong would condone. Isn't this a failure of discipleship on their part? "The truth is, young Christians across the whole of the UK do that too,"
Blythe replies. "They may not say it like that, but they do it, because they haven't truly understood what it means to follow Jesus.
"The more you fall in love with Jesus the less you care about what the world says. So along her journey someone will have that conversation with her, but it needs to be at the right time, in the right way and through relationship. If it's something that's got a huge pull on someone's heart you can't give a throwaway answer. We have those conversations all the time."
Tell the world
When I visited one of Hillsong's growing number of churches in the USA, I fully expected to spot at least one celebrity. I was in Los Angeles, after all. But it wasn't to be, although I did enjoy receiving a bunch of high-fives from some very smiley people in Hillsong T-shirts on my way inside the theatre. The biggest pop star on the planet, Justin Bieber, often attends. And he recently posted a cover of Hillsong Young and Free's song 'Sinking deep' on his Instagram account.
Hillsong wants to tell the world about Jesus, and doesn't mind whether you're rich or poor. Nevertheless, it is striking how many big names the church seems to attract. Hailey Baldwin, Nick Jonas, Kourtney Kardashian and Selena Gomez are all A-list celebrities as far as most young people are concerned. And they've each been spotted at the church.
According to Blythe, the celebrity phenomenon isn't restricted to the USA, as famous footballers, actors and singers have all attended Hillsong London. The reason why I'm not given names is the same reason why these celebrities feel so comfortable attending: They're treated like normal people. Or, in Blythe's words, "There's no hype around them."
But sources inside the church tell me Hillsong has given celebrities special treatment – providing aides to get their drinks and giving them complimentary passes for their expensive conferences. Clarke says people's perceptions are wrong on this point: "We don't cordon people off and we definitely don't pay them to be here. They've got enough money to pay for it themselves."
"When you say 'there's someone to look after them', that's just being hospitable to people who are used to having people look after them. If you take any A-list celebrity, they're not that used to walking through the front door, they always get ushered through the back. So, to allow them to come to church, it's a privacy thing and to allow them to be themselves…It's not a high and mighty, 'aren't you special' attitude."
Points of difference
Like many Christian 20-somethings, Catherine Waithe-Arnold is intrigued by Hillsong. She recently visited the church's north London venue as part of her PhD research on "theomusicology". Speaking to me shortly after the service, Waithe-Arnold said that while there are many positive aspects to the church, she agrees with the those who worry that Hillsong elevates entertainment and creates a culture of hype.
"If you think about music, it's inherently cathartic. It has physical and psychological consequences on humans. For example, if you listen to fast music, your heart rate goes faster
So if you're in a room full of people and it's dark and you share values and experiences and you listen to music that you're all familiar with – that in itself is going to mimic a religious experience.
"When I was there in this dark room with all of these lights and it was stimulating and everyone enjoyed the music – I thought, is this just a kneesup or is this a worship session? Because I feel this way when I listen to pop music! I found myself singing along – but I didn't feel like I was worshiping Jesus."
When I put this to Morgan, he said the heart behind the exterior was all about pointing people towards God: "I love going to concerts, I'm an absolute fan of music. But I think what Ariana Grande is going for is different to what we might be going for in a church service. I would say the lights, the music, every note that we play, the sound system, the words we say from the platform are all geared towards people finding answers in Jesus."
The more you fall in love with Jesus the less you care what the world says
Blythe believes the attitude of the person attending also matters. "If you're there and you're trying to be entertained then it will feel like a performance. But if your heart is set on God, you're not there for entertainment. You want to glorify him.
"I feel like the more mature you are, you can actually worship anywhere. I've been a Christian 15 years and I could go to a church with hymns and I can worship God because I've got a maturity where the style doesn't dictate whether I can worship God or not. The young people and non-Christians don't have that maturity yet."
When I ask Clarke for the most common criticisms he hears about the church, he stumbles. "The problem is I don't listen to it anymore, so I don't even know what it is...All I know is, we have as many 'not-fans' as people who like us."
Later, when I ask him what's been the hardest aspect of leading Hillsong London, he replies: "It might sound strange, because everyone thinks pastors are immune to it, but I think learning how to deal with the criticism…Because whether people believe it or not, you don't throw away a career, you don't move here, and start from absolutely nothing, because you're insincere, do you?"
Blythe has strong words for Hillsong's critics. "Our stance is this: The Church is the bride of Christ. If you're having a go at the bride, having a go at another church, it's like telling the groom that his bride is ugly or telling the groom you hate his bride. You'd never do that in million years, so why would you do that to Jesus?"
One key point of difference between Hillsong and many other churches in the UK is the former's heavy emphasis on tithing (Hilsong even has its own app which is dedicated to enabling congregants to give financially). Clarke makes no apology for talking about money in every Hillsong service. "It's easy to criticise and say the execution wasn't right. But the heart of it is, there are people giving, and you want to encourage them in their giving, and in their faith, in seeing God at work in their own finances."
Talking a lot about money seems to be working for the church. Hillsong London has an annual budget of £18m. Clarke says the responsibility for overseeing such a huge amount of money weighs heavily on him. "There's a weight of responsibility because it's God's money. They give to God, they don't give to you. And you've got to steward their giving as best as you possibly can.
"My prayer every night is usually 'God, give me wisdom and understanding to be able to do what I'm doing.'"
The church is sometimes described as holding to 'Word of Faith' beliefs, which include the idea that God wants his people to be prosperous in every way, including financially. When Premier Christianity asked Houston if he'd consider himself a prosperity preacher, the leader replied: "I think the whole idea of a prosperity gospel is such a crazy idea, because there is only one gospel. It's the good news of Jesus Christ and it's a gospel of grace."
Future marches in
This self-describing contemporary church won't be staying the same for long. When I visited Hillsong a decade ago, a printed Bible was handed to anyone who became a Christian during one of their services. Now the church simply encourages new believers to download YouVersion's Bible app. "I believe we innovate the method and not the message," Blythe explains. "What we believe would be the same as all the other churches round the UK but the method of how we articulate and communicate that, I feel like Hillsong is always changing."
There's much the wider Church can learn from Hillsong. Their desire for excellence in everything, from music to production to attitude, is admirable. There's a strong culture of honouring and building up their leaders, which is refreshing. Houston, who co-founded the church with his wife Bobbie, says he's "very proud to be known as a believer in women" when it comes to ministry and leadership. And the church seems to be full of faith for what God can do. "I'm in the zone right now of believing God wants to stir this nation towards him," Clarke says. "I know we're not the only people on the planet, we're not the only church in the nation, we're not the only church in the city. All I know is we're going to play our part in believing that this nation is going to turn its heart towards God."
Touch of heaven
Some might be put off by Hillsong's slick corporate style, or the perceived lack of depth to some of the teaching. Hillsong's leaders are fully aware their style won't suit everyone's tastes. But the truth is, there's plenty to commend.
For starters, there's no question that much of the music is phenomenal. Songs such as 'Saviour king', 'Seasons' and 'So will I (100 billion x)' are brimming with creativity and theological depth. And when you sing them with thousands of other people in a huge arena, if does feel like you're touching heaven.
Any movement that exposes younger generations to Christ's teachings in a relevant way must surely be welcomed – especially as Hillsong tend to plant churches (and see many come to Christ) in predominantly secular cities.
Blythe's challenge to sceptics is worth considering: "If people want to criticise us that's fine. That's why there's a variety of churches with theological differences. We've been in England for 20 years and we love the local church. I really believe the best days of the local church in the UK are ahead of us and it's from unity. Unity isn't about doing one big event together once a year. I believe unity is the way we speak about one another. If all the local churches could all just speak well of each other and assume the best rather than assume the worst I think it could be incredible what God would do through the local church."
SPECIAL: Subscribe to Premier Christianity magazine for HALF PRICE (limited offer)
To hear the full interview with Gary Clarke, lead pastor of Hillsong Church London, listen to Premier Christian Radio at 4pm on Saturday 20 October ordownload The Profile podcast