The ability of local churches to respond immediately and be there for the long term has been vital in helping communities in Plymouth deal with grief. Emma Fowle reports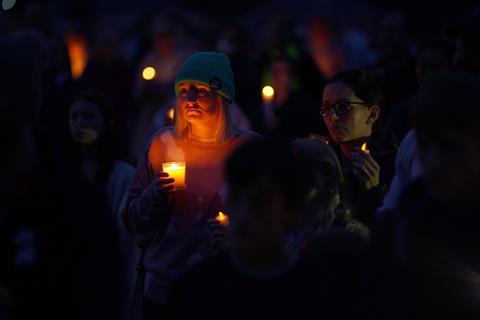 Last Thursday, five people, including a three-year-old girl, were killed in a mass shooting in Plymouth. The 22-year-old gunman, Jake Davison, then turned the gun on himself. In the wake of the tragedy – the first mass shooting in over a decade in Britain - churches across the city have opened their doors to support a community struggling to come to terms with their grief.
After the incident, The Right Reverend Nick McKinnel, Bishop of Plymouth, said: "Our thoughts and prayers are with everyone who has been injured or bereaved by this terrible shooting in Plymouth."
Emphasising the availability of the local church for anyone needing their help and support, he added that the church stood "with the community of Keyham" and would do whatever it could, "working alongside other local organisations" to offer "whatever pastoral and practical support we can."
"We think of Jesus weeping over the city of Jerusalem," said McKinnel "and the way in which God himself feels our pain and takes it on himself. We weep with those who weep."
A prayer for victims
In Keyham, parish priest Father David Way led prayers for the victims during the Sunday service at St Thomas' Church. He also prayed for peace for their killer, who lived locally and had expressed feelings of anger and extremism on social media.
Two candles, lit during Friday night's vigil for the victims at Plymouth's North Down Crescent Park, were placed at the front of the church, alongside floral tributes. A prayer, written by the Bishop of Exeter, was read out and 'Make me a channel of your peace' was sung. Father David said the sentiment of the song was particularly important as people sought to avoid "a cycle of anger".
Let us stand together praying for God's peace to rest over the city
Nearby St Mark's church also opened their doors for people to sign a book of condolence or pray with someone. The curate, the Reverend Jon Devereux, said he was particularly grateful for the support of other local church groups, like Plymouth's Salvation Army, who have been helping to serve refreshments at St Marks and providing pastoral support.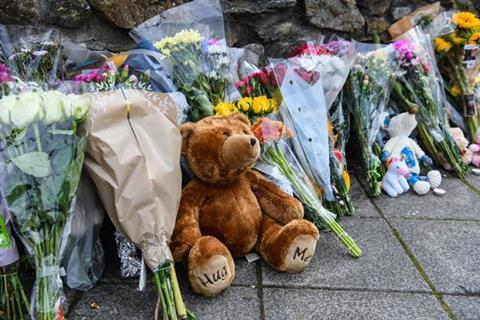 The importance of community
In the wake of the tragedy, Ben Otley, a lay worker in the parish, said: "I think what has happened highlights the importance of a parish church in a community to support that community. We have been able to invite people to come and have tea and coffee, to light a candle, we have been here to talk, to be a reassuring presence."
Teams of volunteer chaplains have been walking through the local area, talking to people and offering to pray with them.
A civic memorial service, led by the Bishop of Plymouth, was held at the minster church of St Andrew in the city on Wednesday morning and a one minute silence took place across the city yesterday.
Ongoing support
The long-term presence of church communities also means that they are well placed to continue to provide support and care for local residents over the coming weeks, months and years as they process their grief.
Father Way said that he would like his church to do more to support mental health work in the community: "At the moment there are a lot of wounded people about, like St Thomas we need to reach out and show God's love and our love for them. We want people to know that we are here. Particularly at this time, I would like to see us helping people with mental health issues. I would be very interested in talking to any support groups that might like to use our building."
We think of the way God feels our pain and takes it on himself. We weep with those who weep
Mike Knight, curate at St Matthias Plymouth, wrote in his church's weekly newsletter about the need for time to reflect and lament in times of tragedy: "It's been a dark and tragic 24 hours for our beloved city. We often think that we want answers straight away but there are no easy answers in situations like these. Sometimes we are simply called to be in the situation - to weep with those who weep - this is called lament, and the Bible is full of it.

"Each of us will have our own reactions to hearing news of the shootings in Keyham - anger, sadness, numbness, fear. We begin quickly to imagine ourselves in the situation: 'this was only round the corner from me… It could just as easily have been me.' When things happen in our 'patch' we identify more closely with them. Let's turn this into prayer and love - crying out for those involved, being with each other in the midst of it and holding on to the hope we have in Jesus.

"We are praying and thinking of everyone affected. Our hearts are broken for all those who lost family, friends and loved ones. Let us stand together praying for God's peace to rest over the city and that we would shine the light of Jesus in these dark times."

Emma Fowle is assistant editor of Premier Christianity and editor of Voice of Hope, Premier's quarterly devotional magazine. Emma is a trustee for Christian festival Creation Fest and lives in Cornwall with her husband and two teenage daughters. She loves to read, swim in the sea, play netball and lift weights with her dad.