The ears of Christians picked up when Sam Ryder compared the atmosphere at Eurovision to being in church. Is Ryder a Christian himself? Derek Walker investigates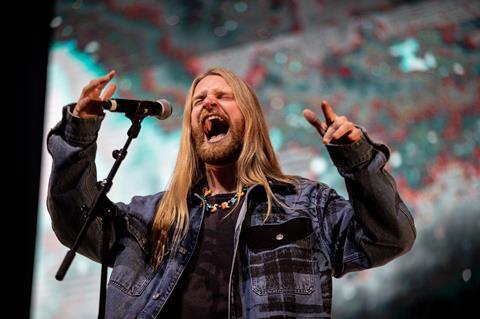 For decades, British attitudes to Eurovision have veered between snootiness, victimhood and shame. Two years of back-to-back defeats, including last year's thoroughly deserved 'nul points', were a nadir that demanded a reaction.
So when Sam Ryder came second to Ukrainian act Kalush Orchestra this year, he not only restored pride, but assured the nation it was a deliberate attempt to raise the standard of entries and change the conversation.
Then when he told Radio 4, "We were sat there in the green room and absolutely engulfed in the energy of that arena; it was like being in a church because there was so much joy," a lot of Christian ears picked up. That's not a normal comparison to make. Was this exuberant man being fired up by faith?
After his effective victory (who didn't expect a Ukraine win?) everyone wants a piece of Sam Ryder. Wherever you look, it seems his story began during lockdown, when he started to make TikTok videos covering songs by artists from Michael Jackson to Adele.
But Ryder's stardom is no overnight success. He has played guitar and sung in bands both sides of the Atlantic – and notably two of these bands have been known as Christian.
There is a dearth of information about Ryder's beliefs, with a lot of the evidence being circumstantial – you can't read too much into his way of saying, "Bless you" after interviews or calling himself "blessed." But Christianity never seems far away.
Some of his lyrical phrases could have come from being taught in a Catholic school between 2002 and 2007, where he was already nurturing his showmanship.
Going with friends from year seven to see the somewhat unholy Sum 41 was life-changing, as following the gig, they wrote a ten-stage plan to get signed. One of those steps may have been to play guitar, and Ryder was inspired to learn after watching Lordi's 2006 Eurovision winner 'Hard Rock Hallelujah', the band wearing horror prosthetics, wings on their backs, horns on their heads and ridiculous platforms boots.
He formed a local Essex band The Morning After, which played an 80s influenced style of heavy metal. Ryder wrote most of the material, but there are few clues here, especially as some lyrics were laced with profanities. The first song seems inspired by that Lordi performance, as it tells how "Twenty six hundred years ago on an ancient island, people lived in fear of a cruel satanic beast, who fed on human flesh every nine years." Other themes are fighting to defend lands and living "in the darkest age of man."
While the band's somewhat Def Leppard-like second album contained lines like, "I've got more faith than you could believe," the context was themes of fantasy, horror and futuristic landscapes. Similarly, 'I've got a life worth living' is sung about a girl.
In one review, the band was likened to a Canadian act Blessed by a Broken Heart, who toured Europe in 2010. Ryder ended up playing guitar for them on their European tour and joined them for their next album, when they switched labels to Tooth and Nail Records.
This is where the faith connections grow stronger. Blessed by a Broken Heart finished their previous tour at HeavenFest, a Christian festival that has hosted artists such as Phil Keaggy, Switchfoot and Lauren Daigle. Tooth and Nail Records are largely considered to be a Christian label.
In an acoustic version of 'Skate or Die', Ryder sings, "Lord God, my part is to seek your kingdom."
In 2010, when Christian metal magazine HM asked Blessed's vocalist Tony Gambino about being labelled a 'Christian band', he responded, "We have tried our hardest not to market ourselves as a Christian band, simply because it will limit the amount of people you reach with your music. We have a good message and that message is for everyone."
Ryder contributed lyrics to this band and, again, faith was very much in the background, emerging, oddly, in a song about skating ('Skate or Die'). As well as the line, "God bless you and your home," he sings, "The open road is my ticket to freedom / Walk out back as I seek your kingdom." Whose kingdom? On an acoustic version of the song on YouTube, Ryder sings, "Lord God, my part is to seek your kingdom."
When a Spanish rock website asked Ryder, "How important is Christianity at the time of making the songs?" he replied, echoing Gambino's approach, "Not important. We are not a Christian band. We're a Heavy Metal band with some Christian members."
In 2013, Ryder (who has also been known by his full name Sam Ryder Robinson all this time) joined Close Your Eyes for their Line in the Sand album.
Their guitarist, Brett Calloway, commented in interview, "Sam is bringing an amazing vocal talent to the band. He is probably the most talented vocalist I have ever been around, and he shares our passions and beliefs, which is wonderful."
Exactly what those beliefs are and how they may shape Ryder's almost inevitable future success is unclear, but it will be interesting to watch how his approach develops.

Derek Walker is an Oxford-based kitchen designer, Anglican Lay Minister and music lover, who blogs at walkerwords.wordpress.com
View full Profile