One of the most recognisable faces on television talks to us about his faith, handling criticism and what makes a person remarkable
When Dan Walker was first asked by a publisher to write his autobiography, the conversation didn't get far. The idea "sounded vile", he tells me. The problem wasn't finding something to write about. The 43-year-old's achievements are numerous, including fronting BBC One's flagship morning show Breakfast, which is viewed by 11 million people a week. Landing that gig alongside regular appearances on Football Focus and Match of the Day has made Walker one the most recognisable faces on television.
As a youngster, he'd dreamed of becoming a teacher, but those hopes were dashed when he was turned down for a training course for being too immature. Next he entered a sports commentary competition…and won. The prize – two weeks of work experience – helped launch his career in radio, and the move to TV quickly followed.
The fact he's reported on some of the world's biggest sporting events, including the Olympics, the football World Cup and Wimbledon is even more striking when you consider his stance of not working on Sundays. His determination to follow the biblical commandment to keep the Sabbath holy has not hampered his career, but his faith has been ridiculed. Simply expressing his belief that God created the world was all one national newspaper needed to jump to the conclusion that Walker wasn't fit to be a TV presenter.
Walker describes his faith as "strong" and an "important part" of his life. He doesn't shy away from it. Neither does he ram it down other people's throats. As for the criticism in the press, he says it's helped him "develop the skin of a rhino".
Strong personalities often dominate in the world of television, and Walker admits one occupational hazard is the temptation to "see yourself as the centre of the universe". Piers Morgan fronts Breakfast's biggest competitor, Good Morning Britain and the two presenters have been known to have the occasional Twitter spat – even arguing over audience figures. Most recently, Morgan accused Walker of being a "soft touch" and asking "unthreatening lifestyle questions". It's a charge that Walker strenuously denies: "You can still ask really difficult, pertinent questions, but do it in a way which isn't offensive, and isn't horrible," he says. And, as I discover during our conversation, there's a deeply personal reason why he is conscious of the tone in interviews.
His apparent reluctance to write an autobiography isn't false modesty. Instead, it seems Walker is genuinely more interested in the diverse range of people he's interviewed over the years than he is in himself. That's why he made a counter offer to the publisher. The result is Remarkable People, a book in which Walker revisits the stories of people who have inspired him over his 20-year-career. We hear from Maria, who shot to global fame after she accidentally stumbled onto a BBC Olympics set in the middle of her hen party, Terrance, who won the hearts of the nation after revealing he'd spent 20 Christmases alone and Tony, who for decades diligently looked after a small memorial to those who'd died in a plane crash, but whose actions led to a nationwide campaign for a flypast to mark the 75th anniversary of the event.
Remarkable people indeed, but if the autobiography does eventually get written, there will perhaps be one more remarkable story to read.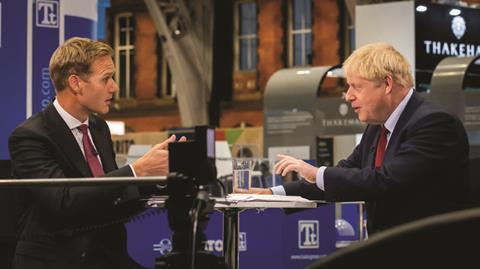 What makes a person remarkable?
I've been privileged over the years to interview huge sport stars, prime ministers, princes, kings, queens – important people in various parts of the world, but none of them are in the book. That's not to say they're not remarkable, because they probably are in a different way. But the people in the book are the people who stick with you. I've seen something in them, either in the way they've dealt with adversity, or inspired those around them by the way they've acted or a difference they have made. Those are the people I find remarkable.
According to the book, your faith was challenged and strengthened through the process of writing it. Why was that?
I would describe myself as somebody who has a strong faith, but I always think it's healthy to ask questions. I often meet people, and see how they go about their business, and that makes me question how I choose to do things. In writing this book, as a Christian, I look at these stories and I think: "I don't think I could cope with what some of these people have been through without my faith." It has reminded me of the perspective and the foundation that my faith gives me. It's reminded me that my faith is what makes me tick; what makes me get up in the morning, what informs who I am, where I want to be, my hopes, my dreams, my ambitions. It's reminded me of how integral it is to my existence.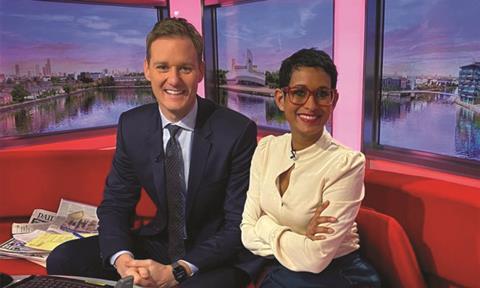 In the book you write about your friend Gary Speed, the footballer turned coach who tragically took his own life. In the chapter, you refer to the idea of spending your life looking for answers which are never there. Can you unpack that understanding of suffering?
I think there are certain things in life which we just have to accept. We don't know definitively what happened and why it happened, and maybe we'll never know. For many years, I struggled with finding the answers to what happened to Gary. He came on Football Focus one Saturday nine years ago. The next morning, I got a phone call from a mutual friend, Alan Shearer, and he said: "Gary's gone." That night, after we'd spent six or seven hours together, he'd taken his own life.
In my mind I've gone through those conversations that day, and asked myself: Did I do enough? As a Christian, could I have done more? Could I have said something or done something that could have led to him still being here today? Many people who have read the book have thankfully come back to me and said: "Those are the emotions that we all go through," those who have lost somebody in that way. The guilt, the anger, the frustration, the questions... and some of them never go away.

You write that Gary's death changed the way you think about your job and the way you relate to the people you interview.
It might be the last time you speak to them. I think that's an important thing, not to think about all the time, but just have in the back of your head. You can still ask really difficult, pertinent questions, but do it in a way which isn't offensive, and isn't horrible. I can still be a good, thorough, accurate, fair journalist and be concerned about people's mental wellbeing. I don't think those two are mutually exclusive.
It's helped me to be more understanding, and also be aware that judging people by what you see is never a good thing. There can often be real struggles going on underneath the surface, and it's made me more aware of something which I'm often reminded of – the importance of asking whether friends and family, particularly people you know, are OK, and not being happy with the first answer all the time.
As a child, doctors thought you had meningitis and as a parent, you had a difficult moment with one of your children's health. How have you relied on your faith to pull you through those moments?
I think my faith gives me real perspective, and also something to cling on to. It's trusting that as hard as it can be sometimes, someone is in control. I also think that one of the things that my faith helps me with, particularly in the industry that I'm in, is the real tendency to see yourself as the centre of the universe, around which everything and everyone else revolves. That is a really dangerous trap to fall into, and remembering your place in the grand scheme of things and the importance of the impact you can have on other people is important.
When you've spoken about some elements of your faith, including creation and Sabbath, some of the national newspapers have attacked you for it. How have you navigated that?
I've never minded talking about it, but I'm also aware that you have to be careful about what you say and who you say it to, because I think it's very easy to twist words and take things out of context. But all I'm trying to do is do the job to the best of my ability. In all the time I've been a broadcaster or journalist, I don't think I've ever shoved my faith down anyone's throat. I'm always willing to answer questions about it.
I never mind what people write about me, or say about me, because, as a Christian, I don't take my value from what people think about me. I know that I'm valued. I can't control all those hurtful, hateful things that people say about me, about my family, about my faith. I'm thankful that I developed the skin of a rhino.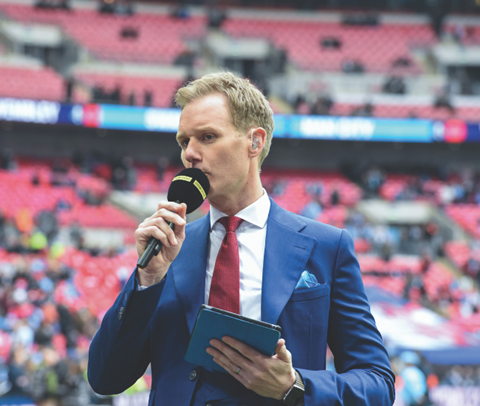 I like to think that my faith makes me a better broadcaster, a better journalist. It was Martin Luther who said that if you're going to be the best Christian shoemaker, don't put crosses on all the shoes, just make the best shoes. That's the way I see things – I'm to do the job I've been given to do to the best of my ability and see what comes of that.
Where did faith begin for you?
When I was a young lad, in my early teens, really, that's when I first started thinking in great depth about my place in the universe. I know that's a bit of a deep question to think about when you're only twelve or 13, but for me it was an understanding of who I was; who God was; what my relationship with Jesus Christ was and what I wanted it to look like.
One person who gets a small mention in the book but who I know has had a big influence on you is the athlete turned missionary Eric Liddell – what was it about him that inspired you so much?
I'd seen Chariots of Fire growing up, and I've been interested in this bloke who was a brilliant sprinter, didn't run in the 100 metres because the final was on a Sunday and ran in the 400 instead in the Paris games of 1924, and won the gold medal. I became very interested in the Liddell away from the track, who gave up a lot of success and fame and went to be a missionary in China and later became a prisoner of war. Ultimately, it's a story of sacrifice.
In 2012, it emerged that he was offered in a prisoner exchange, as a famous athlete, to go back to the UK and a Chinese prisoner would come back the other way, and he turned it down. He gave his place to a pregnant woman who went back and had her child, and Eric Liddell died, I think, three months later in that prisoner of war camp. I just find that sacrifice incredible really, and quite inspiring. To think that he could have easily acted in a different way, when nobody would've known what happened, but he acted in that way when nobody was watching. That, to me, is a sign of a real hero – thinking of others when it would have been so easy to think of himself.
Who or what inspires you today?
I like the little things. The small jobs that people do for others. I think that comes back to the book, really, because it's not a 'Christian book' but I suppose there's faith in it because I've written it, and I talk about how that makes me think and feel. Talking to those remarkable people has reminded me of the importance of looking out for other people, and that is something which sits naturally with people who have a faith. You know, "do to others what you would have them do to you" [Matthew 7:12]. I really feel that this is one of the ways out of the current rut that we are in, and the way that we're all feeling after this last year. Look out for others – on our right and our left; those down the street, around the corner; in our little communities; wherever we've been put. And to ask our friends and our families, the people we might come across in the street, are they OK? Sometimes just a few words can make a huge difference.
How can Christians be praying for you and others in high-profile jobs?
The important thing, from my perspective, is that I would do a good job, because I think that encompasses everything, really. Also, the importance of maintaining perspective in this occasionally weird life where there is a real tendency to consider yourself to be more important than you are.
I also want to say I have been greatly encouraged by some of the things that people have sent me over the years – old messages, sometimes very short but very pertinent and encouraging. They have really lifted my spirits on occasion; they really do make a difference. I know sometimes I've been in very difficult situations where I'm struggling for the right words and I don't always get it right, but I do feel that I've been greatly encouraged along the way by many people who I've never met, and that's a game changer.
To hear the full interview listen to Premier Christian Radio at 8pm on 13 March or download The Profile podcast
Get more articles covering news, culture, faith and apologetics in every print issue of Premier Christianity magazine. Subscribe now for just £4.95/month

Marcus is Group Head of News at Premier. He can be found playing a variety of sports, whether it be Olympic distance triathlons or turning out for his church football team.