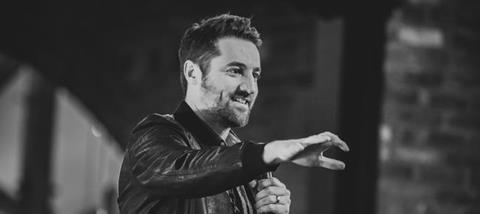 Uncertainty is a state that many of us have been forced to live in since the pandemic began. This was again apparent when I jumped on Zoom to interview the Birmingham-based worship leader and church planter Tim Hughes. We were due to speak about Spring Harvest – the large Christian event usually held at Butlins during the Easter holidays – at which Tim was booked to lead worship. But at the time of our call, we were both in the dark as to whether the event would run. It seemed unlikely and, sure enough, just 24 hours after our conversation, organisers confirmed: "we have taken the tough decision not to proceed with the Spring Harvest 2021 events at Minehead and Skegness and to focus on our online event."
'Spring Harvest Home' will of course be different to the norm, but delegates are being promised: "exciting live worship celebrations, transformative teaching, insightful Bible study and fun kids sessions... all from the comfort of your own sofa." The fact it's all available at a much-reduced price of £55 per family is a bonus. And given how Covid has prevented congregational singing, 2021 also seems like an ideal year for Hughes and co to be exploring the event's theme: 'Unrivalled: Why we worship'.
Tell us about your involvement in this year's Spring Harvest.
I think it's really funny how God works. You set your main theme on worship at a time when so many people think: Worship is about singing songs in church – and we're not able to do that. We're locked down and are rethinking 'what is worship?' in a really special way.
Obviously, music is a very significant part of worship. But it's so much more than that, and we're seeing the Church live out worship so profoundly with things like Love Your Neighbour, which is sending food packages to people in need. The Church isn't just saying "Jesus is good"; we're practically demonstrating it.
Do you think church leaders should be encouraging people to stand up and sing, and engage with church services, even though they're watching a laptop or TV screen? Or should our responses during sung worship look different when we're at home?
I think that there's a real encouragement that needs to happen around: "Don't just sit back and watch." Y'know, you're not watching Downton Abbey! This isn't a chance just to consume.
So, we will often say: "Why don't you stand?", to shift people away from sitting back. We predominantly livestream services through YouTube, and we'll encourage you to put a comment up – a worship or prayer emoji or say what you feel God is saying. We're connecting in worship through the comments.
Last month, Matt Redman said in his cover story for Premier Christianity that without a sense of God's holiness in the mix, we can't even call it 'worship'. He said we need more songs about the majesty and awesomeness of God. What did you make of it?
Matt and I both grew up through Soul Survivor, and I remember the friendship and the fear were always key parts of that. It's the awe, and the intimacy. That's the beautiful mystery of the Christian faith – it's the only faith where you can know and be loved and cherished by the creator of the heavens and the earth. We're not killing ourselves to try to please and impress him.
But I do think the Church needs to regain a sense of the otherness, the power, the transcendence of God. When we begin to reclaim holiness in our worship, we begin to regain a sense that our lives need to be biblically based. So many are being shifted by culture and being led by what feels right. Actually no, we are Jesus-centred people; we've got to be a Bible-based people. We've seen this a lot in our church – repentance. We're seeing areas where we've got casual and apathetic and compromised. Because of this pandemic there's a real shaking and a sense of: "God, we want to get right with you."
You've edited a new book with Nick Drake, which is entitled Why Worship? (SPCK), and features chapters from lots of different Christian leaders. What were some of their answers to that question?
One of the things that runs through the book is this idea that worship is transformational. To worship is to change.
I finish the book by talking about this radio interview during the Second World War when William Temple, who was the Archbishop of Canterbury, said: "This world can be saved from political chaos and collapse by one thing, and that is the worship of Jesus Christ."
A people putting Jesus first and living lives that overflow out of the celebration and joy of who he is leads to radical discipleship and holiness, a completely different way of thinking around sexuality and money and care for those in need – all of these different things. That begins to change not only us, but the world around us.
There are so many organisations that do incredible things in terms of social justice, but it's the Church that actually puts Jesus into that question. It's amazing to care for your physical needs, but you have eternal needs, and you've a deep ache in your heart that can be filled by the person of Jesus Christ.
Some church leaders are despondent at the moment, saying: "We believe God speaks today, but we aren't hearing much from him. And no one who ministers in the area of prophecy saw Covid coming in the first place." Have you been wondering what God is up to in all of this?
One hundred per cent. I'm very wary of anyone who feels like they know exactly what's coming up in the next five years because I think across the board, it's like a massive reset is taking place. It's been completely bewildering; it's affecting everything. Did God send it? I don't know, but God is using it.
I see a few things happening. I see a humbling. That's been my posture: "God, more than ever, I just want to live right before you." The danger is, when you're in church leadership, you get a bit of momentum, and think: We can do this! Let's go, let's build our brand, let's grow this thing. And then suddenly, 'bang!', it's all levelled. You realise, without God, we've got nothing.
And so, what I've seen is an incredible returning to prayer. We as a church, as a staff team, pray more than we've ever prayed before. And I hear that right across the board. So many leaders I've been connected with are just praying, because what else can we do? Now's not the time to plan these grand, huge things, because, God, we just need to keep close to you.
What's going to happen? I don't know. My sense is we're going to see God move more powerfully than we've ever seen. And we're going to see more persecution than we've ever seen. I think it's going to be more costly, but more beautiful and glorious.
Are you sensing any specific ways in which our churches will look different once the pandemic is over?
No clear answers. But one of the things we look at in the book is what happened in an estate called Knepp in West Sussex. In 2001, after years of intensively farming the land, they were struggling financially, and were at the end of themselves. So they embarked on this project called rewilding, where you just let everything grow; you don't farm the land.
What they found was that all of this incredible life reappeared. Extremely rare species like nightingales, peregrine falcons, purple emperor butterflies, and all these beautiful things began to grow. It became incredibly popular and people started visiting. They made more money than they were previously making, and many other farms are now set upon similar rewilding projects.
I think the Church needs a rewilding project. Sometimes you can try to hold things quite tightly – you're thinking about who comes on a Sunday, kids' work, the style of teaching, the kind of worship, keeping everyone happy and working hard to keep bums on seats. We need to let go of some of the fixed parameters.
I've been to so many events where you're given 17 minutes, 30 seconds to lead worship. Of course, we need to prayerfully plan and consider, and order is extremely important, as Paul talks about in Corinthians [1 Corinthians 14:26-40], but I think we need to kill this obsession with excellence. We shouldn't do things poorly because we can't be bothered. But if we're pushing this elite, professional feel on a stage, then I think we've seen what it brings in terms of a worshipping people – we can have these great experiences in church on Sunday, but it's not affecting the choices we're making in a pub on Saturday night.
I think we need to allow more space for the Spirit to speak, more of the prophetic, more space to hear from people in our church. As leaders, we need to be much better at connecting what we're doing with how we're living. What does it look like to live your worship as a teacher? What does it look like to live your worship as a student, or running a business, or working in the hospital? We put all this energy into this one hour, 30-minute event and it's often dislocated and disconnected from the world we're living in.
Let's not say: "Oh, great, Covid is finished, death rates are down, back to normal." What does it look like for churches to be houses of prayer? Let's think about way more than a brilliant Sunday service. We've got to create space for God to lead us, to listen, to not be afraid of silence and to see how our Sundays are propelling us into the week. When the Spirit of God is poured out, what does the Spirit of God do? He propels us out as he did at Pentecost. I want to see more of that in the Church.
Spring Harvest Home 21 will be livestreamed from 4-8 April. Book in now at springharvest.org
Why Worship? Insights into the wonder of worship edited by Tim Hughes and Nick Drake with Liza Hoeksma (SPCK) is released next month