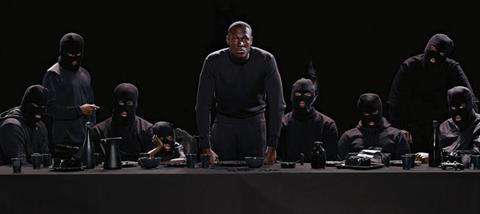 You may be surprised to learn the following words are not from a pastor or evangelist. They're actually from the biggest selling rapper in the world - 29 year-old Kendrick Lamar Duckworth: "I feel it's my calling to share the joy of 16 God, but with exclamation, more so, the FEAR OF GOD. The balance. Knowing the power in what he can build, and also what he can destroy. At any given moment. I love when artists sing about what makes him happy. My balance is to tell you what will make him extinguish you."
Lamar is straight out of Compton, Los Angeles. But on this side of the Atlantic, another huge rapper is fusing faith and hip-hop. Michael Omari, better known as Stormzy, recently put his own spin on John Newton's classic hymn 'Amazing grace' with a grime song called 'Blinded by your grace part 2'. The chorus proclaims:
"Lord, I've been broken
Although I'm not worthy You fixed me
Now I'm blinded by your grace
You came and saved me"
Why are hip-hop and grime artists suddenly talking about their faith in God? And how can we reconcile the faith of rap artists with the violent and explicit lyrics that often characterise the genre?
From California to Croydon
Earlier this year Stormzy released his debut album, Gang Signs and Prayer independently through #Merky Records. The record became the first grime album to reach the top spot in the UK charts. It also set British streaming records for the most first-week streams for a number one album in chart history. All 16 tracks appeared in the top 100 in a single week, making Stormzy only the fourth artist to achieve this after Justin Bieber (Purpose), Beyoncé (Lemonade) and The Weeknd (Starboy).
Everyone from Adele to Manchester United Football Club and former Delirious? frontman Martin Smith have all praised Gang Signs and Prayer. To call Stormzy's debut a critical and commercial success would be an understatement. The artist's own prediction of becoming a "young black boy making a milli' [million] off grime" will likely become a reality sooner rather than later.
Two months after the release of Gang Signs and Prayer, the US hiphop artist Kendrick Lamar released his fourth studio album DAMN (Top Dawg Entertainment, Aftermath Entertainment and Interscope Records). It went to number one in the US and smashed streaming records.
The most interesting connection between Croydon's Stormzy and California's Kendrick Lamar is not their shared ethnicity or gritty raps which depict the struggles of their respective neighbourhoods, but the strong themes of God and faith throughout their music.
What is grime?
Music emerging out of UK urban youth culture originally broadcast on pirate radio. This expression of marginalisation was birthed out of inner-city council estates. Grime music is typically 140 beats per minute and contains rapid, syncopated breakbeats.
DAMN is the raw and deeply honest self-analysis of a black man living in the USA. On the album Kendrick Lamar screams the refrain "Ain't nobody praying for me!" On the track 'FEAR', Lamar's cousin Carl Duckworth (aka Karni Ben Israel) who belongs to a Hebrew Israelite group headquartered in New York quotes Deuteronomy. The album is littered with biblical references.
Stormzy, in a more overt acknowledgement of God, nods to the Last Supper in his album's artwork (pictured, left). In an interview with The Fader, he said: "I needed to make an album that represented me, which was always going to be a struggle. I wanted to touch on the gospel side of things, and my faith, because that's so integral to my character. And the other side of my life – growing up in the streets, doing the things I've done with the people I was with, that is also a very integral part of me. I'm not a one-dimensional character."
Stormzy nods to the last supper in his album's artwork
The crescendo moment of this juxtaposition comes in tracks ten and eleven of Gang Signs and Prayer. 'Blinded by your grace part 2' takes you to places only black Pentecostal gospel music can. The earnest simplicity creates a raw gratitude for God's amazing grace. And then, just as you are about to confess your sins, fall on your knees and give your life to Jesus, Stormzy messes with your senses with the brutal 'Return of the rucksack' produced by Sir Spyro and containing a fair amount of foul language. This is Gang Signs and Prayer at its most honest and contradictory.
Faith in Hip-Hop
References to religion, faith and God are, of course, nothing new in hip-hop. The genre has long been associated with the FivePercent Nation, a cultural movement founded in 1964 in Harlem, New York City by a former member of the Nation of Islam named Clarence 13X. Rappers from Rakim to JAY-Z and Wu-Tang Clan to Jay Electronica are connected to the movement.
Some of the biggest selling hiphop albums of the 1990s contained religious themes. The Notorious B.I.G's last album before his murder in 1997 is titled Life After Death (Bad Boy Records). B.I.G had planned to have a trilogy of albums that started in 1994 with Ready to Die, the final being titled Born Again.
In 1999 Nas caused controversy when he released his third album I Am (Columbia Records). The album was notable for its striking artwork of Nas depicted as a Pharaoh and for the single 'Hate me now' which showed Nas and Puff Daddy being crucified.
However, it wasn't until 2004 when a young rapper from Chicago named Kanye West released the fourth single from his debut album The College Dropout (Roc-A-Fella/Def Jam) that gospel-infused rap really entered mainstream consciousness. The song was 'Jesus walks'. It won a Grammy for Best Rap Song that year. The song arguably paved the way for artists such as Kendrick Lamar and Stormzy to have honest conversations about God on their albums.
With 'Jesus walks' West addresses the music industry and asks why sexually explicit music gets promoted while songs about faith get no airtime – an idea which becomes ironic given the subsequent commercial success of 'Jesus walks'.
Last year one of the biggest names in gospel music, Kirk Franklin, collaborated with Kanye West and Chance the Rapper on the song 'Ultralight beam'. Not everyone embraced the partnership, questioning Franklin's integrity and motivations. Kanye had perhaps anticipated a backlash; tweeting just hours before the record's release "Please forgive the profanity and give hugs and blessings to my brother Kirk for standing by me". After attracting criticism from some Christians, Franklin defended himself by stating on Facebook: "I will not turn my back on my brother. I will love him, prayerfully grow with him. However long he'll have me, and however long the race takes. To a lot of my Christian family, I'm sorry he's not good enough, Christian enough, or running at your pace...and as I read some of your comments, neither am I. That won't stop me from running. Pray we win."
Hip-hop and spirituality clearly have a long and complex relationship and it seems the relationship is getting closer.
Fight the power
History suggests that in moments of injustice and inequality, musicians step up to be the voice of the voiceless. Marvin Gaye's What's Going On (Motown) questioned America's participation in the Vietnam War and championed the Civil Rights Movement of the 1960s. Paul Simon's classic Graceland (Warner Bros) was a message to the South African government at a time when the atrocities of apartheid were all too apparent. Rap group NWA stood up against police brutality with their ground-breaking ferocious debut album Straight Outta Compton (Ruthless).
Where there is injustice and suffering, the question comes back to this: where is God? We are living in challenging times. The political and economic environment is unstable. After years of empty, materialistic hip-hop, could we be heading towards a return to the golden age of socially engaged hip-hop?
On Kendrick Lamar's anthem 'Alright', the rapper speaks about the pain on the streets of America at a time when black people are being shot and killed by police officers. Lamar rallies his listeners with a cry to the community – "If God's got us, we'll be alright" – which became an anthem for the Black Lives Matter movement. On 'FEAR' Lamar goes deeper, lamenting to God in a way that is reminiscent of King David in the psalms:
"Every stone thrown at you restin' at my feet
Why God, why God do I gotta suffer? Pain in my heart carry burdens full of struggle
Why God, why God do I gotta bleed? Every stone thrown at you restin' at my feet
Why God, why God do I gotta suffer? Earth is no more, why don't you burn this muh'******?"
It's not comfortable listening. For many Christians, no matter how true to life or relevant the messages of artists such as Kendrick Lamar, Run the Jewels, Chance the Rapper, J. Cole, Akala or Stormzy are, the profanity is hard to get past.
Discernment
As a former grime record label boss and now as the pastor of a church in south-east London, I'm fully aware of the conflict that comes with being a Christian and navigating hip-hop culture. On the one hand I've been desperate for artists such as Loyle Carner, Stormzy and Wretch 32 to express the anguish that many of us experience growing up on innercity streets. These artists are gifted communicators painting pictures of the environments many of us have lived in. However, there is a danger that we can glorify and normalise tragic and traumatic experiences.
The reference to gang signs in Stormzy's album title comes at a time when gang-related crime is on the rise in the UK (recent figures show knife crime increased in the UK by 14 per cent between 2015 and 2016). His album is dealing with real issues. How is the Church supporting young people and families in dealing with the complex issues they are facing?
The truth is, in many cases churches have failed to contextualise the Bible to the culture around us. This results in young people leaning towards flawed musicians who never asked to be role models in the first place; young people themselves who are still working out life (Stormzy is 23 years old) and are propelled into the void of leadership.
When I listen to the music of Kendrick Lamar and Stormzy, I take the good and leave the stuff that I know contradicts the teachings of Jesus. I've listened to a lot of hiphop in my time and can differentiate between what's real and what's fake.
On one side of the coin the new trend for artists to talk about issues such as faith as well as mental health, police brutality, racism, body image and fatherlessness is a refreshing shift from the materialistic, consumerdriven rhymes which hip-hop has become notorious for. For this change in narrative, in a genre renowned for negativity, artists such as Stormzy and Kendrick Lamar should be applauded. On the other side of the coin, the general public only see what artists want us to see. As Miguelito said in his opinion piece 'Praise & Questions: How Kendrick & Chance Talk to God in Different Ways': "Words can easily be misconstrued, especially when you discuss the personal beliefs of others in a 'post-fact' world. I don't claim to know the beliefs of either rapper in sum; all I can do is use the information they choose to reveal."
Could we be heading towards a return to the golden age of socially engaged hip-hop?
We would therefore be wise to not pigeonhole either artist but rather appreciate the layered intricacy of their character and influences. Neither Kendrick Lamar nor Stormzy have directly referred to themselves as Christians. This hasn't stopped Christians jumping on the bandwagon claiming the contradictions, compromise and conflict in their music is suddenly a new blueprint for Christian living. Instead we should educate ourselves about popular culture and be prepared to have a counter-narrative to the things that appear to be inconsistent. This way albums and artists can be seen for what they truly are – like us all, imperfect.
Ben Lindsay leads Emmanuel Church New Cross in south-east London and has spent most of his career working for and with local and central government tackling serious youth violence in the UK