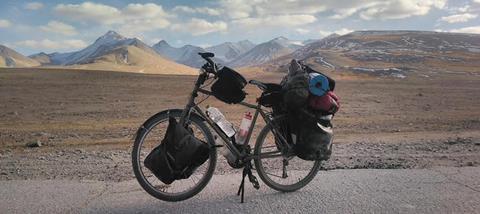 Are you still there? I wondered, tentatively, of God, during a coffee break on my first day cycling around the world.
Things had not gone to plan. I had been evicted at dawn from my first 'wild camping' spot, a secluded lawn in Essex that turned out to be the vehicle access for a very expensive, private trout lake.
I did not know then, as I sat in an adjoining field puzzling over the instructions for my camping stove, that it would be a question that would pursue me across continents. That I would scream it into a blizzard in the mountains above Afghanistan while my best friend was rushed to hospital; that I would cry it into a pillow in Cambodia; that I would whisper it in the night while a mountain lion circled my tent in North America; and that every time the answer would come back: I am.
New beginnings
If someone told me before my trip that God would feature so highly, I would have been surprised. I grew up in a hippy, non-religious family and no one – least of all me – expected I would convert to Catholicism aged 18. Inspired by the faith of a school friend, I was baptised and went on to study theology at university. But the closer I came to the Church, the further I drifted from God. I tied myself up in what I perceived to be the 'membership criteria' and, eventually, worn down by a cycle of missed Masses and half-hearted trips to the Confessional, quit completely.
So God was not invited when I decided to chuck in my job as a journalist, leave my idyllic Islington house share and take off to see the world by bike.
Rather, it felt like God invited himself along when, a few months before I set off, a colleague invited me to an evangelical church plant and, to my amazement, my heart bound itself quickly and suddenly to this radical congregation.
"Don't get attached," I wanted to say to my new friends, to myself and to Jesus. "I'm leaving. This won't last." But in those frantic last weeks, as I repacked my bags and Googled how to mend punctures, my fragile faith got stronger. It galvanised every time God came alongside me when I woke up in a cold midnight terror because I'd forgotten to check the visa regulations for Myanmar.
Faith is just a temporary crutch, I thought, as I wheeled my loaded bike off the ferry in Holland; a helpful go-to in times of need. Like when I crossed into Germany late one night and realised I had nowhere to sleep. I called out to God…and rode straight into an open campsite. And on the day I ran out of food, I prayed and a caravan full of Austrians appeared and cooked me dinner.
But, by the time I cycled through the old Iron Curtain and into Slovakia, Hungary and Serbia, where Orthodox monks insisted I camp beside their chapel to keep me safe from bears, it was a habit to ask God daily for shelter, food and water. My Bible would fall open on Psalm 91: "If you say, 'The Lord is my refuge,' and you make the Most High your dwelling, no harm will overtake you, no disaster will come near your tent."
So, when everything fell apart in Bulgaria, and I discovered that I couldn't continue along my planned route east beyond Turkey because Iran had closed its borders to British passport holders, I took it in my stride. "I've got a great alternative," I informed God, as I cycled south into Greece and along its coast towards Turkey. "I'm going to cycle over the most dangerous road in the world."
Resilient but resentful
"We're going to need a new map," said my best friend, Miranda, when I presented her with my geographical fait accompli in Istanbul. We had been planning this bicycle adventure together for two years; and now, her work commitments met, she had flown out to join me on the brink of Asia.
We wanted to cycle as far east as China, spin around south-east Asia, then fly to the USA to spend a second year riding south down the Pacific Coast to Argentina. But with Iran now closed, the only unbroken route east would take us along the dangerous Pamir Highway, the second highest paved road in the world, which links the Middle East to Central Asia and China. We were late in the season – temperatures in the Pamirs plummet to -40oC in the winter – so, with Miranda barely adjusted to life on the road, we sped through Turkey, Georgia and Azerbaijan, then hitched a cargo boat across the Caspian Sea to Uzbekistan. With reports of snow in the mountains, we bundled our bicycles onto a train to cross its desert, and arrived in Tajikistan, exhausted.
I was resentful. Riding alone across Europe had made me resilient, but it had also made me impatient, something that I failed to hide as we cycled away from civilisation and Miranda struggled with the first small climbs. Disrupting the journey with a train had made me feel like a failure: the round-the-world-cyclist who had to cheat. I tried to prove myself on our first mountain pass, a 2,000m ascent into Afghanistan.
Recognising her limits, Miranda hitch-hiked; I fought for hours, eventually admitting defeat as night fell and a truck pulled alongside me and the driver asked if I needed help. In my quiet time the next day I sensed that God was speaking to me about identity and justification, but I didn't listen. I was the cyclist who couldn't get up a mountain pass (or so I thought), so I loaded up my bike, cycled back down the mountain to where the truck had picked me up the day before, and rode the entire route again, to prove a point.
From Afghanistan we climbed to one of the most remote mountainous regions in the world, and it was here that Miranda developed altitude sickness. Unable to cycle, she arranged for a local to drive her to the next village, and to scoop me and my bicycle up en route: that morning, I had set off alone to conquer the most brutal mountain pass of the trip. In sudden solitude, as the gravel road beneath me crumbled and the air thinned, I raged at God. I had been praying for Miranda to get better, and she was getting worse: how could he have blessed me on the bike paths of Europe, but ignored me in the wild mountains of Central Asia?
I was developing hypothermia
If God wasn't proffering help, if he was so fickle, I would stop asking. I heaved myself over the pass and took my victory selfies as the sun set and the icy, -20oC night set in, and I wondered where Miranda was. An hour later, as my blood sugar crashed, I tried to cook noodles but couldn't get my stove to light at altitude. I held my emergency matches in my shaking hands and realised I couldn't remember how to light them; and that this meant I was developing hypothermia. I pulled my sleeping bag out and crawled into it at the side of the road, and, as I shivered, I thought, don't pray; don't ask for help.
Miranda found me an hour later – her truck had broken down – and, huddled in front of its heater, I quickly warmed up. But it was a frightening incident that marked the beginning of the end of our trip together; the next day she was hospitalised as I cycled across the plateau to China, and a week later she left Central Asia. We were due to reconvene in Thailand, but as I rolled, exhausted, through the last of the Kazakhstan winter, she messaged me to say she had decided to continue alone. I had conquered the Pamir Highway, but at the cost of our friendship, and the quiet trust in God that the early months of the trip had nurtured.
Giving up
I flew from Kazakhstan to Thailand to embark on a lonely circle of south-east Asia. Eaten up by guilt and bitterness, I rode hard in the tropical heat, through jungle roads and remote Mekong villages. It felt like the trip had been ruined. Despite my misery, God was not forthcoming: where were the little love notes he'd sent me in Europe? The comforting verses, prophetic words and little miracles? I was sliding into the sinkhole of my greatest fear: what if I trusted God, then he went away? What if I became so reliant on him that I couldn't take care of myself?
But, despite myself, I desperately, desperately, missed Jesus. I tried to kindle my anger against him by remembering the harsh winter, by telling myself that he let me down. But I just wanted my friend back. One day, as I rode down a busy motorway in Thailand, my music player shuffled onto a chapter from an audiobook of Matthew's Gospel. It was the calling of Peter and Andrew; and for the first time I noticed that when the apostles followed Jesus, they left their nets behind.
What a crazy thing to do, I thought. What if the Messiah thing fell through and they had to go back to being fishermen? What could possibly lead them to abandon their livelihoods as if they were nothing, as if they never intended to go back?
I couldn't take hold of God's strength when my hands were still gripping my own
These questions reverberated around my mind for weeks and it wasn't until I reached the USA that the experiences of the past year fell into place: from my bitter striving in Central Asia, to the lonely self-reliance of south-east Asia, I couldn't take hold of God's strength when my hands were still gripping my own.
Peter and Andrew let their nets slide into the sea because they saw something in Jesus that made them believe they would never need them again, and as I cycled on down the west coast of America I started to see the same thing. I caught a glimpse of it in the Christian family who took me in one night when I had nowhere to sleep because they felt led to by the Holy Spirit; and I heard it in the voice of the gentle old cowgirl who prayed over me one evening in rural Oregon.
Suddenly I saw that faith wasn't a crutch: it was the surrender of everything, for everything.
On the road that skirts around California's Big Sur, which has long been buried in a landslide, I relinquished my heavy bike to stronger cyclists who could roll it over the boulders for me. And soon afterwards, as I closed in on the Mexican border, I relinquished myself, and I said to God: "I don't want to do anything without you."
The next morning, the friend who had introduced me to her church plant before I started the trip, and in so doing, to Jesus, sent me a message. "This is weird," she wrote, "but I just got this prophetic sense that God has set you free from some kind of stronghold. I think it may be to do with self-sufficiency."
As I meditated on her message on my bike that day, I realised that Mexico, Central and South America still lay ahead, and that there would still be times – like that first morning in Essex, or in Kazakhstan or in Cambodia – when I would wonder where God was. But now I knew not to look for him in a lightning bolt or a pillar of cloud, because I didn't have to. He was already wherever I was.
Click here to request a free copy of Premier Christianity magazine