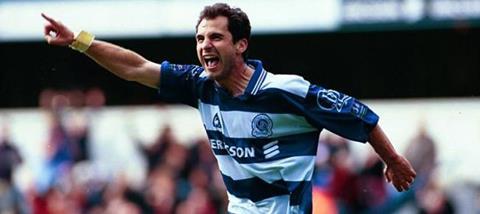 What's the big stand-out moment of your football career?
It has to be my first season at Chelsea - the 93/94 season when we beat Manchester United, both at Stamford Bridge and then after Christmas at Old Trafford.
We won 1-0 in both games and I scored the winning goal. Coming in from Newcastle, back in those days £1.25 million transfer fee - it sounds like peanuts now but it was a decent fee in those days so there's a bit of pressure! But to do the double over United and to score the winner was quite phenomenal.
At what point did you become a Christian?
I was saved when I was 18. I grew up in a football family, my dad Keith played over 600 games for Charlton Athletic. All I ever wanted to do was become a professional footballer and follow in my Dad's footsteps. But really football didn't satisfy. If I played well I was up, if I didn't play well I was down.
I went along to church. I walked into the youth meeting with everything that the world says will bring you happiness: I had fame, I had money, I had some success and I had notoriety. But the young people in the room didn't have that and yet when they spoke about Jesus there was a joy and a reality to their faith that was compelling to me.
I heard the minister unpack the gospel of what God had done for sinners through Jesus Christ and I was saved just a couple of weeks after going to that group. So I was a Christian throughout all of my footballing career.
The world of football can't be an easy place to be a Christian. How did people react?
It's difficult to be a Christian in any walk of life. In regards to football, it's very public and there's extremely high pressures. I was quite honest with the guys straight away. Of course there was the mickey-taking and then I think they just watched to see 'does your life match your profession?' and I think hopefully to some extent it did. I think there was a certain respect there.
I had conversations with many players you'd never think would ask about Jesus Christ. I knew a few players who actually became Christians at that time. I hosted a London footballer's Bible study along with Christians in Sport for several years and God really opened up opportunities.
The biggest thing is when you make public that you are a Christian, sceptics will watch and they will wait for you to fall or stumble and its ok in the good times to some extent to maintain that Christian witness, but when things go wrong (and they often do go wrong when you're a footballer) that's when people watch. When you've played badly on a Saturday and the fans are against you - you can show you've got a superior joy than football and that's in Jesus Christ and therefore you can bear good witness.
I remember when we played in the FA Cup Final in 93/94 season against Man United. You're playing at Wembley, it's a place for winners not losers and we did lose.
When my teammates got their runners up medal, they were so disappointed they threw it in the River Thames. I gave it to my dad for all the great time and coaching he put into my life and career. For me it was a good thing to even be a runner-up and yet the reason I could still have this joy was that my identity wasn't in football, my security and joy wasn't in football. I could bear witness to this superior joy.
After football you went to become a pastor in Canada, that's an enormously dramatic change. So what happened?
I went into a kind of second career with the BBC doing punditry and it was going very well.
I'd always done witnessing and testimonies during my football career but I'd never felt a call to full time ministry, until around about 2006. I checked it out with my church leadership because I could have been well off base and they said 'well we see certain giftings, we'll try you out you can have some opportunities at preaching.'
I'm on Match of the Day one day and preaching in the church the next day. Then I started to do some basic Old and New Testament studies at Cambridge. All the guys at the seminars wanted to talk about was what I said about Manchester United on Match of the Day, rather than what we should have been concentrating on in class!
I knew I wanted to give the BBC stuff up and prepare for full time ministry. I could have done it in England but my profile was quite high back in 2007.
We'd been coming to Canada quite a lot for holidays so we knew the area and we said 'what it would look like to come into anonymity where no one really cared about football and they would just hear you and what you have to say about the word of God?'
Do you miss football?
I obviously miss football; I obviously miss football people, it's part of the fabric of society in the UK. It's very much part of my life.
When your identity is in Christ, when your supreme joy is in him, football can come and go but he's always there, so there's a greater thrill, a deeper joy, that transcends difficulties and trials. It's been the most difficult nine years of our lives in so many ways: emigrating, leaving our family and friends and football and yet God has carved out a deeper trust and faith in Christ because that's what Jesus is always doing, in times of difficulties he's shifting our ground of trust away from things and on to him.
Over the past few years, I think it's been a good witness to say that Christ is my supreme joy and being a pastor is a greater thrill and a greater privilege than being a footballer or a pundit on BBC TV.
It may not have as many people watching you, but when you preach, you preach to an audience of one, and it's a great pleasure to shepherd God's people, you're dealing with souls, you're dealing with eternity and to spread the word as well.
Gavin Peacock was speaking on Premier Christian Radio's Drive show.