Ahead of the launch of Season 3 of the largest crowdfunded TV show of all time, our editor was invited to Texas to meet the cast and crew of The Chosen. Here's what he discovered
Hollywood can't be trusted to bring the Bible to the screen.
It's hard to pinpoint the moment when such a belief became mainstream thinking among evangelicals, but Russell Crowe's Noah probably contributed. I remember a sense of great excitement when the trailer was released in 2014, not least because the soundtrack contained the worship song 'Spirit break out'.
But the final result was a disappointment. Rather than staying faithful to the biblical text, the writers added…wait for it…rock monsters.
The stretching of creative license when it comes to silver screen portrayals of biblical stories has long been a source of frustration for Christians (see also the 2014 film Exodus: Gods and Kings) and this has coincided with the growth of the faith-based film industry.
Films such as War Room (2015) and God's Not Dead (2014) attract large audiences in the US, and are seen as wholesome alternatives to mainstream blockbusters.
The problem is, these 'Christian films' are often accused of being more preachy than entertaining. And they rarely make an impact outside North America. But must it be this way?
Enter Dallas Jenkins. The son of Jerry B Jenkins (who co-wrote the bestselling Left Behind novels) has a unique vision: to produce a multi-season TV show that tells the story of Jesus through the eyes of those who met him in a way that is faithful to the Gospel accounts.
OUR NUMBER ONE PRIORITY IS TO BE FAITHFUL TO THE CHARACTER AND INTENTION OF JESUS IN THE GOSPELS
It has certainly captured the attention of American Christians, 19,000 of whom funded the first season of The Chosen to the tune of $10m, making it the most successful crowd funded media project in history.
The Chosen takes creative risks and is entertaining as well as being biblically faithful. Given most viewers already know where the story is going, the series is surprisingly gripping, focusing on how ordinary people – disciples, Romans, Pharisees – responded to Jesus, and the complex emotions that accompanied their meetings.
It's thanks to this authenticity and creativity that millions have now accepted the invitation of the series' slogan: to "Binge Jesus". In fact, you could say the show has attracted a cult following in the years since its December 2017 launch.
If you aren't already a devoted fan, there's probably at least one person in your church who is. You know, the person who keeps pestering you: "Have you watched it yet? It's soooo good!"
This hardened, cynical journalist is not prone to exaggeration, but even I will admit The Chosen is special. Production values are high, the character development is strong and there isn't a cheesy American accent in sight. So when I was invited to go behind the scenes and meet the actors, writers and Mr Jenkins himself, I jumped at the chance.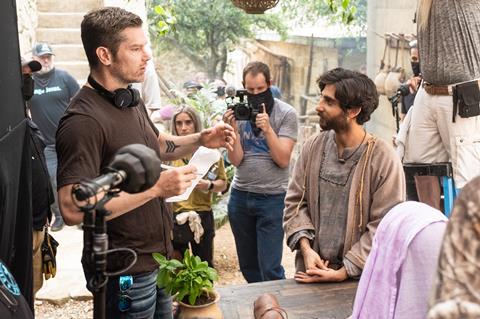 Welcome to Texas
Along with 20 other journalists who have travelled from across Europe, Australasia and South America, I have come to a Salvation Army camp in Midlothian, just south of Dallas, which serves as the set of The Chosen.
Everything in Texas is big – from the coffee cups to the six lanes of traffic on the highway – and very Christian. If some surveys are to be believed, 90 per cent of people in the state identify as Christian, and I'll later visit a church that claims a membership of 50,000.
Big and Christian. Where better than Texas to film a television series that aims to reach 1 billion people for Christ? While wandering around the sprawling 900-acre site, past huge sound stages and warehouses full of costumes and props that stretch as far as the eye can see, I muse over the claim that The Chosen is crowdfunded. After seeing the show's awe-inspiring recreation of the bustling first-century town of Capernaum – which is the size of two football fields – it's clear there must be a fair few millionaires in that crowd of funders.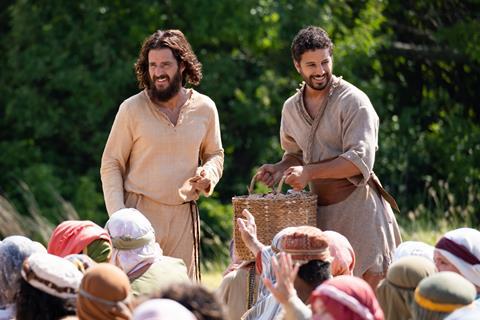 The plausibility factor
Walking along the dusty streets of 'Capernaum', I notice a collection of make shift tents. This is 'Tent City', apparently, but my handlers are coy when I ask how it relates to the show. Eventually, a member of the crew relents. "OK, you didn't hear it from me," says my anonymous source, "but after Jesus gives the sermon on the mount, what if a lot of people followed him back, and it created a large refugee camp?"
It's plausible. And that's a key word when it comes to The Chosen.
While nothing in the show directly contradicts scripture, many of the story lines are invented, and justified on the basis of plausibility.
Is it plausible that Jesus could have spent time teaching children before starting his ministry (Season 1, Episode 3)? Is it plausible that Jesus' healing abilities could have caused locals to queue for miles, just for a brief encounter (Season 2 Episode 3)? Is it plausible that Jesus could have been informally questioned by the Romans years before his arrest (Season 2 Episode 7)? Is it plausible that Simon Peter's decision to follow Jesus could have caused difficulties in his marriage (a key theme in Season 3)?
Tales proliferate of families and church small groups who, after watching the show together, turn back to the scriptures to cross-reference what they've seen. This way of critiquing and engaging with the show is something the producers encourage.
A disclaimer at the beginning of each episode reads: "Back stories and some characters or dialogue have been added. However, all biblical and historical context and any artistic imagination are designed to support the truth and intention of the Scriptures. Viewers are encouraged to read the Gospels."
The team has adopted an open, responsive posture to reassure viewers that careful thought has gone into this re-enactment of Jesus' life. In a series of bonus videos, available on The Chosen's dedicated app, a group that includes a Messianic Jewish rabbi, a Catholic priest and an evangelical church leader discuss the theology behind each episode.
JESUS IS AS YOU'D EXPECT – HUMBLE, FRIENDLY AND WILLING TO POSE FOR SELFIES
Critical feedback from viewers has also been welcomed, and this is seen in their marketing strategy too. I can't think of many TV series which would share scathing reviews of their hard work on social media. "This show was boring…the cast is rubbish, none of them are well known and none of them are good either" is just one recent tweet from The Chosen's official account.
There's method behind this madness. Demonstrating that Christians have a sense of humour is surprisingly powerful, especially in the USA. As The Chosen's president, Brad Pelo, told Deseret News: "We have a lot of anecdotal feedback from people who said, '…I've never seen a Christian show willing to make fun of itself'…I think it's that epiphany for some – if they feel safe enough to make fun of themselves, then maybe it's safe enough to watch."
Meeting Jesus
When we finally spot the Messiah, half my colleagues go wild. "It's Jesus!" they cry. The Chosen's PR team issue a friendly reminder that approaching the actors while they're on set is forbidden. "This is their work place. Don't bother them."
I smile. They're right, of course, but this is the only time in my life that a Christian has forbidden me from speaking to Jesus.
The next day our big moment arrives: the chance to interview the saviour of the world. Jesus, aka Jonathan Roumie, is as you'd expect – humble, friendly and willing to pose for selfies.
Our 8-minute conversation (that's all I'm allowed) goes well (see above video). Next up is director, Dallas Jenkins. The Chosen hasn't been universally well received, so I ask him how he copes with the criticism. "Well, I have a bit of a superpower in that I don't really care," he replies. "Our number one priority is to be faithful to the character and intention of Jesus in the Gospels.
Everything we portray needs to answer the question: 'Is this plausible?' If it is, we're free to do it…I respect those who don't always agree with what's plausible…but you can make your own show if you would portray this differently."
There is pressure for the director. His show has become a phenomenon in the US, and I'm told the graphs that track viewer numbers are heading upwards at a rapid rate (episodes have been watched over 400 million times). There are whispers about needing to "safeguard" the vision and not be distracted. It's a point Jenkins picks up on: "The biggest thing I'm doing comes in two parts. One, I'm doing my best to listen to God and follow where he leads. And two, I try and stay out of the way. When people talk about the success of the show, I can't let that impact the writing and directing. We're just trying to make sure we don't get too big for ourselves, meaning we don't start changing what has gotten us to this point [which is] surrendering to what God is doing."
When faith is tested
Speaking to the actors who play the disciples, I'm struck by how regularly they use the word "family" to describe the atmosphere on set. Not every actor has a personal faith, but all of them say there's something different about the project. "It's wholesome," says George Xanthis, who plays John the apostle: "It doesn't matter what background you're from, everyone who comes on the show feels that."
We've already seen Jesus call the disciples and begin to heal and preach. So what can fans expect from Season 3?
"The honeymoon is over," says Giavani Cairo, who plays Thaddeus. Jesus' followers are sent out to spread the good news, heal the sick and cast out demons…and it doesn't go well.
"The disciples are going to feel and see what it is to follow Jesus. Lots of hard obstacles come," he says.
Joey Vahedi, who plays Thomas, adds: "One of the big themes in this season is what do we do with our anger in times of crisis…how does that affect relationships between one another and with God?"
As our time draws to a close, we're treated to a sneak peek of clips from the upcoming season. The feeding of the 5,000 has already been filmed, with fans from 36 countries making up the hungry crowd of extras – and the result looks suitably cinematic. I also spot more conflicts with the Pharisees, the introduction of Judas and what looks like the raising of Jairus' daughter. There isn't a rock monster in sight, thank God.
Season 1 and 2 of The Chosen are available to watch free through the app or purchase on DVD (thechosen.tv)
Episodes 1 and 2 of Season 3 will be shown in 200 UK cinemas from 18 November before becoming available on the app


Sam Hailes is the editor of Premier Christianity, the UK's leading Christian magazine. He also serves as editorial director for the Premier media group. Sam is husband to Stacey and Dad to Evelyn and Ezra.
View full Profile