David Instone-Brewer unpacks the Bible's teaching on anger and revenge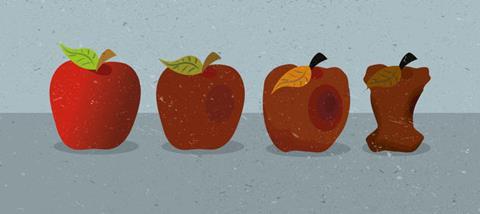 My teenage Saturday job involved delivering fruit and veg to hotels and restaurants, and I remember one experience particularly vividly: I flung a sack of potatoes onto my shoulder (I was strong in those days!), it burst open, and I was showered by foul-smelling black slime. The sack had been weakened by rotting potatoes. Starting with just one bad one, the whole sackful had been corrupted.
Anger can have the same effect in our lives when someone wrongs us. If we hold onto it, it turns into a bitterness that spreads into every relationship and darkens every thought. The Bible says something different: it tells us to let go of our anger against that person and to forgive them.
When Jesus told us to "Love your neighbour", he was teaching from Leviticus 19:17-18, a passage that all Jews would know by heart. The full passage is: "Do not hate a fellow Israelite in your heart. Rebuke your neighbour frankly so that you will not share in their guilt. Do not seek revenge or bear a grudge against anyone among your people, but love your neighbour as yourself." This command gives three ingredients for showing love to someone who has hurt us, and it goes as far as to say that if we fail to do this, we actually hate that person.
Most of us would find some or all of these instructions very difficult. Take the first one: rebuke the person who has offended you (easier for some of us than others!). But "rebuke" doesn't mean "tell them off angrily"; it means "point out their fault". And it goes on to say that if you don't, you will "share in their guilt". Why? Because if they don't realise they've done wrong and you don't tell them, they may do it again to someone else. Ancient Jews also said another reason for speaking to them about it was that they may have done it unintentionally, which they'd never know if you stayed silent (Ben Sirach 19:13 in the Apocrypha). The second ingredient is obvious but equally difficult: don't seek revenge. Jesus put it in a way we can never forget: "Turn the other cheek". And the most important part of the recipe is the last one because it helps us to heal quickly: don't hang on to your anger. The translation "Don't bear a grudge" is too weak, but perhaps the best possible in English. The Hebrew verb behind this phrase (natar – 'to keep') means continuing to stoke up anger and keep it alive as bitterness.
Banish bitterness
Having initial feelings of anger after being hurt isn't wrong. But there is a right and wrong way to deal with that anger. Paul says, "In your anger do not sin", and tells us how: "do not let the sun go down while you are still angry" (Ephesians 4:26). It's good advice because sleeping on it helps make the anger permanent. So when someone does hurt us, as soon as it happens we need to seek the peace beyond our anger and desire for revenge. Jesus recommended a simple strategy, but it isn't easy: "pray for those who persecute you" (Matthew 5:44). Somehow, when we bring someone to God's throne and pray for them, it is much more difficult to have angry bitterness against them.
We sometimes talk about forgiving someone we've never met, and there are inspiring stories of people doing so when they have been painfully wronged. However, when we talk about forgiveness in this situation, what we actually mean is "letting go of our bitterness" – which is absolutely the right thing to do. Technically, this action can't mean 'forgiveness' if the perpetrator has not apologised sincerely (ie repented), because forgiveness is a response to repentance in the same way that thanks is a response to being given something.
It's often said that we should forgive people whether or not they ask for forgiveness. For instance, we might think of Jesus' answer to Peter's question, "Lord, how many times shall I forgive my brother or sister who sins against me?" But Jesus' reply is not about forgiving without repentance; rather he says that when there is repentance we should forgive without limit. We miss the point if we don't realise that forgiveness should be a response to repentance and not a response to sin. Luke makes this clear by recording Jesus' longer answer (that Matthew thought was too obvious): "If your brother or sister sins against you, rebuke them; and if they repent, forgive them" (Matthew 18.21-22; Luke 17:3-4, my italics).
Opening the door
Forgiveness is something that the perpetrator needs. What the victim needs is peace – and that comes from putting away the anger and hurt.
We might want to hang on to anger as a point of 'principle' – especially when the perpetrator refuses to acknowledge their fault – but in doing so we'll end up tormented by bitterness and thoughts of revenge. There's no need for this because we can reliably commit them to God: "Leave it to the wrath of God, for it is written 'Vengeance is mine, I will repay,' (Romans 12:19, ESV).
A pair of locked glass doors separate a perpetrator and their victim after a wrong has been committed. It is as though they are both imprisoned in rooms facing each other across a corridor. They are isolated from one another and to some extent from the rest of humanity who walk the corridor between them. The victim can open their door by letting go of their bitterness and their desire for revenge. The perpetrator can open their door by offering a sincere apology. But they can only be reconciled if they both open their door.
Both sides in a dispute need to work at reconciliation, and this is just as important for the victim as the perpetrator. If we don't immediately seek the peace beyond our pain and anger, we can become a victim twice over – a victim of the original offence and a victim of internalised bitter resentment. We need to hand these emotions over to God, who will establish final justice with righteous wrath on all unrepented sin. This principle was so important to Jesus that he made it the subject of one of his key commandments. So who is the enemy you need to pray for?

Rev Dr David Instone-Brewer is an honorary senior research fellow at Tyndale House, Cambridge. He has authored several books on the Jewish background to the New Testament and is a member of the Committee for Bible Translation (NIV). He is also a regular columnist for Premier Christianity. See articles and videos on more topics, which you can share and comment on, at biblecontexts.com
View full Profile