Bernard Suwa grew up as a refugee during Sudan's civil war. By his 16th birthday he was a homeless orphan contemplating suicide, but God had other plans. Today, Rev Suwa leads Grace Community Church in Juba supporting missionaries who are re-building his beloved country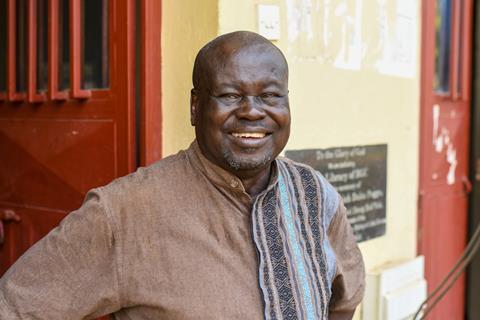 Until the age of seven, I lived peacefully with my family in southern Sudan, but in 1964, that changed.
The first Sudanese Civil War reached our village, so I fled to Uganda with my sister's family. We began our 22 mile journey on foot, but because the main road was infested with soldiers, we had to access the border another way.
When we crossed the river into Uganda, my brother-in-law put me behind his head, my baby niece was over his shoulder, and his right hand dragged my sister through the raging waters.
We ended up in Gulu, but the rest of my family settled at Elegu near the border – we were separated.
Teenage orphan
Back then, refugees didn't have tents. We had to construct our own hut. The Ugandan authorities gave us machetes for cutting wood and hoes for digging land - that was all we had. We made a mud hut with a grass thatched roof to live in.
When I was 12, I heard that my father had died. The authorities wanted to relocate refugees nearer the border and went about removing refugees. My dad had severe asthma and was unable to leave, but soldiers still bundled him into a lorry. He died from an asthma attack.
When I was 15, the Addis Ababa Peace Agreement was signed, which signalled hope of returning home. Mum decided it was time to leave.
My brothers returned to Sudan first to construct huts for our family. My job was to look after the family's possessions while mum sought transport for repatriation. But it was so chaotic and slow, that mum decided it would be quicker to walk the 22 mile journey across the border alone.
As she crossed the river into Sudan, the military - hiding in the bush - caught up with her, raped her and left her for dead.
My siblings in Sudan thought that my mum was with me, and I thought that she was with them. Two weeks later, we discovered the burnt remains of mum hidden under a bush.
Life not worth living
I tried to pick up the pieces of my life. I got a free place at secondary school, but with over 500 students, I felt lost in the crowd.
With no proper home, I boarded at school during weekends and holidays.
Every Sunday, I would sit under the same mango tree in the school grounds wondering why my life had been wrecked by war and poverty. I felt lonely - life wasn't worth living.
One Sunday, when I was wondering how to take my life, I heard a song coming from the nearby chapel.
When I heard 'What a friend we have in Jesus', I felt that I was being called, so I left my tree, walked in and sang with the rest of the students. That was the beginning of my new life. Life was never the same again!
The chaplain who was leading the service worked for ACROSS – a development agency in Sudan co-founded by Christian aviation charity Mission Aviation Fellowship (MAF)

These people gave me hope and direction I so desperately needed.
God, the anchor
My new faith gave me internal peace, but society around me was crumbling into chaos. Sudan's second civil war erupted in 1983.
At 29, I had my new wife and baby daughter to think about, so we fled to Nairobi for safety. With commercial flights closed at Juba Airport, the only way out was with MAF.
In 1990, ACROSS offered me a job in Nairobi where I boarded many MAF flights to support Sudan's development. During this period, I also trained as an Anglican minister.
Depression
Unfortunately, the Kenyan government didn't extend my visa, so once again my family faced an uncertain future.
Australian missionaries offered to sponsor us, so a new life in Sydney awaited us. We migrated in 2000 and joined a Sudanese community, many of whom struggled with Australian culture.
As their church leader, I supported them but underestimated the toll it would have on my health.
Domestic violence was common among the community, and I was in and out of police stations.
By 2004, it was getting too much. I slipped into depression and had a breakdown. My wife left me because I was like a vegetable. It took me a year to become human again.
When Sudan's second civil war ended in 2005 after 22 years, I wanted to leave Sydney and return to Africa.
Return to Juba
At 54, I finally returned home. South Sudan had gained independence in 2011, but peace didn't last long. Another war marred my country from 2013 to 2020.
Today, Juba is very different from what I remember. When I left, it was just a village.
Before the second civil war, insecurity was not a problem. Poor as it was, we could still walk around at night and nobody would worry us, but now I struggle.
Today, at 66, I find solace in Grace Community Church which I founded in 2011. We serve missionaries from all over the world as they endeavour to rebuild South Sudan.
I know there are things that only God can change in my country. I dream that the war will cease and that political leaders will put their people's interests first.
I thank God for Grace Community Church, which has become a chaplaincy for many MAF staff and other Christian organisations. I am very appreciative of the selflessness of these people.
My encouragement to them is to soldier on. May God continue to look after them and their families.
Thank God for MAF, which has been in my life for a very long time!
Join the Rev Bernard Suwa on MAF UK's 'Flying for Life' podcast