Fierce fighting has rocked Sudan in recent weeks as two rival factions vie for control. Caroline Duffield explains what is happening inside the tenth most dangerous country in the world to be a Christian, and how we can pray for those still trapped there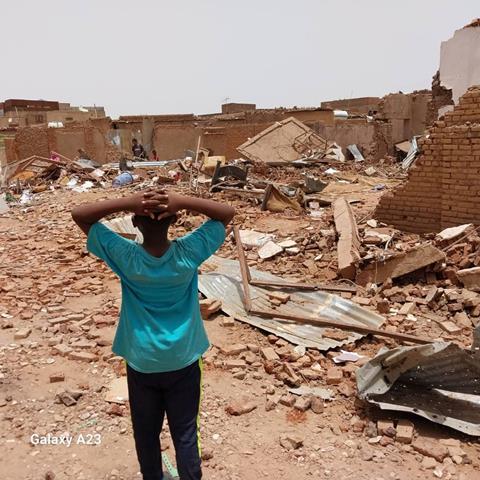 When the sounds of shelling erupted in Khartoum a week ago, Most Rev Ezekiel Kondo, Archbishop of Sudan, found himself protecting 42 families - including young children - inside All Saints Cathedral, in Khartoum.
As mortars and artillery shells rained down, they sheltered inside, listening to gunfire all around them. But within hours, the Cathedral precincts were breached. Families hid in silence as armed men ransacked the outer compound, firing weapons into church vehicles, looting and wrecking offices. Only once they had left could children and parents pick their way through destroyed streets to try to escape the city.
Communications with the Sudanese church leaders are now very difficult. Rt Rev Nick Baines, Bishop of Leeds, the whose church is twinned with All Saints' Cathedral, has spoken of texts and emails coming through.
Christians in Sudan are always vulnerable. Now, they are even more so
"There is a lot of fear", Archbishop Kondo told him by email, describing a desperate struggle to keep mobile phones charged and to search out food and water. "The Sudanese community here is fearful. At the moment, we pray hard, and keep in touch."
This is not the first time All Saints Cathedral has been attacked. On New Years' Day in 2007, Sudanese police entered the church, firing tear gas at 600 worshippers and breaking up a service.
Other churches in Khartoum have been attacked many times. There is no doubt that Christians in Sudan face extreme threat, both in public and private.
A history of conflict
At its heart, the conflict in Sudan is a vicious struggle between two men: General al-Burhan, and his deputy, General Mohamed Dagalo – known as 'Hemedti'.
Both men rose to power during the rule of President Omar al-Bashir, a former army officer who seized power in 1989. He ruled Sudan ruthlessly for nearly three decades, notoriously sheltering Osama bin Laden for some years.
In 2019, tens of thousands of people poured onto the streets, demanding democracy and an end to his government. The army chiefs were watching – and President al-Bashir was removed from office.
The Sudanese community is fearful. At the moment, we pray hard, and keep in touch
In his wake, a transitional council was created. Amid ecstatic celebrations, civilian leaders sat side-by-side with the generals. Promises of religious freedom and equality were made; the religious police, who routinely detained women for wearing trousers and 'indecent dress' – were dissolved; and the death penalty for leaving Islam was abolished.
It seemed a new future was taking shape.
But suspicions remained that General al-Burhan was secretly working to restore figures from the al-Bashir regime. Relations between him and civilian council members soured. In October 2021, General al-Burhan ordered the arrest of his civilian colleagues in a series of dawn raids.
Meanwhile, al-Burhan and his powerful deputy, Hemedti - the leader of the paramilitary Rapid Support Force – fought over how Sudan might return to civilian rule. Both had accumulated huge personal wealth, commanding lucrative business interests including gold mining.
When Hemedti began shifting his paramilitary troops into key positions around the country, his former ally saw a threat. Hostilities exploded.
Now there are fears Sudan's new future is dissolving before our eyes.
Christian persecution
"Christians in Sudan are always vulnerable," notes Fikiru Mehari, a field researcher with the Christian charity Open Doors in East Africa, "and now, they are even more vulnerable."
Open Doors ranks Sudan at number ten on it's World Watch List - making Sudan the 10th most dangerous country in the world to be a Christian.
Conversion from Islam to Christianity no longer means the death penalty – but it does means shame and hostility. Christian converts are often thrown out of their own homes and communities, or disinherited by parents.
"Now we have a situation, in this violence, where Christian converts may be trapped, or locked up, with family members who may be deeply abusive to them," Mehari points out. "It is a situation of huge concern, particularly for women."
Financial vulnerability is a further issue. Employment discrimination against Christians is a fact of life in Sudan. "When you apply for a job, they will openly ask you at interview, what is your religion?" says Mehari. "Many times that translates into only precarious employment, and no permanent means of income. It is likely that the majority of Christians will not have that cushion of savings to fall back on."
When life becomes a desperate hunt for food, medicine or fuel, those without savings will face harrowing choices.
Pray for Sudan
For families in Sudan, holding on to hope at present is a great challenge. Those stepping out of their front door do not know whether they will return alive.
Please pray for safety for those living with fear. Local church leaders tell Open Doors that the climate of fear is now being fanned by politicians. Voices from the old Bashir regime are now openly suggesting the move to democracy was an error, and that the only peace now lies in a return to the authoritarian rule of the past.
Please pray that the Sudanese people reject these voices. Local church leaders ask that we pray for justice and healing – and an outcome that does not open the way for more radical Islamist groups.
Please pray that the Sudanese people continue to fight for a government that respects human rights, freedom of worship and dignity for all.

Caroline Duffield is a media advisor at Open Doors UK & Ireland. She is a former BBC foreign correspondent and BBC World Service radio presenter with extensive experience in Africa
View full Profile