Men's events are often criticised for being overly macho but Carl Beech, leader of The Gathering, says they're vital safe spaces. As they gathered together for the first time in three years, he shares one remarkable testimony from this year's event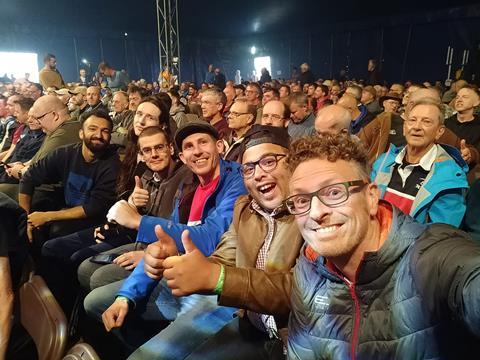 At The Gathering, we present the good news of Jesus across our weekend-long festival. Crucially though, we also take time to explain the cost of following Christ - and dedicate a whole teaching and ministry session to this before we ask men to commit their lives.
On the Saturday evening and Sunday morning, we invite men to come forward and kneel at an old driftwood cross that we've taken to each event for nearly two decades. It's a profound moment. We don't ask for decision or a show of hands; we ask for men to move out of their seats and kneel before the cross. Then, we ask them go to our ministry area, 'the prayer shed', for more prayer and counsel and to receive a Bible. In other words, we do as much as we can to make sure their decision has real teeth. Over the years, we have seen around 1,200 men make first time commitments at The Gathering, with many more recommitting their life to following Christ along the narrow path.
This year, we were back together in person in a field near Swindon, for the first time in three years. 1,200 men attended and 80 made first time committments to Christ. Here's just one story:
Steve's story*
I got invited to go to a Christian men's weekend - The Gathering. What a weekend it was - life changing! Before I left on the Friday, I said: "God I want to come back from this weekend a changed man." I didn't realise how crazy that prayer was.
To give a little background: I was sexually abused when I was a child. For years, I have suffered crippling depression and anxiety. Two years ago I was suicidal. The church in which I was abused was central to my life. Then it was then shut down and disbanded.
We had left before this happened, but it was still a massive heartache. I was left disillusioned with God and life itself. It had been a part of me for so long, it felt like a body part has gone missing. We found a local church, which has been amazing, but my walk with God had become distant and wasn't forefront in my life. I believed in God but couldn't face much more than that.
It was as if a massive load had been lifted from me. I felt free for the first time in 20 years
Anyway, in the last couple of weeks I have been finding my faith again. I started to feel comfortable at church and was able to worship freely. Last week our pastor preached about loving your enemy. It challenged me and, somehow, I managed to get to a place where I was able to say: "Please God, help me to forgive my abuser."
Fast forward a week, and I'm at The Gathering. The worship is great and I'm enjoying the talks. Carl Beech makes a call for people who have been on the Christian journey a while but feel like they have lost their closeness to God to come down to the front. I decide that is me and venture down. I kneel at the front and have an amazing encounter with God.
When I'm camping, I usually find sleeping really difficult and getting to sleep takes ages. That night, I experience a peace that I hadn't felt for a long time. I fall asleep within ten minutes. I wake up the next day and think: That's God finished with me for the weekend.
But no, there's more. That evening, Beechy gives a really personal testimony that just breaks my heart. Afterwards, he gives a call to the front. This time it was for men who were believers, but not followers, of Christ. Also men who want to give their lives to Jesus. I sat in my seat and thought: That's not for me, as I had been down the previous evening.
While men were walking down, the whole audience were clapping. It was pretty powerful and beautiful to watch. Beechy wasn't finished calling people, and kept asking if there was anyone else. My heart started to race. I wasn't prepared for the cost of giving my life fully back to Jesus. I wanted more time. But the call came for anyone whose heart was racing to come down. At that point, I gave in. I wandered down the front and by the time I got there, I was in tears. By the time I was kneeling, I was bawling. It was as if a massive load had been lifted from me. I felt free for the first time in 20 years.
As I was praying, I felt the arms of Jesus open wide. All the pain departed
As the meeting was wrapping up, anyone who was down the front was encouraged to get prayer in the prayer tent and given a Bible. So I made my way there. When I arrived, I sat down and a guy called Neil came over. We spoke for a while and he said: "You pray, and I will pray after." As I began praying, words just flowed out of my mouth. All the heartache and pain from the abuse; the pain caused from growing up in the church; my anxiety and depression; the hatred I held for leaders past.
As I was praying, I felt the arms of Jesus open wide. I prayed to feel the embrace of them again. All the pain departed. I felt released. I felt free. I felt close to the King of Kings. It was amazing. What an experience!
I got home and the house was a bit messy (kids!). This would usually be one of my anxiety triggers. It would usually lead to a panic attack and me being in a mood all evening. But not this time. No anxiety. No horrible feeling. Just peace and a sense of the power of Jesus. I stood and cried. I haven't felt like this in 20 years. I feel new again. I am able to forgive everything in the past and let it stay there. I can move on in better things. Hope is restored.
Thank you God. Thank you to all the guys who run The Gathering. Thank you for the guys who I stayed with over the weekend. Thank you. This is only the start of my journey. Bring it on!!"
*name has been changed

Carl Beech is an evangelist, church leader and author who is passionate about reaching out to forgotten people in forgotten places. He is the president of Christian Vision for Men, the leader of Edge Ministries and CEO of Spotlight YOPD, the only UK charity dedicated to young-onset Parkinson's Disease.
View full Profile