A quarter of all churchgoers will experience abusive behaviour. But if violence against women is largely perpetrated by men, and churches are largely run by men, why can't Sally Hope get men to come to her training? On the International Day for the Elimination of Violence against Women, she asks: Why won't men engage?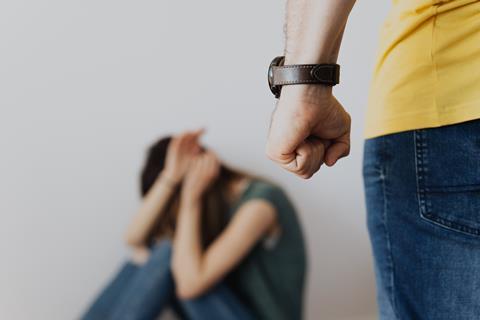 I've worked to end violence against women for almost a decade now. I specialise in domestic abuse, the most prevalent form of both physical and psychological violence that women face. In the UK, it affects one in four women, kills one woman every four days and is as widespread in the Church as it is outside.
During that time, I've been privileged to work with some amazing women. Women who have fought for funding to tackle this issue, women who have opened refuges, studied the theology of violence, written books, started charities and, most importantly, used their voices to demand change, often in the face of indifference - or worse.
It's both inspiring and empowering to be part of a throng of passionate and motivated women who continue to cry out for justice. Yet when I leave a conference, or any other event where those who seek to create a safer world for women gather in one place, I'm always left with one question: Where are all the men?
Free access
Two months ago, I offered the churches in my home town of Lancaster free training on domestic abuse. The training, which was two hours long and entitled: "Safeguarding victims of domestic abuse and their children in your church", usually costs £200. Every place was filled: by women. There was not a single pastor, vicar, minister or man in that room.
If you want to know what real masculinity looks like, look no further than Jesus
Out of almost 64,000 people in the district who identified as Christian in the last census, not one single male was interested in making their church a safe place for domestic abuse victims. Not one church leader was interested in learning vital information for ministering to the 25 per cent of their congregation who is likely to experience abusive behaviour. Isn't that their job?
Apathy and engagement
And, unfortunately, I'm not alone in this. In the time I've spent both giving and attending seminars, conferences and training events about domestic abuse in the Church, I've never ever seen more than a tiny handful of men. Colleagues have shared their frustrations at how difficult it is to engage men in this issue.
It's patently clear from their apathy that, on the whole, Christian men don't care about violence against women. Or they consider it a "women's issue", for women to deal with. But they couldn't be more wrong. It's a men's issue, and until Christian men wake from their slumber and begin to take action, it will not go away. Women can do so much, but we cannot fix this issue alone.
Quite simply, violence against women is a men's issue because men are, on the whole, the ones perpetrating it. In 2020, 92 per cent of defendants in domestic abuse related prosecutions were male, and 110 women were killed by men. Even if we were to look at violent crime as a whole, rather than just domestic abuse, we would find that 82 per cent of perpetrators were male.
We know that it's #notallmen, but nonetheless, we do have a problem with male violence - and only men can fix it. We need men to create a culture of accountability, and to challenge the beliefs, attitudes and behaviours of other men who disrespect their sisters in Christ.
Christ's example
In Matthew 26:6-13, we read a story of a woman pouring perfume on Jesus' feet, much to the annoyance of his disciples. When they make their grievances known, Jesus responds with three simple words: "Leave her alone." It's not the only time Jesus defends women in the Gospels.
If you want to know what real masculinity looks like, look no further than Jesus. For Jesus, it wasn't enough to just be one of the good guys who respects women, he also challenged the social norms of his time; speaking up when men wanted to stone an adulterous woman, defending Mary's right to sit at his feet with the other disciples and praising the devotion of the woman who anointed him. Sometimes, three little words: "Leave her alone," is all it takes.
Every place was filled: by women. There was not a single pastor, vicar, minister or man
It's simply not good enough to leave the pursuit of equality to those who are being denied it. The Bible tells us over and over again: "Learn to do good; seek justice, rescue the oppressed, defend the orphan, plead for the widow" (Isaiah 1:17).
At the very heart of our faith is the instruction to use our power to defend, protect and serve those who are more vulnerable than ourselves. It is our job as Christians to speak up for others, not to leave them to speak up for themselves.
When God's sons are silent about his daughters being bullied, beaten, raped and murdered, what reflection is that on God? How is the Church being a light to the world when the same violence that plagues the world is happening in its own pews? When women who have been abused cannot find sanctuary in the Church?
When Christian men fail to turn up, stand up and speak up about violence against women, they fail to be the men God calls them to be.

Sally Hope is a writer, speaker, facilitator and activist working to end domestic abuse within the Church. She is the creator of the Always Hopeful Programme
View full Profile