Saints, sleepwalkers and sceptics will all benefit from this outstanding book on prayer, says Emma Fowle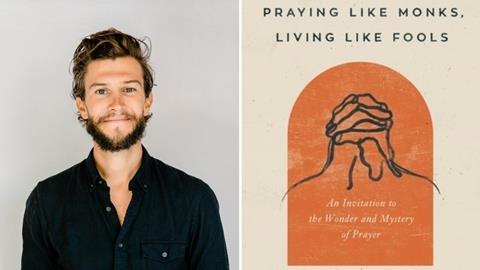 Tyler Staton, the national director of 24/7 Prayer in the USA, may be less well known than his UK counterpart, Pete Greig, but his latest book looks set to change that.
If you're already a fan of Greig's simple-yet-profound style of writing on conversation with God, you'll love Praying Like Monks, Living Like Fools (Hodder & Stoughton).
Described by Greig as a "contemporary prayer warrior", Staton had a striking introduction to the power of prayer. He was a 13 year-old sceptic when his youth pastor challenged him to prayer walk his school each morning of his summer holidays. Curious to know whether God was as real as his parents and church leaders purported, Staton accepted the challenge.
What happened next was, in his own words, "breathtaking". The following term, he started a 6:30am weekly Bible study ("a recipe for disaster, not revival") yet within a year, a third of his class had become Christians. And Staton had fallen in love with talking to God.
Praying Like Monks, Living Like Fools is accessible, inspiring and entertaining. Staton obviously wants you to speak with and listen to God more - but never out of dull obligation. Instead he argues prayer is the most vital act that a human can undertake, and it offers us a life of unimaginable adventure.
Staton notes that "more Americans will pray in a given week than will exercise, drive a car, have sex or go to work". But while prayer seems to be an instinctive part of the human experience, many Bible-believing Christians "find little life in prayer". And while more people than ever were turning to prayer during the pandemic, many more battled with wondering where God was in it all.
The book is shot through with relatable anecdotes and personal stories, and Staton neither shies away from hard questions nor gets bogged down by them. He tackles "the mystery in the middle" of prayer – why we need to pray, unanswered prayer, silence and persistence – alongside practical wisdom on intercession, confession, petition and participatory prayer.
Unsurprisingly from a man who planted a church in New York and has recently succeeded John Mark Comer as pastor of Bridgetown Church in Portland, Oregon (considered the most secular city in America), Praying Like Monks is a contemporary read aimed, as he says in the introduction, at "saints, sleepwalkers and sceptics".
To those who already believe, the book is an encouragement to immerse ourselves in the depths of true intimacy with God. To the sleepwalkers, a challenge to shake off the dull duty that often clings to Christians and, instead, become alive to the adventure of faith. And to the sceptics, encouragement to experience "what cannot be taught" – an encounter with Jesus; the miracle of a conversation with the creator of the universe.
In the almost-middle of the book, Staton asks the reader a question: If God answered every prayer you'd prayed this last week, what would happen? It's a powerful challenge that reveals much about our own beliefs about prayer. Praying Like Monks is a challenge to live like we really believe that Jesus is real, that God hears our prayers, and that the words we utter change things.
If, as a Christian, you feel paralysed between the wonder and mystery of being able to talk to God, and worrying that nothing really happens when you do, this book is a great place to find encouragement and instruction to start moving again.
Praying like monks, living like fools by Tyler Staton (Hodder Faith) is available now
Hear more from Tyler Staton in his interview on 'The Profile' podcast


Emma Fowle is assistant editor of Premier Christianity and editor of Voice of Hope, Premier's quarterly devotional magazine. Emma is a trustee for Christian festival Creation Fest and lives in Cornwall with her husband and two teenage daughters. She loves to read, swim in the sea, play netball and lift weights with her dad.
View full Profile