It might be ignorant of British Christian music history, says music journo Tony Cummings, but The Jesus Music is still a rollicking good ride through the best of Christian Contemporary Music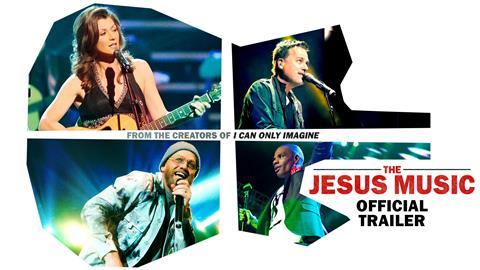 As a long-in-the-tooth music journalist who's adamant that albums like Larry Norman's Only visiting this planet and For King & Country's Burn the ships are among the greatest ever made in the history of popular music, I approached this film with considerable expectation. But also a little disquiet.
The publicity blurb for the movie promised a "contemporary Christian music (CCM) documentary…from its humble beginnings at the Calvary Chapel in Costa Mesa, California through to its transformation into the multi-billion-dollar industry of CCM today." That suggested an Americanised approach to history which had no time (or possibly even knowledge) of British Christian skiffle group the Venturers (1957), the rock opera A Man Dies (1960) or Liverpool's the Cross Beats (who played the Cavern Club) let alone New Zealand's David & Dale Garrett whose early 1970s Scripture In Song albums were a key foundation stone in modern worship music.
Modern Christian music and contemporary worship songs didn't start in California but, if we ignore the documentary's American bias and its failure to touch on gospel music history and artists like Mahalia Jackson in the 1950s and the Edwin Hawkins Singers in the 1960s (both of whom were making big inroads into mass consciousness) we are still left with a fascinating music history.
Going to a Stryper concert could mean literally being hit in the face with a Bible
Its warts and all interviews, with artists like Amy Grant, Michael W Smith, TobyMac, Kirk Franklin and Chris Tomlin, bring forth comments and memories a thousand miles away from standard music artist PR speak. And some insightful overviews come from industry insiders, like A&R man and former Love Song member Tommy Coomes and former CCM magazine editor John Styll. In fact, excellent editing ensures that the complex history of CCM's development is told with flare and no voice overs.
Back to the beginning
The history begins with the Jesus People revival, where thousands of hippies turned from sex, drugs and Hendrix to faith in Jesus (with plenty of wonderful vintage footage showing Calvary Chapel pastor Chuck Smith baptising legions of hippies in the sea). It continues with the formation of early bands like Love Song; the important endorsement of the whole Jesus Movement by iconic evangelist Billy Graham and the extraordinary Expo '72 event in Dallas where Graham, Johnny Cash and a host of newly fledged Jesus music acts wowed 200,000 believers. The seismic influence of the father of Christian rock music, Larry Norman, is covered, with shots of Larry singing: 'Why don't you look into Jesus' causing interviewees to quote those jaw-dropping lyrics: "You're still looking for the perfect lay / Gonorrhoea on Valentine's day". Finally, there's the emergence of Christian heavy metal, where going to a Stryper concert could mean literally being hit in the face with a Bible.
The fascinating tale carries on with coverage of the conservative Church's backlash, with TV evangelist Jimmy Swaggart pouring out vilification of CCM and a quote from Skillet frontman, John Cooper, commenting that his parents would rather he was a convicted murderer than being in a Christian rock band. John Styll admits that Amy Grant "didn't sing that great" at first, and Grant herself admits that, when Bill Gaither offered her a $300 gig, the naïve 16-year-old thought that was what she was being asked to pay to perform!
Franklin reminds the Church that white Christians need to do much more in breaking down divisions
As the huge financial growth of the CCM industry continues, major mainstream companies buy Christian independent labels, although the coverage of Amy Grant becoming a mainstream pop star is a little disingenuous here and seems to be suggesting that 'Baby baby' is some kind of different spiritual song. As the emergence of dozens of big selling CCM artists and bands, including the most successful and influential of all, dc Talk with TobyMac, is covered, Michael Tait and Kevin Max each offer memorable interview fragments, with Toby finally coming clean about the internal squabbling that led to the band's premature breakup. There is also an unflinching section where CCM's scandals and controversies are brought out into the light, including painful news footage of a placard-wearing protester declaring that the divorces of Amy Grant and Vince Gill and their subsequent marriage was "satanic", and moving footage of Russ Taff describing his lifetime battle with alcoholism.
Music through the ages
Throughout this fast-moving montage of interviews, news clips and album sleeves there is a barrage of memorable music - Petra's 'God gave rock'n'roll to you', dc Talk's 'Jesus freak' and Lauren Daigle's 'Look up child' - constantly reminding us just how good the best CCM actually is.
The Jesus Music draws to a close by exploring two important themes – the huge contribution to CCM history played by Black African Americans and the development of modern worship music. Kirk Franklin's interview is used to shine the spotlight on the former and Michael W Smith covers worship with surprising sensitivity and transparent sincerity. John Styll's assertion that Franklin is "the most important gospel artist of our time" is true indeed but, as it comes 80 minutes into the film, one cannot but wonder why gospel music had not been mentioned up until that point. But once Franklin gets into his personal testimony - poverty, parental neglect, the discovery of his composing and choir leading abilities - and his integration of R&B and funk into the gospel sound (which had, of course, started back with Andrae Crouch), the sheer celebratory joy of his creation 'Stomp' leads us perfectly into a Franklin preaching segment. In that, Franklin reminds the Church that white Christians need to do much, much more in breaking down the division that has, for decades, allowed the white church/black church blasphemy to exist unchallenged.
In spirit and truth
The Jesus Music finishes in the only place it could - the rise of modern worship music - with Matt Redman memorably describing worship as "a musical outburst of what God is doing." It is the testimony of Michael W Smith that so movingly illustrates this description. Smith describes how, while he was still writing "pop songs - worship was not on my radar" he was led by God to organise a big event to record live worship. Every guest singer and musician had "to leave their egos at the door" to worship God in spirit and truth. It impacted him deeply, and the resulting 'worship' album was, of course, a huge hit.
At the film's climax, the Erwin brothers, who directed the film, caught Smith at a studio recording desk. The CCM star pulls down the faders until only the string section can be heard and sings lines from a Redman song which echo in all true worshippers' hearts: "I'm coming back to the heart of worship / I'm sorry Lord for the thing I've made it / When it's all about you / All about you Jesus." And indeed, it is.
For more information see lionsgate.com/movies/the-jesus-music

Tony Cummings' journalistic career started in 1963 when he started a black music fanzine originally called Soul, then Soul Music Monthly and finally Shout. By 1971 he was writing occasionally for Record Mirror and then in 1973 joined Black Music magazine. He later became the editor of Christian music magazine Cross Rhythms.
View full Profile