Twenty years on from the release of Coldplay's debut album, Tim Bechervaise looks at the faith-inspired songs of this world famous band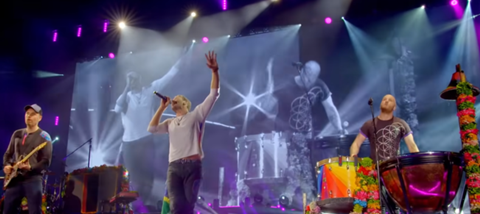 They're like marmite. You either love or hate Coldplay.
Catchy melodies, anthemic songs and emotional lyrics are their staple — the very things that draw in the fans but deter the haters.
But wherever you fall on the divide, Coldplay have had a monumental impact on pop culture. This month marks 20 years since their debut album Parachutes was released.
The band, led by Chris Martin, have sold 85 million albums and their most recent tour, 'A Head Full of Dreams', grossed $523 million in ticket sales (third highest ever). In 2016, they became the first ever band to headline Glastonbury four times.
An unexpected tie through all their albums are the references to faith and spirituality. Chris Martin was raised in a Christian household. "I think God is love," he said in an interview with The Times last year. "And God is the magic in every molecule, even in people you don't like."
He stops short of calling this the Christian God, but the passion and openness in which he talks about the subject is reflected in Coldplay's music, particularly their latest album Everyday Life.
1. Parachutes (2000)
Songs such as 'Yellow' and 'Trouble' grabbed the headlines. However, in terms of faith, it's the lesser known 'We Never Change' that falls into the spotlight.
The verses speak of a longing to never be cruel, to be good, to be true and to have friends around. But with the chorus comes reality: "But we never change, do we? No, no, we never learn do we?"
The bridge brings a dark realisation: "Oh, I don't have a soul to save, yes, and I sin every single day." The lyrics are almost Pauline in the despair felt at wanting to do right but not actually doing right. But Paul and the song come to different conclusions. Paul discovered that change can come through Jesus, whereas the song is left lamenting the same familiar refrain.
2. A Rush of Blood to the Head (2002)
The album that brought 'Clocks' to adverts and TV montages also suggested that God puts smiles on faces.
'God put a smile on your face' is tricky to interpret, but a note of hope can be detected in how the song is bookended. The song begins with "Where do we go, nobody knows; I've got to say I'm on my way down; God give me style and give me grace; God put a smile upon my face." It feels like a personal declaration of faith that by the close of the song has found the strength to speak for others: "Where do we go, nobody knows; don't ever say you're on your way down when God gave you style and gave you grace; and put a smile upon your face."
3. X&Y (2005)
Two songs on the band's third album can be directly attributed to Martin's church upbringing. In an interview with Rolling Stone, Martin explains that 'A Message' is taken from the hymn 'My Song Is Love Unknown' while 'Til Kingdom Come' (written with the intention of performing it with Johnny Cash who died before it could happen) was inspired by the Lord's Prayer.
Martin explains: "One of the great things about being forced to go to church services is that we'd sing all these big songs. That's partly why I'm obsessed with getting everyone to sing along at our shows. It makes me feel like I'm a part of something."
4. Viva La Vida or Death and All of His Friends (2008)
Alongside the soaring 'Viva La Vida', which references St Peter and the fabled pearly gates, is a hidden track at the end of 'Lovers of Japan' called 'Reign of Love': "Reign of love by the church we're waiting; Reign of love on my knees go praying; How I wish I'd spoken up; Away get carried on a reign of love."
5. Mylo Xyloto (2011)
Mylo Xyloto brought us 'para-para-paradise', a cameo from Rihanna and an album title Chris Martin ended up regretting (because no one could pronounce it). Among this is a twee little song called 'U.F.O.' which could be read as a prayer: "Lord I don't know which way I am going; Which way, the river gonna flow; It's just seems that upstream, I keep rolling; Still got such a long way to go." The second verse brings a more hopeful tone with "We'll find somewhere the streets are paved with gold." A reference to Dick Whittington and His Cat or Revelation 21:21? Or both?
6. Ghost Stories (2014)
The main "ghost' in this album appears to be Gwyneth Paltrow. Two months prior to the album's release Martin and Paltrow famously "consciously uncoupled". It's a raw, vulnerable album, and in 'O' there is fleeting reference to prayer, the album's closing track: "Still I always; Look up to the sky; Pray before the dawn."
7. A Head Full of Dreams (2015)
Tucked away at the end of 'Kaleidoscope' is a recording of President Obama's powerful rendition of 'Amazing Grace' at the funeral of Reverend Clementa Pinckney, one of nine people killed in the mass shooting at a church in Charleston, USA that year.
8. Everyday Life (2019)
Coldplay's latest album is its most expletive but also its most religious. 'When I need a friend' is a beautiful, choral song crying out for peace, friendship and love: "Holy, holy, God defend; shield me, show me; when I need a friend."
Then there is 'BrokEn', effectively a Gospel song calling out to God in difficult times: "Oh shine a light; shine a light. And I know that in darkness I'm alright; See there's no sun rising. But inside I'm free; Cause the Lord will shine a light for me. Oh the Lord will shine a light on me."

Tim Bechervaise works as a full-time copywriter for an international charity