This memoir took ten years in the writing and is not for the faint hearted. It's a roller coaster of emotion and horror, and a story of faith in the midst of suffering, says Jane Hepburn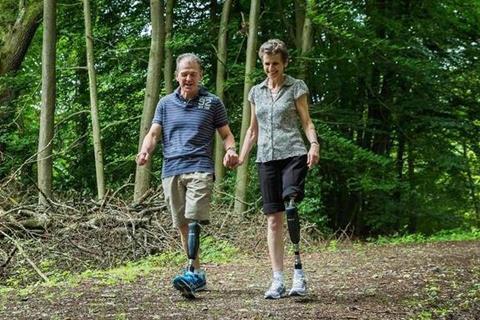 "Patient was alert, oriented and co-operative. Mood was euthymic (normal, tranquil)," wrote the psychologist. "It must be acknowledged that the patient is using significant amount of denial at this point in regards to the injuries, her husband's medical status, the traumatic amputation of her left leg."
Denial or not, Denise Arthey was coming to terms in the only way she knew how to face the future without a limb. A matter of hours after his visit, she was forced to make the life changing decision on her husband's behalf, to allow surgeons to remove his mangled gangrenous leg too, or he would die.
Neither of them would be the same following a devastating head on crash that transformed their long dreamed-of adventure astride a Harley-Davidson Road King cruising along Highway 35 towards Corpus Christi, Texas, into an ordeal that would change their lives forever.
Just seven months earlier, their move from the leafy lanes of southern England to Houston's vast concrete oil metropolis saw them living a dream. Thirty sweet years of marriage, children off their hands, still young and energetic enough for a new adventure, this was going to be their time. Just settling into a new job, making good friends, loving the climate and the riot of summer flowers, the road trip was going to be the first of many test rides before buying a serious tourer.
Their fortitude, faith and ability to forgive the man who wreaked such havoc on their lives, is written on every page
But a drunken driver in a red SUV coming straight for them out of nowhere, was to change all that.
Grit, determination and authentic faith lead Denise and her husband Chris by the hand through the turbulent weeks, months and years that followed. Their bodies were dismantled and reconstructed. Their once athletic frames were crippled, and with that the confidence that transforms an able bodied human being into one pitied and condescended. These were blows from which recovery was wearying and fraught. But recover they did through tears and questions, anger laced with humour and the power of forgiveness.
The reader is taken on a roller coaster of emotion and horror, through the witness testimonies of those who walked the journey with them. We follow the fights for compensation through the courts, learning to walk again and eventually climbing mountains and running marathons. We witness an army of friends and family relationships nurture the healing process and a marriage that deepens at every torturous turn. We see resilience beyond themselves and a determination to see something exceptional emerge from the ashes of their disaster.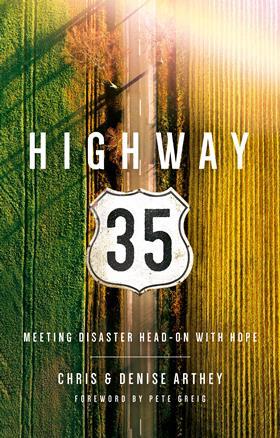 Highway 35, a memoir that took ten years in the writing, is not for the faint hearted. But it is a story that is guaranteed to stir up every fibre of admiration and wonder at the miracle that saw this couple not only exit alive from the debris, but also walk out strong from the wreckage of hopes and dreams that were wrenched from them. Their fortitude, their faith in a God who has been with them every step of the bumpy way and their ability to forgive the man who wreaked such havoc on their lives, are written on every page. A certainty that the God who lead them through the darkest times had given them strength beyond themselves propels the narrative of this powerful story.
They are convinced there are reasons beyond their understanding to explain that fateful day, Friday May 16th 2008. They know they might never see answers in this world but are content to wait.
The couple are now back in England. Chris is training for a half Iron Man, Denise is back at the coal face as a volunteer with her beloved primary school children and both are intimately involved with the improvement and development of prosthetic legs. They profoundly grasp their second chance at life and share their inspirational story with whoever will listen. Chris is happiest at the helm of his new toy, a three wheeled, 1,000 cc V-twin thunderbird roadster Can-Am Spyder, but not surprisingly Denise refuses to go near it.


Jane Hepburn is an English teacher and human rights campaigner. She teaches children in Afghanistan via online classes.
View full Profile