Beyond that one church worship scene that went viral on twitter, Netflix's Beef is a profound morality tale, says Nathanael Smith. Anger can wreck our lives, but God's amazing grace is always available, no matter how low we fall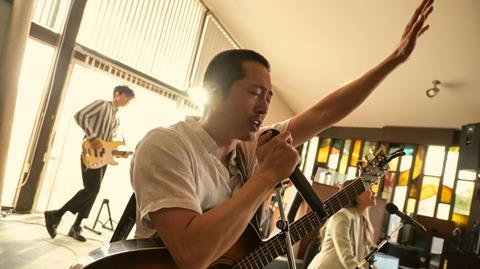 Recently, a Netflix tweet went viral among Christians. It featured Steven Yeun in the show Beef, singing Chris Tomlin's version of 'Amazing grace' to a worshipping crowd. Raymond Chang, president of the Asian-American Christian Collaborative, tweeted: "I never thought I'd see anything that depicted something so close to my own experiences."
Yes, that really is Steven Yeun singing in BEEF! pic.twitter.com/TmGGNL060T

— Netflix (@netflix) April 9, 2023
TV critic Nancy Wang Yuen tweeted that "For Asian American Christians and Exvangelicals, #Beef is so culturally accurate that it was triggering/cringey to watch because REAL praise band team members were cast in these OC Korean church scenes!"
Clearly, the depiction of charismatic evangelical Christianity is resonating with viewers but, beyond that, is Beef worth watching? And is there more to its depiction of Christianity than this one clip might suggest?
Growing grudges
The popular show has been a surprise hit for Netflix. Beef - the word here meaning 'grudge' - follows two people at opposite ends of the economic spectrum in southern California, both depressed and lonely, who get into a road rage incident. This moment of unbridled anger consumes them and spills out into their whole lives, at the cost of their relationships, careers and sanity. It's a painful look at how unchecked anger can wreck everything in its wake, peeling back the layers of those who seem to have it together, to expose the brokenness and pain bubbling beneath the surface.
It's refreshing to see an evangelical church depicted not as a joke or villain, but as a real community
It's an astute, beautifully observed drama that is completely unafraid to push the audience's sympathy with the viewers. Ahead of any recommendation, it's worth noting that this an 18-rated drama, with bad language and bad behaviour that escalates from episode one onwards. This is a show about broken people making poor decisions because they can't see any other way, and the result is often uncomfortable and frustrating to watch. But if you can see past that, there's a humane, thoughtful look at the human condition beneath the surface.
Called to church
Within this story of anger, extramarital affairs, petty crime, violence and hurt, we get the Church. Danny, Steven Yeun's character, turns up to Living Glory church on a whim. He enters the building after a series of bad decisions - at this point, it's hard to root for him at all - and the band starts to sing Elevation Worship's 'O come to the altar': "Are you hurting and broken within / overwhelmed by the weight of your sin /Jesus is calling." Danny breaks down into tears.
I haven't been able to forget this moment; a character who made me angry and frustrated is now weeping while he hears that "the Father's arms are open wide". Danny later reflects: "I think I really felt the presence of God…or something…" Suddenly my perspective of his character has shifted from anger to sympathy. That's a hard trick to pull off.
I've *never* seen a film portray this feeling in an evangelical church service this accurately (not even in Christian films). Steven Yeun grew up evangelical Christian and you can really see the experience of that in this performance. pic.twitter.com/JpCJjLrmjE

— 🎬 Jeremiah Warren 📷 (@jeremiahjw) April 9, 2023
The depictions of the church feel real because the creator and showrunner, Lee Sung Jin, and Yeun both come from that background. Yeun sings the songs because he was once in a church band; the extras in the scene still are. It's refreshing to see an evangelical church depicted not as a joke or as a villain, but as a real community where even someone like Danny can find some kind of healing.
Of course, Danny finds unique ways to mess this up and exploit their kindness, but his journey was never going to be straightforward – and, ultimately, it's a more rewarding drama as a result. Because Christians can see themselves in the congregation, it might even give us some insight into the people like Danny who come into our buildings and need our friendship.
A very modern fable
This empathy extends far beyond the depictions of Christianity. Beef is, in essence, a fable about the destructive power of anger. It could be read as a commentary on life in the Western world, with wrath always just one car horn away, each of us with a million different reasons to feel hurt, empty or full of rage.
Amy (Ali Wong) has a particularly rough time of it, as her anger causes her to jeopardise her career, her marriage and even her daughter's safety. It makes for a difficult viewing experience at times, but every step feels believable. Wong and Yeun are absolutely terrific; you will want to both slap them and hug them.
Beef could be read as a commentary on life in the Western world, with wrath always just one car horn away
By the end, the characters have not reformed or fixed everything. There are no easy answers - and that wouldn't be realistic. Life itself has no easy answers, the show seems to suggest. But there is, perhaps, the first step on a journey out of the pit they have found themselves in. It would take a hard heart not to care.
So Beef is more than just that one rare, positive depiction of Christianity in a secular TV show, it's also a profound look at how sinful anger can destroy lives. It will make you tense and frustrated at the same time as evoking empathy, which is an almost impossible needle to thread. And while things don't necessarily work out for its two protagonists, there is actually an answer buried beneath all the nihilism, in the form of a 250-year-old song written by another broken man: "Amazing grace, how sweet the sound / that saved a wretch like me".