Heidi Thomas' latest project is a heart-warming drama that asks important questions about how we care for and value older people. But jokes about bedpans risk undermining the dignity the film seeks to bring to old age, warns Andrew Wileman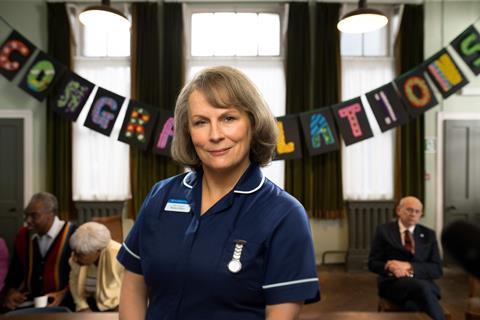 From the outset, Allellujah sets out its stall as a 'clap for carers'-esque proud paean to the NHS, housed within an ultimately crowd-pleasing comedy-drama.
An adaptation of Alan Bennett's play of the same name, and written by Call the Midwife's Heidi Thomas (who clearly relished the chance to write in the Bennett vernacular) it follows the staff and residents of The Bethlehem, a fictionalised representation of the many community-driven hospitals fighting for survival amid changing government priorities and methodologies of care.
From cradle to grave
When the geriatric ward of the small Yorkshire hospital is threatened with closure, the staff and patients decide to fight back. Galvanizing the local community, they invite a news crew to film their preparations for a concert in honour of the hospital's Sister Gilpin, the recent recipient of an award for her dedication to nursing.
From a Christian viewpoint Allelujah challenges us to question how we care for elderly people
Most of the action is set in the amusingly-titled Shirley Bassey ward, run as efficiently as is possible (under the circumstances) by Sister Gilpin, played by Jennifer Saunders. A gaggle of well-known British actors play the patients - and try the patience of carers. This Bethlehem isn't a place of birth, but God's waiting room.
Mary Moss (Judi Dench) is an ex-librarian pluckily engaging with information technology. Dr Valentine (Bally Gill), an Indian doctor, is the saintly heart and soul of an institution heroically looking after its residents amid ever-threatening chaos. In the face of government jobsworths intent on funding cuts, he reminds those with ears to hear: "We are love itself and, for love, there is no charge."
By the film's end, Dr Valentine is immersed in the middle of the Covid-19 pandemic, his face covered by a mask, delivering a bone-rattling monologue about the state of the NHS after a most unexpected plot twist that took this viewer totally by surprise. No spoilers from me…. however, such is the severity of the left-turn the film takes, words will likely fail you anyway.
Christian values
From a Christian viewpoint Allelujah challenges us to question how we care for elderly people, whether it's our parents, a relative or a friend - and what will happen to us when we are old or lose our autonomy. It asks: What is the value of life? and: What value do older people bring to our community?
The film also examines the decisions made for persons in care by third parties, and their motivations. Whether it's children waiting for an inheritance, a health minister looking to rationalise the system, or a caring young doctor who believes every individual has something to contribute to the greater good at all stages of their life.
With the NHS celebrating its 75th anniversary this year, Allelujah pays tribute, via Dr Valentine 's touching monologue, to the heroes and heroines who worked tirelessly during the coronavirus pandemic. With the NHS currently in the midst of its biggest ever wave of industrial action involving nurses, paramedics and junior doctors, this is very timely and poignant.
Mixed messages
However, the film is also a little misjudged, too often reinforcing the stereotype that older people are more of a burden to our society (and the Church) than a gift. Jam-packed with jokes about bedpans and the indignities of ageing, the tone was often jarring when talking about the needs of older people. At times, it undermined the quiet dignity that often happens around end-of-life care: every cough, every cry for help, every sippy-cup of hot milk mined for comic effect falls somewhere on a scale between patronising and genuinely insulting.
This Bethlehem isn't a place of birth, but God's waiting room
Perhaps the pervasive ageism we find in the secular world is merely being replicated in our institutions - and even our churches. After all, the endless pursuit of youth epitomises energy, vigour, flexibility and the future. This film too easily represents old age as rigidity and old-fashioned thinking,
Overall, Allelujah reflects the simple fact that people are living longer - and there are increasing numbers of older people in society who sometimes feel overlooked. It's a timely testimonial that care and support should enable us to live the best lives we can, recognising the value and wisdom that (later) "life in all its fullness" (John 10:10) can bring.

Andrew Wileman is assistant director of older people's services for the Salvation Army UK and Ireland. He is also a trustee of Faith in Later Life
View full Profile