When Argaw Ayele fled famine and war in Ethiopia to start a new life in Europe, he never dreamed that God would send him back to rescue children deemed as cursed by their tribes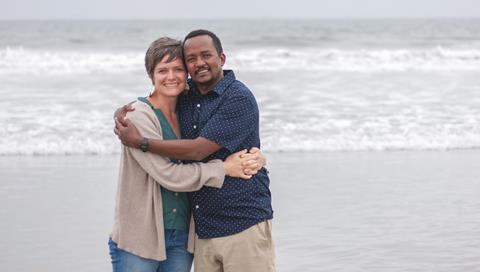 Growing up, Argaw Ayele had one dream: to leave Ethiopia and build a more prosperous life for himself. Surrounded by constant and crushing poverty in the 1990s, he saw "no future" in the country of his birth. When his older brother returned paralysed from fighting in the war against Eritrea, Argaw knew he had to escape.
In desperation, he signed his house over to a contact in return for a letter of invitation to Ukraine. From there, he planned to travel into Europe and claim asylum. But after five months of unsuccessful attempts to find a legal route, he gave up and enlisted the help of people smugglers. After handing over $1,200, he was taken on an arduous 695-mile journey to Hungary, travelling mainly at night in sub-zero December temperatures. He walked for almost a month, crossing frozen rivers and sleeping outside. "I almost died of pneumonia," he remembers.
Eventually, Argaw made it to Bicske refugee camp in Budapest. While there, he met some American missionaries. Argaw had made a commitment to follow Jesus as a child, but had gradually slipped away from faith. Now, he found himself drawn back to God. "I rededicated my life to Jesus," says Argaw. And in the process, God began to change his heart.
Argaw started attending a church in Budapest, and a hunger for God's word grew in him. When Calvary Chapel Bible College opened in the city he was desperate to attend, but having already had three applications to remain in Hungary rejected, he didn't have any hope of being allowed to stay. But a miracle was waiting around the corner. Out of the blue, Argaw received a letter. He had been granted residency. He could stay in Hungary, fulfil his dreams of studying at college and maybe become a missionary one day. His prayer? "God send me anywhere…but not Ethiopia!"
A DREAM OF AFRICA
That's a dangerous prayer to pray, and, unbeknown to Argaw, God was already ordaining events that would lead him back home. Thousands of miles away in Indiana, USA, Rachel Sanderson was packing up her belongings and getting ready to move to Hungary in order to study at the same college as Argaw.
"When I shook her hand, I was convinced that she was the one," says Argaw of their first meeting. What he didn't know was that Rachel was carrying Argaw's home nation of Ethiopia in her heart. She'd felt called to the country in her teens, and the desire to work there had persisted.
I SAID TO GOD: "SEND ME ANYWHERE…BUT NOT ETHIOPIA!"
Within months of their first meeting, Rachel and Argaw had married and, in 2006, they moved to Ethiopia together. "We raised enough money to buy plane tickets and that was it," says Rachel. Relying on support from family and friends, over the next few years they worked with various organisations. But in January 2010, a five-year-old girl called Lantu changed their lives forever.
Lantu was unable to walk, had severe heart and lung problems, and was medically blind. In need of expensive medical treatment that the family could not afford, her father approached the Ayeles for help. A year later, he asked them to care for her permanently. She lived with them until she passed away aged nine.
Lantu would be the first of many children that the Ayeles would care for. "We didn't know we were going to start a children's home," says Rachel but, nonetheless, Ebenezer Grace Children's Home was born (www.esmafrica.org). As the ministry grew, they hired 'mommas' to help. In 2015, Lantu's Home was opened, specialising in the care of severely disabled children, many of whom are abandoned. In 2017, they added House of Hope for boys with HIV. Rachel and Argaw, and their team of dedicated staff, now look after more than 90 children, providing them with a loving home, a first-class education and the opportunity to learn about the God who loves them.
"We call it a children's home," says Rachel, "because our kids, they're not orphans any more. They call us Daddy and Mommy. We're just a big family." Many of the children at Ebenezer Grace still have living relatives. Some come because their parents can no longer care for them, or because their profound physical disabilities need care that cannot be provided in their rural villages. Wherever possible, family contact is maintained, and some even return to their birth families. When unmarried mothers arrive pregnant or with their babies, they are invited into the Ebenezer family to live and work for as long as they need support.
CURSED CHILDREN
Many of the children come from the Hamar tribe. Although they may have living parents, they are outcasts, considered "mingi" or "cursed", and as such, according to tribal law, are condemned to die. Rachel and Argaw tell heartbreaking stories of children born out of wedlock, with physical disabilities or who have missed certain tribal rites of passage. Often at great personal risk, their parents are forced to smuggle them out of their village to preserve their lives.
On my own visit to Ebenezer Grace, I met Yesozer. According to his tribe's custom, if a baby's top teeth appear before their bottom ones, they are considered "mingi" and must be killed. In an attempt to save his life, Yesozer's mother tried to file his top teeth down when she noticed them coming through first. Eventually, she had no choice but to get him to safety. As he played football with us in the garden, his cheeky lopsided grin was a reminder of his previous life, and the precariousness of his fate. But he is fortunate to have survived and, like others, has found a new home at Ebenezer Grace.
THESE CHILDREN WERE SUPPOSED TO BE KILLED AND NOW THEY ARE EDUCATED
Although "mingi" killings are officially outlawed in Ethiopia, the tribal practice still goes on.
"We had to do something," says Argaw. Despite opposition from officials, he eventually found a rare "mingi" survivor. "He knew the problem," says Argaw. Now working as a local government administrator, he had also been told to keep quiet about the illegal killings that still took place. Argaw tells me: "He said: 'I will bring the kids out so you can help.'"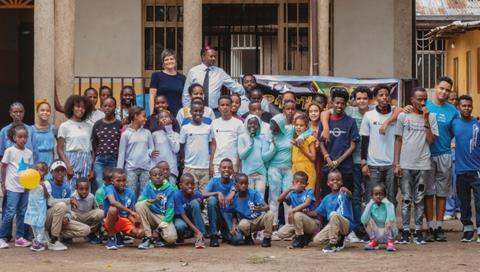 TIME TO CHANGE
Alongside loving the children and providing them with a home, Argaw continues to work with the government and tribal leaders to end "mingi" killings. "To bring change in that culture is a very difficult task," he says. "It takes time."
Their hope is that the children they raise will become a "living testimony". "They will bring more change," he says, "because they were 'mingi' – outcasts – and now they become somebody, a doctor or nurse or whatever. So the people might say: 'These children were supposed to be killed and now they are educated.' They become the solution."
This summer, the Ebenezer Grace family celebrated as Tidenek, who has lived at the home since her parents were killed when she was young, graduated from Hawassa University with a degree in computer science. She is the first female graduate from the Surma tribe, and will now take her place in Ethiopia's national government as an ambassador for her tribe. It is an incredible achievement for a young orphan who would otherwise have had little hope for her future.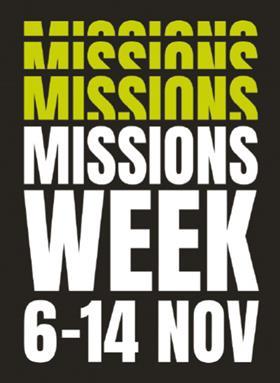 At the party they threw for Tidenek afterwards, Argaw gave a speech. When he and Rachel first returned to Ethiopia, he tells me: "My family said: 'Why are you here? You left and came back with no money. What are you going to do?'" Unable to put into words the vision that God had given them, Argaw explains that Tidenek's graduation is a culmination of everything they could not express at the time: "This is what we saw 15 years ago. We didn't have a picture. We cannot show you, but this is what we saw. All our dreams are fulfilled."
More stories of Christians making a difference in our world today are being shared as part of Premier's Missions Week (6-14 November). See missionsweek.org.uk

Emma Fowle is assistant editor of Premier Christianity and editor of Voice of Hope, Premier's quarterly devotional magazine. Emma is a trustee for Christian festival Creation Fest and lives in Cornwall with her husband and two teenage daughters. She loves to read, swim in the sea, play netball and lift weights with her dad.
View full Profile