When she was diagnosed with stage three bowel cancer, Fi Johnston wondered if her faith would stand the test. Here she shares her journey of finding humour, and a deeper love for God, in her suffering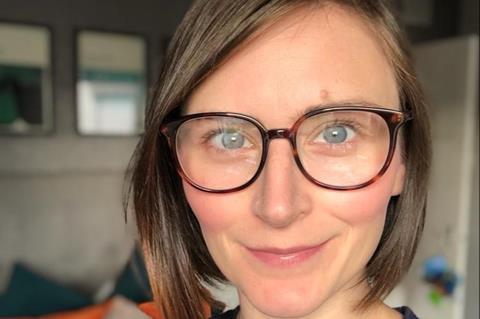 Over the last few years, I've found myself asking the same question: if I hit a rough patch, would my faith stand?
I'd been asking this question following lockdown, as the lack of physically attending church and singing together left me feeling disconnected spiritually. I did not doubt the existence of God, but my relationship with him was weak. Would it stand if something bad happened? I honestly couldn't be sure. Then at the start of 2022, I was diagnosed with a rare and aggressive type of stage three bowel cancer. What a bummer. I was only 32 and had three kids under the age of six. The youngest was only five months. Well Fi, I asked myself, What's your faith going to do now?
From when I first started noticing symptoms, it was clear that God was already fighting for me: getting a face-to-face appointment as I had not long given birth; the GP referring me on almost immediately to the surgeons; getting scans sooner due to cancellations; the closest parking spaces becoming available at appointments; Gloria Gaynor's 'I will survive' playing on the radio as I had an urgent MRI; meetings with people falling through who subsequently tested positive for Covid-19 and would have delayed appointments and, ultimately, surgery. These things cannot be coincidental - and they're only a handful of the many 'coincidences' I have experienced so far.
Goodness in the grief
I started to notice the subtle-but-undeniable hand of God and my faith soared. I've cried more times over the kindness and generosity of my amazing God than I've cried for myself out of grief. I'm not scared about the future; I'm optimistic! There's an underlying feeling that my situation is a very small part of something far bigger. My faith has led me to a point where, despite the less-than-ideal situation, I'm excited to see what God is up to in my own life - and others.
Those weird people who seem to trust God in the wildest of awful places? Yup. I've become one of those
On the day I got my formal diagnosis, I even found myself saying to close friends: "This will be good for me!" Who in their right mind would say such a thing, less than twelve hours after being told they had cancer? Well, me, apparently! I've surprised myself. The answer to my question: If I hit a rough patch, would my faith stand? is: Yes, unshakingly. I've found myself writing social media posts about novelty socks to make people laugh at my situation because "cancer socks" (a loose play on "cancer sucks" for anyone who doesn't get it…tedious I know, but I thought it was hilarious!)
I want people to be made aware of bowel cancer in younger folks, but also to see the impact my faith has had, knowing that God is faithful and good. When everything was turned on its head and I was completely out of control of the situation, I chose to respond by placing all my faith and hope in the Father, the Son, and the Holy Spirit, and to thoroughly make fun of my very embarrassing condition. Who wants to admit they have butt cancer?
Closer to Jesus
It would have been easy to run, to be angry at God and shut him out, to become overwhelmed with grief and sadness for myself and my family - but I don't have the energy or the time to dwell on such things. Being nervous and fearful is exhausting; I've tried it. Trying to control your own situation only leads to feeling overwhelmed and defeated. Instead, I'm craving to become closer to Jesus. I'm craving for this situation to make me a better person; to see him better; to be less ashamed about silly things and to be unashamed of him. If one person sees their doctor, one person considers reading the Bible or one person finds joy in the weird things through me, then this situation and my sock journey are worth it.
I've cried more times over the kindness and generosity of my amazing God than I've cried for myself out of grief
Sometimes faith in difficult times isn't feeling the tangible presence of God, it's making the conscious decision to choose God over the situation. To choose not to give in to worry; to choose joy even though that's not the human response; to choose to believe God has something bigger planned. I've found these choices have given me an unexplainable peace and positivity that are not compatible with my situation - but they are so good, and they are leading me deeper and deeper into the crevasses of God's love. I would never have reached that place without cancer. Regardless of the outcome, this is good for me. And I pray it's good for other people too.
So far I've seen unimaginable unity in prayer, and unexpected interest in my socks. And those weird people who seem to trust God in the wildest of awful places? Yup. I've become one of those - and I'll be forever grateful for it. I'm only at the beginning of my cancer journey but God knew it before, is in it now, and will continue to be there every day in the future, as he is with you, whatever you face today.

Fiona is a specialist pharmacist working in a maternity hospital in Glasgow. She is Mum to three little people, Amber (5), Cody (3) and Finn (7 months) and is married to Dez. When she's not running around after her three kids or husband you can find her mulling over worship lyrics and tinkling at her piano. She is always keen to see the bright side of life and help others to see it too.
View full Profile