Has there ever been a time when Christian leaders have needed to rest in God more? Rev Chris Jervis offers this encouragement from Jesus to lay down their heavy burdens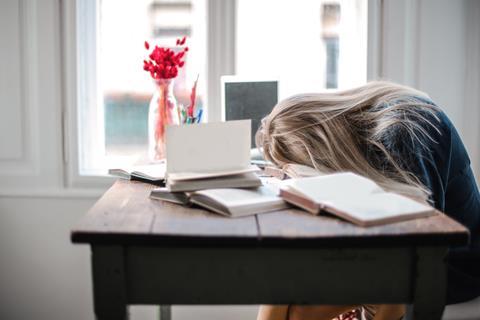 At a recent gathering of Christian friends, including several church pastors and leaders, there was a notable air of weariness: weariness in themselves and their fellowships. Added to the continued fallout from the global pandemic, the cost of living crisis and conflict around the world, there is widespread disquiet around abuse scandals and issues of human sexuality - with the obvious questions this throws up about biblical authority.
These observations surfaced at a time when I was studying, writing and preaching on Matthew 11:28-30: "Jesus said; 'Come to me, all you who are weary and burdened, and I will give you rest. Take my yoke upon you and learn from me, for I am gentle and humble in heart, and you will find rest for your souls. For my yoke is easy and my burden is light.'"
Nowhere are we exhorted to be headless chickens, running around aimlessly in frenzied death throes
Before launching his public ministry, it is likely that Jesus worked hard in the family carpentry business. The words he chose spoke perfectly into the experience of his contemporaries, and he often used agricultural imagery to illustrate his teaching for this reason. Jesus was preaching in Galilee, in the midst of the agrarian community that he served, where talk of a 'yoke' would make a lot of sense.
His words are as applicable to our situations, and the sense of weariness we experience, as they were 2,000 years ago.
The best invitation
There is a widespread misunderstanding within the Church that Christianity is all about doing. But the Christian gospel comes in the form of an invitation card, not a to-to list. We are summoned to Christ before we are propelled into mission. The Christian life does have many imperatives, but these follow on from the warm, generous and compelling invitations to come to Jesus.
Isaiah 55 expresses it in these words: "Come, all you who are thirsty, come to the waters; and you who have no money, come, buy and eat! Come, buy wine and milk without money and without cost." This invitation is couched in the language of feasting, which is a recurring theme throughout Jesus' teaching in the Gospels. "Come celebrate with me" (Luke 15:9); "Come to my banquet" (see Luke 14:15-24); "Let the children come to me and do not hinder them" (Matthew 19:14).
At some point, we all know what it is to be weary and burdened - and some feel that way all the time. Christ's call goes out to us all. We are invited to come to him, the burden-lifter and rest-restorer. Contrast this with Jesus's terrible indictment of the religious leaders in Matthew 23:4: "They tie up heavy, cumbersome loads and put them on other people's shoulders, but they themselves are not willing to lift a finger to move them."
Active rest
The rest spoken of by Jesus in Matthew 11 is not that which comes at the end of an arduous journey, but that which allows us to complete the journey. And it is not to be confused with inactivity. Immediately after Jesus says: "I will give you rest", he says: "Take my yoke upon you". There is work to be done; there is learning to be embraced.
When I used to coach athletes, some distance runners would set off at a non-sustainable pace. They would forge ahead and quickly build up an aerobic debt, such that the body could not keep going. They rapidly lost pace and position in a race. They burnt out.
I would encourage them to take control of their speed, know their body's physiology and retain an aerobic rate which they could sustain. Similarly, we must pace ourselves so we can continue as active disciples all the days of our life.
We are summoned to Christ before we are propelled into mission
Some inspiring Christians speak of "spending and being spent" in the master's service. This is commendable; stirring and inspirational. But nowhere are we exhorted to be headless chickens, running around aimlessly in frenzied death throes.
The rest that Jesus invites us to enter encompasses renewing, refreshing and appropriate service. Too often, our church life is governed by filling roles rather than deploying gifts. The old saying of Benjamin Franklin seems to be applied too readily: "If you want something done, ask a busy person." As a result, some people get overused and suffer burnout, while others suffer spiritual atrophy and are unfulfilled.
Jesus does not prescribe inactivity but appropriate activity. To the weary, he offers rest. To those carrying a heavy burden, he offers a light one. To those who struggle under an oppressive weight of responsibility, Jesus appears to us as one who is gentle and humble in heart.
Working together
The wooden frame of a yoke was set across the shoulders of two oxen and, via a tethered rope or lead, the farmer could direct the animals to pull a plough. In this image, we often think of ourselves as being yoked and Jesus directing our work. He directs my path in life and ministry - that seems the obvious understanding of the text. But another interpretation has linguistic and theological legitimacy.
The double yoke would fit across two oxen. They would work side by side: one experienced ox and one 'novice'. In the metaphorical language deployed by Jesus, he could be thought of as the experienced ox with whom we are yoked. We learn from him as we keep in step. He bears the greater burden as we stride on together.
To those wearied by pressure, or because they are striving within the oppressive milieu of over-bearing expectations (whether self-imposed or imposed by others) may I urge you to return to the words of Jesus' generous, kind and compelling invitation. Spend time dwelling upon it and speaking to our gentle and humble-hearted saviour about your concerns. He will bring you rest.

After a first degree in sports science and mathematics, Rev Chris Jervis went on to study theology at ANCC and then at Oxford. He has served as a parish priest, a school chaplain, and a provost. Chris regularly preaches, teaches and lectures in the UK and overseas.
View full Profile