The death of five people on the Titan submersible and up to 500 on a migrant boat off Greece were both tragic, says Tim Farron. But they did not provoke an equal response – from the media or the authorities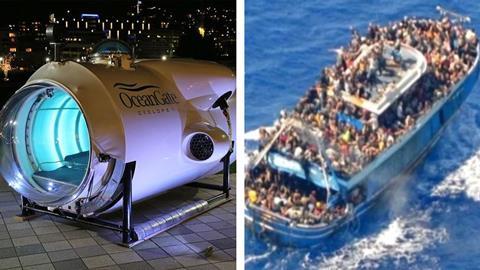 Last week, a migrant boat sank off the coast of Greece. At least 78 people are confirmed dead so far, with nearly 500 still missing. Most of them were believed to be women and children. Almost simultaneously, contact was lost with a private submersible, diving to the wreck of the Titanic, which had five people on board. After several days it was confirmed that they, too, were dead.
Two sobering and shocking tragedies, but one garnered far more of the world's attention than the other. Why is that, when the lives of one group are not more important than the other? Romans 2:11 reminds us that "God does not show favouritism", but we humans regularly do.
A record year
Drownings of refugees are devastatingly frequent. At the end of last week, another boat sank near the Canary Islands, killing 30 people. 2023 has, so far, been the deadliest year for drowning since 2017. The statistics are dreadful but, since these news stories are so common, I wonder if people get lethargic about them.
For Christians, equality isn't an ideological choice or an evolutionary accident
The tragedy of the Titan submersible wasn't such a common incident. It was a horrific and extraordinary event, and it gripped the world's media. Compared to the facelessness of the many migrants who perish at sea, the five in the submersible are known; the press have spoken to their family and friends, and so it's a lot easier to feel connected to them. But each refugee who has died also leaves behind a grieving family, even if we never know who they are.
Contrasting responses
Josef Stalin once chillingly said "one death is a tragedy; a million deaths are a statistic." But is that really true?
For me, the most shocking contrast highlighted by these tragedies is the response of the authorities. Reports allege that the Greek coastguard failed to act when they knew the migrant boat was in trouble and, subsequently, very few authorities have stood up to help the rescue mission. But Canada, the USA, France, the UK and a number of private firms all sent their best technology and experts to scour the Atlantic with a fine-toothed comb for the Titan and it's missing passengers.
Despite the difference in response to the two incidents, the people on the submarine and those on the fishing boat will have, most likely, both experienced the same emotions: fear, hope, terror. This helps us remember that they were all human, both facing danger, and even death, as they made their risky journeys. And we remember that, from the very beginning of creation, God taught us that all humans are made equally valuable and worthy.
Created equal
In Proverbs 12:22, it says: "Rich and poor have this in common: The Lord is the maker of them all". So let's recognise that we are all made in the image of God. He knitted us together in our mother's wombs and numbered the hairs on each of our heads. For Christians, equality isn't an ideological choice or an evolutionary accident, is a consequence of deliberate design.
You matter beyond measure to the God who made you and died for you.
Revelation 7:9 says: "After this I looked, and there before me was a great multitude that no one could count, from every nation, tribe, people and language, standing before the throne and before the Lamb. They were wearing white robes and were holding palm branches in their hands."
The most shocking contrast highlighted by these tragedies is the response of the authorities
God doesn't see the difference between people from different places or economic backgrounds, and nor should we. These tragedies reveal much about the state of our society, but are also a humbling reminder that we are all made by God to be equals and, as such, should treat each other with equal compassion, grace and mercy.
Today, let's lift the grieving families of those who died in the Titan, and all those who are lost crossing the sea in search of safety and a better life, to God. Let's pray for an end to the desperation and the drownings, for peace in the lands from which they are fleeing, and for compassionate action by the authorities seeking to find a way to better manage the displacement and migration of people across our world. And let us ask God for hearts that do not get weary, lethargic or susceptible to compassion fatigue.

Tim Farron is MP for Westmorland and Lonsdale, and former Leader of the Liberal Democrats. He is the author of A Mucky Business: Why Christians should get involved in politics. Tim is also the host of Premier's 'A Mucky Business' podcast, which you can listen to on your chosen podcast provider.
View full Profile