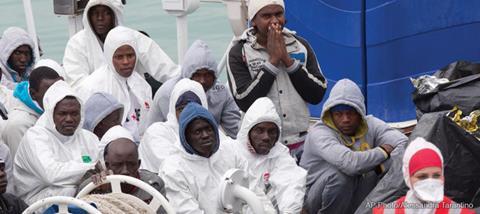 Pope Francis said the migrants, who reportedly pay human traffickers up to $7,000 (£4,665) to board ships from Africa to Europe, are 'starving, persecuted, wounded, exploited, victims of war' looking for a better life.
Anti-persecution charity the Stefanos Foundation said discrimination is a significant reason why Christians in many African countries are fleeing their homelands.
The charity's programme coordinator Mark Lipdo said, 'We see people persecuted, from losing their loved ones to losing their property, and they have no dignity at all. Yet their stories are not told in the West.'
The Bishop of Manchester, Rt Rev David Walker said Britain needs leaders who will look on asylum seekers from Africa with 'compassion'.
He said there was a 'political rhetoric that characterises them as wilful criminals rather than helpless victims'.
Former general director of the Evangelical Alliance, Rev Joel Edwards, writing for the Premier Christianity blog said, 'the crisis is crying out for far more than political posturing – especially during election season.
'We are dealing with more than Muslims from Libya imposing themselves on Christians in Italy. Both borders have become exit-entry points for the two continents. People from Syria, Eritrea, Sudan, Ethiopia – and even from Uganda and Ghana – are being poured through lawless Libya in an effort to reach northern and western Europe.'
EU leaders have expressed a desire to tackle people-trafficking gangs, but details on how this might be achieved have yet to emerge.