Methodists recently voted to recognise same-sex marriage in their churches. Minister Ian Bell explains why he supports the move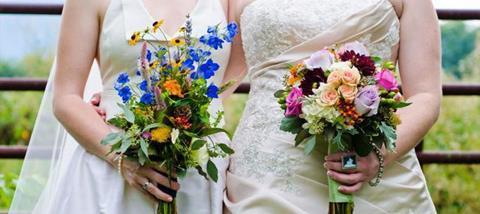 The Methodist Church of Britain engaged in a conversation at its annual Conference this month based on the report God in Love Unites Us, focusing on marriage and sexuality. Its recommendation that the Church should consult further with a view to the possibility of taking a different approach to sexuality and marriage, including same-sex marriage, received overwhelming support.
Evangelical Methodists might previously have spoken with one voice on these topics but that is no longer the case. Methodist Minister, David Hull, whom I respect enormously, offered a response on this website, on behalf of Methodist Evangelicals Together (MET) of which I am a member. That response reflected what some would regard as the "traditional" evangelical view. However, growing numbers believe that it is perfectly possible for evangelicals to take an affirming and accepting approach to LGBT+ relationships and same-sex marriage.
My own journey as a straight, male, ordained minister, has involved a complete reversal of long-held views. Partly because of my experience of ministering to and with gay Christians. Partly because of a growing understanding of the complexity of what, including our sexual identity, makes us human. But primarily because of a desire to approach the interpretation of Scripture as seriously as I could.
As a Methodist evangelical Christian, a Jesus-centred scriptural approach is paramount for me in wrestling with ethical and moral issues. John Wesley described himself as "a man of one book" and the founding document of the present-day Methodist Church, the Deed of Union, says: "The doctrines of the evangelical faith which Methodism has held from the beginning and still holds are based upon the divine revelation recorded in the Holy Scriptures. The Methodist Church acknowledges this revelation as the supreme rule of faith and practice."
So I have always aspired to believe and act in accordance with scripture. For decades I accepted what I understood to be the "traditional" view on sexuality and same-sex relationships. I have always been passionately opposed to homophobia and all forms of prejudice and bigotry and I was relieved when a near-consensus was reached among evangelicals that sexual orientation was not itself sinful. That seemed to pave the way for a much more welcoming and inclusive environment in the Church.
But saying: "It's OK to be gay so long as you don't act on it," and the mantra "God loves the sinner not the sin," seemed profoundly unsatisfactory. It left unresolved the question of how to respond to and care for so many people who experience same-sex attraction as part of their God-given humanity, but who were counselled by the church to remain celibate. How could our attitude change without departing from scripture?
Digging deeper, I gradually realised that the scriptural interpretation I had accepted may actually be based on false premises. The passages often regarded as 'proof texts' more likely referred, not to the loving and committed same-sex relationships I was witnessing, but to sexual behaviour which was coercive, exploitative and abusive. Words such as malakoi and arsenokotai for instance (1 Corinthians 6:9) have been assumed to refer to homosexual acts in general, whereas they appear much more likely to condemn pederasty, prostitution and the abuse of young male slaves by their masters.
They rightly warn against abusive and exploitative sexual behaviour, but throw little light on faithful and loving relationships between people of the same gender. I felt I could no longer be complicit in church policies that had contributed to the misery, alienation, mental illness, and sometimes self-harm experienced by LGBT+ people, on the basis of contested passages of scripture.
And there is a broader narrative of scripture within which we must achieve a credible balance of probability where there seem to be competing views of the nature of God. If the Bible describes a God who is angered by the flouting of moral laws and will condemn such people to eternal torment, it also depicts a God whose grace in Christ welcomes and includes those who experience judgement and rejection from society and the religious establishment: I have made my choice.
I wasn't at the recent Methodist Conference when same-sex marriage was affirmed, but had I been, I would have voted to recognise same-sex marriage. The nature of marriage has evolved both in scripture and society and is a gift from God in which love between two people can be shared and nurtured.
If we take the view that the Bible does not condemn loving and monogamous same-sex relationships, then it is hard to deny that gift to two people just because they happen to be of the same gender. That is why I support the Methodist Church in its journey towards recognising same-sex marriage.