Luis Rubiales' mother locked herself in a church to petition the Lord for her son, who is facing the sack after he kissed Spanish footballer Jenni Hermoso on the lips during World Cup final celebrations. While her motherly instinct to turn to God is well placed, she might not find the answer she is expecting, says Jane Chevous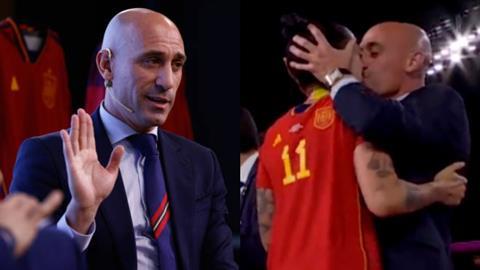 In what has been described as a Spanish #MeToo moment, the controversy continues over Spanish Football Federation (RFEF) president Luis Rubiales' unsolicited kiss of player Jenni Hermoso, after the Spanish football team won the Women's World Cup final.
Temporarily suspended by FIFA, after Spanish prosecutors opened an investigation into what Hermoso described as "an impulsive act, sexist, out of place and without any type of consent from my part", Rubiales has refused to resign, despite calls to do so from RFEF colleagues.
Many have demonstrated their support for Hermoso, or spoken out against Rubiales' behaviour. Yolanda Diaz, second deputy prime minister of Spain, described it as "structural male chauvinism", showing "the worst of Spanish Society"; the Lionesses stated it was "allowed to happen by a sexist and patriarchal organisation", and the UN Human Rights Office declared "we join…all those working to end abuse and sexism in sport. Make this a turning point."
What does this have to do with God?
In an unexpected twist, Rubiales' mother, Angeles Bejar, went on hunger strike in protest at what she described as a "witch hunt" against her son, declaring she is "willing to die for justice". She locked herself inside her parish church, Divina Pastora, in Motril, Southern Spain, before being admitted to hospital two days later. She has now been discharged. Rubiales' cousin, Vanessa Riaz, described her aunt as "a woman off great faith who has sought refuge in God" and said the whole family just want Jenni Hermoso to "tell the truth".
To many abuse victims, the family's reaction has a familiar ring. Often accounts are disbelieved, dismissed and denied, and family members choose to side with the abuser, accusing the victims of causing trouble or even lying.
Church abuse survivors like myself have been told we are betraying the Church, and should be quiet and forgive our abusers. When we find the courage to tell the truth, it turns out that often our truth isn't what people want to hear.
The truth in this case is captured on video, yet even this evidence has been misinterpreted to gaslight Hermoso. Initially put under pressure by the RFEF to call it a mutual gesture, she publicly declared it was non-consensual, and that she felt "vulnerable and the victim of an aggression". The RFEF then threatened to sue her for defamation and lying.
As a survivor of church abuse, I turned to the Church, seeking justice and truth. Sadly, like many other victims, I found defensiveness and a lack of accountability characterising the response. As the Independent Inquiry into Child Sexual Abuse made clear, the Church is another chauvinistic and patriarchal institution whose culture created the conditions where abuse could happen. So Rubiales' mother may well find support from among her fellow parishioners and family, but can she rely on God's help, too?
I can't imagine a righteous God hiding in a church room, ignoring the truth
Jesus said the Kingdom of God is for those who "hunger and thirst for justice" (Matthew 5), so the instinct to turn to God is well placed, but she might not find the answer that she expects.
God's justice is aligned with truth (Psalm 89), and he judges "with equity" (Psalm 96), so we can expect God will be fair to all involved. It is a justice that is orientated towards putting things right; a redemptive justice with a concern for the poor and oppressed (Matthew 11:4-6). Psalm 72 vividly describes this justice that combines righteousness and compassion:
May he judge your people with righteousness
and your poor with justice…
May he defend the cause of the poor of the people,
give deliverance to the needy,
and crush the oppressor.
Hermoso's experience symbolises the oppression of women in a misogynistic culture; she has come to represent every woman who has been ignored or threatened when they have stood up to injustice. A God of redemption may sympathise with Bejar's motherly instinct to protect her son, whatever he has done. She will be met with compassion and understanding. But a God who crushes our oppressors will not allow Hermoso's truth to be dismissed and ignored.
I can't imagine a righteous God hiding in a church, ignoring the truth. Instead, I see God in solidarity with the voices around the world raised in support of Hermoso and all victims of oppression and abuse. This is indeed a turning point where God's justice may yet roll down like mighty rivers.

Jane Chevous is co-founder of Survivors Voices, a survivor-led organisation that harnesses the expertise of people affected by abuse in order to transform society's response to trauma and abuse.
View full Profile