It's almost 50 years since abortion was legalised in all US states. Now, a leaked opinion from America's highest court suggests that ruling could be overruled. Chelsea Sobolik looks at what might happen next, and what it means for the pro-life movement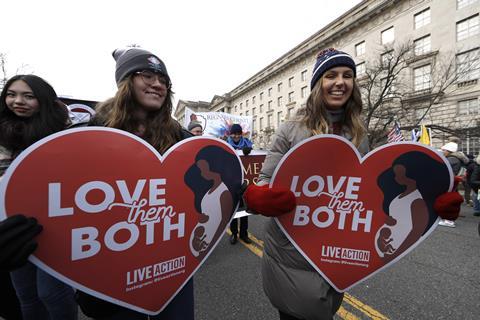 A truly unprecedented development has taken place within one of the United State's most prestigious and trusted institutions, the Supreme Court.
An authenticated leaked draft opinion for the Dobbs v. Jackson Women's Health Organization case was published by Politico on Monday evening. This leak, which stunned the world, is significant because it would alter the entire pro-life movement in the US.
Last December, the Supreme Court heard oral arguments in the Dobbs case, reviewing a Mississippi law titled the 'Gestational Age Act' that prohibits abortions after 15 weeks' gestation, except in a medical emergency and in cases of severe fetal abnormality. This law replaces the 'viability standard' created by Roe v. Wade and Planned Parenthood v. Casey. The court is examining whether pre-viability restrictions on elective abortions are unconstitutional.
we must work toward a day when abortion is not only illegal but also unthinkable
In the leaked draft opinion on the case, Justice Alito concluded that "We hold that Roe and Casey must be overruled. The Constitution makes no reference to abortion, and no such right is implicitly protected by any constitutional provision, including the one on which the defenders of Roe and Casey now chiefly rely—the Due Process Clause of the Fourteenth Amendment."
He goes on to say that, "the authority to regulate abortion must be returned to the people and their elected representatives." If the Court does overturn the precedents that were set in Roe and Casey, abortion would not become illegal overnight. Instead, each state would then be free to set their own laws banning or allowing abortion. Rather than marking the end of the pro-life movement, this decision would launch a new chapter as advocates turn their attention to protecting life in statehouses across the country and stopping the proliferation of chemical abortions.
If Roe is overturned, an estimated 26 states (including Mississippi) will implement complete bans on abortion. And an estimated 15 states and Washington D.C., have enacted laws that would automatically keep abortion legal. There are other states that will have some protections, but there's room to pass policies that protect the preborn in the womb and their mothers.
Protecting all life
As a Christian, I support laws that protect the most vulnerable among us. Scripture teaches us of the imago Dei in every single person, and that changes the way Christians see our neighbours. There are no disposable people in God's economy. Every human being has dignity and worth, and that shapes our posture in the world. As redeemed image-bearers, we must actively advocate for policies that respect the dignity of our fellow image-bearers.
There are no disposable people in God's economy
If abortion becomes illegal in many states, many more vulnerable women and their preborn babies will need help and support. Christians must be ready to stand in the gap and provide love and care. Together, we must work toward a day when abortion is not only illegal but also unthinkable and unnecessary.
Some women want to parent, and we should meet them where they are and provide practical resources for them to be able to parent their child. That means we need to know our local communities well and be able to meet their needs. While governments do have a role in providing for their citizens, churches are best equipped to know their communities personally and meet specific needs. Each woman is unique, so we'll need to meet her where she is.
Some women don't want to parent - and that's okay. We can present adoption as an alternative, while simultaneously acknowledging that adoption always involves loss, and walk with all parties involved in adoption to ensure they have trauma-informed care and resources.
Not everyone is called to adopt, or foster, but we are all called to care for the fatherless, in some capacity. To steal a phrase from Eugene Peterson, this work is a "long obedience in the same direction", and requires commitment, dedication, compassion, love, grace and truth.
May we be resolute in boldly standing for what we know is true, while being equally resolved to caring for women and children.
Premier Christianity publishes a wide range of opinions from Christians across the Church. See here for an alternative perspective on this story

Chelsea Sobolik is the author of Longing for Motherhood and the Director of Policy at The Ethics & Religious Liberty Commission
View full Profile