Some Christians have expressed their strong dislike for the M&S Christmas ad. But for Chine McDonald, it's a healthy reminder that we all need setting free from impossible standards, and the need to keep up appearances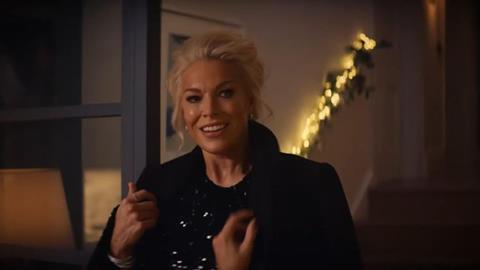 A heated debate has broken out over this year's Marks & Spencer's Christmas advert. Katharine Birbalsingh – dubbed Britain's strictest headteacher – described her "deep disappointment" with the advert, claiming it "puts two fingers up" to traditional Christmas values.
The ad – dubbed "Love This mas not Thatmas" – features a host of well-known faces, including singer Sophie Ellis-Bextor, engaging in traditional yuletide activities: decorating the Christmas tree, playing games with friends and family, writing Christmas cards. But soon, the scene turns dark. Games are thrown away and Christmas cards destroyed as people free themselves from the expectations of a 'Perfect Christmas'.
For Birbalsingh, this goes against "the inspirational spirit of Christmas of self-sacrifice, gratitude, giving of one's time". Instead, the advert tells us to "do whatever we want for ourselves", she says.
Leaving aside a "spirit of Christmas" message that fails to mention the reason for the season (Jesus), if I'm honest, when I saw the advert for the first time, what I felt was: liberation. Often, it is women who still bear the brunt of trying to create a perfect Christmas. The Christmas story – the Christian one – should free us from the need to live up to impossible standards, especially in pursuit of a commercial Christmas that requires us to keep up appearances.
If you picture the typical nativity scene, it's likely to include an image of Mary, mother of Jesus, gazing adoringly at her child. She looks serene, thankful, glowing; despite the fact that her Son – God incarnate, the saviour of humankind – has been delivered into less than ideal circumstances. Surrounded by animals, for goodness' sake.
My experience of motherhood does not live up to this picture of serenity in the midst of chaos. Every day is a juggling act; my mind constantly distracted by the mental load of managing a home, work and children, despite having a supportive husband. This stress is exacerbated during the festive season, cranked up several notches as the pressure to have the perfect Christmas significantly increases my already-high stress levels. Did I sort out the children's fancy dress Christmas outfits? When exactly are they supposed to be wearing them, anyway? Have I remembered to buy presents for their friends and cards for their entire class? Have I bought gifts for the teachers?
A study by YouGov conducted last year found that more than two in five Brits feel stress during the Christmas period, with one in four reporting struggling with mental health and depression. According to the study, women were more affected than men. Around 35 per cent of men felt stressed, compared to more than half (51 per cent) of women. While one in four men said Christmas made them feel anxious, more than a third of women said the same. Whether or not we are married with children, women are still often responsible for buying gifts for friends and family, coming up with the Christmas menu, travelling for hours to see our loved ones.
At the end of yet another year that will, surely, have contained its fair share of pain, heartbreak and horror for all of us (as well as a little fun, joy and pleasure, I hope!), it's time to cut ourselves a little bit of slack. This Christmas, we can rest in the arms of a saviour who asks us to hand over all our burdens.

Chine McDonald is a writer, speaker and broadcaster. She is director of Theos, the religion and society thinktank, and previously headed up public engagement at Christian Aid. She is the former communications director for the Evangelical Alliance. Her latest book is God Is Not a White Man (Hodder & Stoughton). She studied theology and religious studies at the University of Cambridge and is a trustee of Greenbelt Festival and Christians in Media
View full Profile