It isn't just atheists who have scoffed at President Biden's offer of prayer for the Ukrainian people. Pledging to pray might sound admirable to Christians. But Annie Carter believes 'thoughts and prayers' are not enough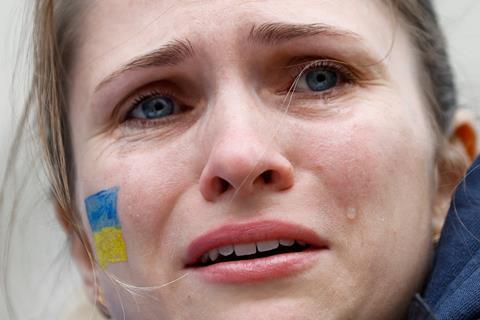 We awoke today to learn of a major international crisis as President Putin commanded his forces to bomb Ukraine.
Images of Russian helicopters swooping across the city of Kyiv and of bombs descending have unsettled us from afar, as predictions that neighbouring Baltic countries could become targets seem plausible. The reality of war has shaken nations.
At such times, all eyes have been on our world leaders. Having missed the headlines on BBC Radio 4, I flipped across to talkRADIO this morning, only to hear disdain in the presenter's voice over President Biden's official statement, which had referenced prayer.
Mike Graham responded with incredulity to the President's statement which began, "The prayers of the entire world are with the people of Ukraine."
Presumably Mike Graham is not a Christian (or a follower of any other religion) and therefore does not believe that prayer has any power to make a difference. Any offer to 'pray' would therefore seem futile. What good will that do for the very real danger that the people of Ukraine face right now?
Siding with the atheists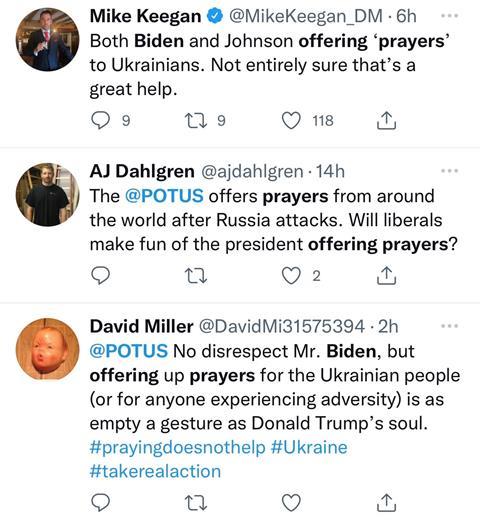 Such a reaction from atheists is of course to be expected. But even as a Christian who believes in the power of prayer, I too found Biden's offer of prayer to be frustrating in its inadequacy.
The biblical mandate to pray runs consistently through scripture and Christians believe that God hears their heartfelt calls for help. The apostle Paul even urges believers to "pray continually" (1 Thessalonians 5:16) ie not just for specific reasons or in times of crisis.
At the same time, the New Testament writers also challenged believers to not just to pray for those in need, but to take action.
"What good is it, my brothers and sisters, if someone claims to have faith but has no deeds? Can such faith save them? Suppose a brother or a sister is without clothes and daily food. If one of you says to them, "Go in peace; keep warm and well fed," but does nothing about their physical needs, what good is it? In the same way, faith by itself, if it is not accompanied by action, is dead." (James 2:14-17)
Last week my boiler rattled alarmingly and breathed its last. When I mentioned this to a friend via text who asked how things were with me, she immediately offered - not to pray - but to lend us heaters or to let us shower at her place. Of course I would have been grateful if she'd offered prayer. But I was even more grateful for the practical help. I needed that more than anything else.
What would I have preferred to hear from President Biden this morning? Perhaps an offer of practical support to those fleeing Kyiv? Maybe increased support with intelligence and communications on the ground in Ukraine? Even promises to send blood bank supplies may have received a more positive reception by Mike Graham and I.
I'm no politician, yet I realise that words without action come across as pretty meaningless. Consider also how the invasion of Ukraine was not a sudden attack. The President has had time to weigh up his response.
In the meantime, for people of faith in Ukraine, the lack of international intervention means that prayer is their only lifeline, a genuine source of hope amidst horrific unrest. When other options are few, with not all able to flee Kyiv, evidence of the fervency of believers has surfaced, as reported by CNN which televised images of Christians praying publicly, even while bombing could be heard in the background.
War will never be able to silence the prayers of believers
Note: pictures on Twitter of Ukrainians kneeling to pray in the snow have also been shared – but these are, in fact, old images from several years ago.
Prayer and action together
War will never be able to silence the prayers of believers. And at this time, faith leaders across the world are right to encourage us to pray – that is what Christians do. Prayer works. It makes a difference. But, in the coming days our political and religious leaders must also point us towards ways we can support Ukrainians in dire circumstances. Krish Kandiah, who has co-ordinated extensive support for Afghan families arriving in Britain, would no doubt be ready to do likewise for a potentially similar influx from Ukraine. Faith in action means practical support. Christians like Krish understand that.
Let's also be mindful that a sincere offer to pray can sometimes be interpreted as a feeble response, especially in our increasingly secular culture. We must increasingly offer an apologetic for why prayer matters and how it makes a difference, rather than assume our offers of "I'll pray for you" will be universally welcomed.
We still believe that prayer changes things, but let's remember that the rest of the world doesn't! They believe in action. Let's not engage in one without the other. Scripture teaches us that both matter.

Annie Carter is involved in eclectic pursuits, from educational work in schools to vaccinating people to leading worship. She also writes occasionally and is the author of a fantasy novel.