Whether we believe in just war or take the path of pacifism, all Christians should inform themselves about the deepening crisis in Ukraine, and pray for peace in the region says Tim Farron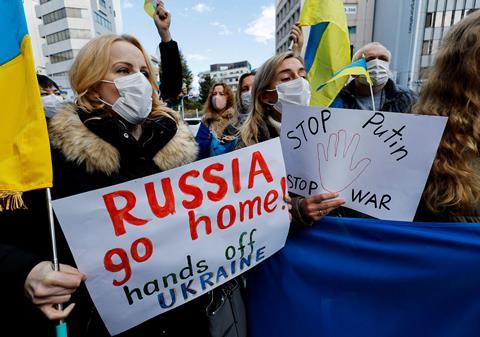 Eight years ago, Russia invaded Crimea, taking it from Ukraine by force. Ever since, it has been arming Russia-supporting rebels, deploying cyber-attacks and seeking to destabilise the Ukrainian government and its economy. 14,000 have already died in Russian-sponsored hostilities in eastern Ukraine, and now, 150,000 Russian troops are amassed on the border.
Although Russian president, Vladimir Putin, denies that he intends to invade, most observers think he is simply looking for a pretext to justify military action, most likely in response to action by the Ukrainian government against those Russia-backed rebels.
Pray with knowledge
So how should Christians respond? Firstly, by valuing the truth and not allowing ourselves to be taken in by misinformation (often sponsored by the Russian government) that would seek to justify Putin's bullying and warmongering.
If a friend at church had a poorly mother, you would ask her name and seek to inform yourself about her situation, so that you could pray for her well. The same applies here. Let's inform ourselves and pray. Pray for the people of Ukraine. Pray for Putin's heart to be turned against war. Pray for justice. Pray for God's people there, that they would be faithful in holding out the gospel in these times of fear and uncertainty.
High stakes
Diplomatic measures to prevent an invasion - and a subsequent war - are also now underway. American president, Joe Biden, and European leaders - including our own Prime Minister and Foreign Secretary – have been busy speaking to key protagonists. French President, Emmanuel Macron, is trying to organise a summit. If Putin does not withdraw, Western governments are threatening harsh sanctions on Russian businesses, banks and assets abroad, as well as providing support to the Ukrainian army, which is now much stronger than it was at the time of the Crimean invasion.
There is no denying that the stakes are huge. If Russia invades Ukraine and successfully reintegrates it into its territory, it would effectively create a precedent for any power to do as they please, sending a message to China, for example, that they can invade Taiwan with impunity. Boris Johnson has warned of the worst conflict since the second world war. Ukrainian president, Volodymyr Zelensky, even talked of "appeasement" in his speech at the recent Munich conference, deliberately echoing the failed attempt to stop Hitler at the conference of the same name in 1938.
Looking beyond ourselves
Our news is often dominated by domestic concerns; the relaxing of Covid rules, integrity in Number 10, the cost of living crisis. These are all vitally important. But let us also hold in our hearts and prayers the people of Ukraine, who are living under the daily threat of invasion, the stress and fear of losing their way of life and, still worse, the prospect of losing family members and friends.
In Matthew 5:9, we are told that peacemakers will be blessed. Romans 12:18 says: "If it is possible, as far as it depends on you, live at peace with everyone." So when someone else makes war, what are we to do?
Western democracy is flawed but, at its foundation, it has been shaped by Christian values
Christians may think very differently about whether Western governments should respond militarily. There is a wide range of Christian thought, from Augustine's just war theory to pacifism. Whatever position we take, we can all pray. There are thousands of Christian believers in Ukraine. Let's join with them in praying for peace. Let's also pray for Ukrainian officials to effectively tackle the cyberattacks, misinformation and secret intelligence operations that are attempting to provoke civil unrest and panic in their country. Pray for economic and social stability within Ukraine, and for strength and wisdom for the Ukrainian armed forces and their leaders. And let's pray for wisdom for our government as, together with other Western leaders, they seek peace.
Western liberal democracy is seriously flawed but, at its foundation, it has been shaped by Christian values of justice, equality and the value of each human life. We would do well to remember that. And let's also remember the consequences of our abandonment of the people of Afghanistan, and learn from that mistake.
However overwhelmed and hopeless we may feel, we can keep praying. We can always cast our worries on to the one who has overcome the world, triumphing over dictators and democracies, to build the only perfect kingdom that will last for ever.

Tim Farron is MP for Westmorland and Lonsdale, and former Leader of the Liberal Democrats. He is the author of A Mucky Business: Why Christians should get involved in politics. Tim is also the host of Premier's 'A Mucky Business' podcast, which you can listen to on your chosen podcast provider.
View full Profile