The Christian apologist and outspoken critic of Islam, Hatun Tash, has received £10,000 in compensation and an apology from the Metropolitan Police after she was wrongfully arrested on two occasions at Speakers' Corner. Tim Dieppe says the story proves that more needs to be done to protect street preachers from wrongful arrest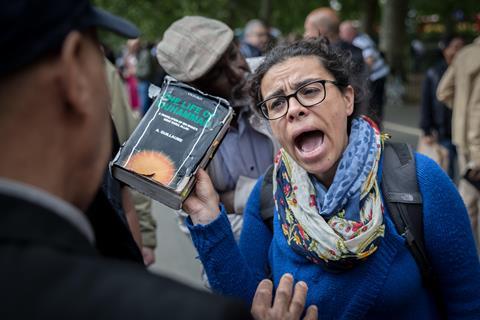 Hatun is a very courageous Christian preacher who bravely engages Muslims in debate at the so-called 'home of free speech'.
Hatun has been assaulted, knocked to the floor and brutally stabbed on different occasions at Speakers' Corner in Hyde Park, London. She has also been arrested on several occasions, and sometimes held overnight before being released without charge.
Undeterred, Hatun continues her courageous and effective work.
Now, she has received a formal apology from the Met Police who arrested her in December 2020 and May 2021. Police apologies of this nature, which contain a clear admission of wrongdoing, are very unusual. The police have also paid out £10,000 in compensation. This follows the Christian Legal Centre threatening legal action on behalf of Hatun for wrongful arrest and wrongful imprisonment.
The video evidence from May 2021 clearly shows that she was being threatened by a mob of volatile Muslims. Some of them threatened her with police officers standing right next to them. None of these Muslims were arrested. Instead Hatun, who explained to the police that she had committed no offence, is aggressively manhandled by the authorities.
Instead of operating 'without fear or favour', the police acted in fear of the mob and capitulated to its demands. They effectively enforced mob rule.
Will the police learn?
It is good to see the police admitting that they got it wrong. The question now is whether the police have learned anything from the mistakes made.
Were any of the officers involved disciplined about this? Have the police changed their approach to policing Speakers' Corner or other areas where street preachers may attract hostility? Will we now see the police taking a tougher approach to those who threaten or assault street preachers?
So far, we have seen none of this. No-one who has threatened or assaulted Hatun has ever been arrested. There has yet to be an arrest of anyone following her stabbing in July 2021.
The police should be protecting free speech, not arresting a preacher just because someone complains
The police should be protecting free speech, not arresting a preacher just because someone complains or is threatening them. Sadly, the culture of the police appears to tend towards arresting street preachers rather than protecting them. Christian Concern and the Christian Legal Centre has helped dozens of street preachers who have been wrongfully arrested. In every case, charges have been dropped or they have been acquitted. Will the police ever learn?
Police training on the rights of street preachers clearly needs updating. We have been in conversation with the police about this before, and we hope to continue to engage with them on this point. Until the police on the street recognise their duty to protect free speech, they will continue to act in ways that harm free speech. This is how we have become a culture where people are afraid to say what they really think. They fear arrest, or complaints, or a non-crime incident being recorded against them.
If people are afraid to say what they think then we do not have free speech. That is the first step towards totalitarianism.
Hatun is the bravest evangelist I know. Many others would not have the courage to do what she does. Her ministry is powerful and effective. She is a brilliant debater, boldly demonstrating how Islamic teaching is false. No wonder the Muslims resort to intimidation, threats, assaults, and calling on the police to arrest her. You can hear them all cheering on the video when she is arrested and handled into the police van. If Speakers' Corner becomes a place where you can't openly criticise Islam, then what hope is there for other places across the country?
The arrest of a Christian evangelist at Speakers' Corner must not happen again. By their actions the police were effectively enforcing sharia law - Muslims complained she was offensive, so the police came and arrested her. This needs to change. There should be zero tolerance for threats, and arrests for every assault. Street preachers should be protected, not arrested. The first step towards this is a formal apology. Other steps now need to be taken.

Tim Dieppe is head of public policy at Christian Concern, where he responds to Government consultations, interprets policy trends and helps to inform and equip the Church to engage with cultural and political issues. Tim holds an MA in Kingdom Theology.
View full Profile