The street preacher Shaun O'Sullivan has been found not guilty of hate speech after describing Muhammed as a "paedophile". But just because it is legal to insult other religious figures, that doesn't mean Christians are right to do so, argues Julian Bond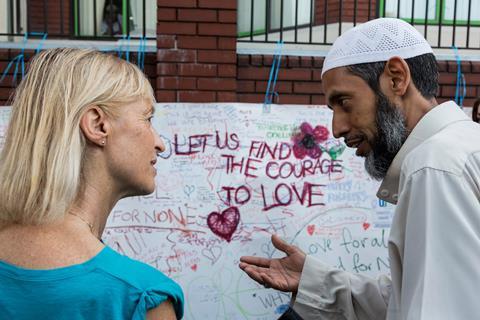 "Here is my servant, whom I have chosen,
my beloved, with whom my soul is well pleased.
I will put my Spirit upon him,
and he will proclaim justice to the Gentiles.
He will not wrangle or cry aloud,
nor will anyone hear his voice in the streets.
He will not break a bruised reed
or quench a smoldering wick"
(Matthew 12:18-20, quoting the beginning of Isaiah 42)
How do we speak of our faith to Muslims (the largest faith group in this country after Christians and, like us, with an 'evangelistic' agenda)?
It can be a tense situation, especially in the context of street evangelism. If we challenge or confront other beliefs that are in contrast to our own, are we simply speaking the truth, or are we being offensive? Could our words ever be interpreted as hate speech?
Make your defence
At the Christian Muslim Forum this question resulted in the development of our Ethical Witness Guidelines. In putting it together, we were informed by this well-known verse: "Always be ready to make your defence to anyone who demands from you an account of the hope that is in you; yet do it with gentleness and reverence." (1 Peter 3:15-16, NRSVA). The situation described is reactive – we respond when we are called upon; it is not pushy. This is why I began with the Servant Song above - the messianic way is gentle, though it seems we don't see or hear enough of this characteristic in our inter-faith dialogue today.
There are few things more hateful than the 'devout' Christian who 'proves' their faith by insulting Islam
What made our ethical guidelines work for our group of Christians and Muslims was this corresponding text from the Koran: "call to the way of your Lord with wisdom and good teaching. Argue with them in the most courteous way." (16.125, Abdel Haleem translation).
Tea and samosas
The good news of the gospel arrives in love, harmony and community cohesion, rather than hatred, suspicion and fear (this is what the gospel saves us from). It can be seen in the sometimes maligned 'tea and samosas' with Muslim friends, not hard-line preaching which makes everyone feel bad and no one welcome. The Gospel challenges us on our outlook and heart position: "love your neighbour as yourself" (Matthew 22:39).
For a committed follower of Christ, unless you are also committed to other people in love - demonstrated by dialogue and interaction - then you have not shown the love of God nor contributed to God's work (Jesus' mission) of bringing peace and reconciliation. There are few things more hateful, even if not illegal, than the 'devout' Christian who 'proves' their faith by confronting, antagonising and insulting Islam (or any other worldview) and those who follow it. And we don't have the right to attack atheism either.
Promoting peace
Our shared multicultural, multi-religious and largely secular country is no longer quite Christian. If we have missional impulses, we won't fulfil them by denouncing other religions and worldviews. But we can be Christian and promote Jesus - and Christianity in the process - by living and speaking our faith well. We can create a place for Christianity, rather than side-lining it by provocative preaching that no one wants to listen to, or that draws attacks. We are heard through being gentle.
The good news of the gospel arrives in love, harmony and community cohesion
Yet we have this feeling that we must stand against other religions. We may think that the Bible, especially St Paul's writings, gives us a basis for writing off, denouncing or passing judgement on other faiths but it really doesn't. Jesus' multicultural parables show that God is open to anyone. He only asks "Do you love me? Do you love your neighbour?" God is gentle. He doesn't confront, but he does gently challenge: "You say you love me, prove it by loving your neighbour!" (See Matthew 25:31-46).
Surprisingly perhaps, this simple yet challenging phrase – 'love your neighbour' or 'do unto others' - appears in all the major world religions. As Rabbi Hillel said on this topic: "Everything else is commentary."
We are the commentary; when people look at us, do they see Jesus, or do they see hatred and confrontation?
For an alternative view, read Hatun Tash on why telling the truth - even when it offends - is neccessary in evangelism

Julian Bond is a freelance interfaith activist and a former director of the Christian Muslim Forum
View full Profile