From the prayer tool to easy online service streaming, there's no doubt that the Christian community has benefitted from social media during lockdown. But is there an inherent conflict of interest that churches should be wary of?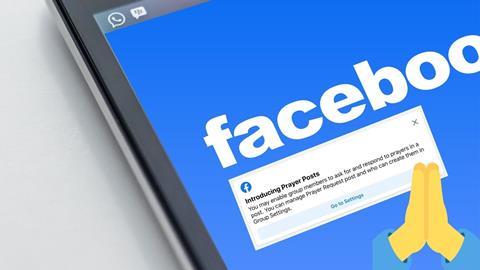 Since its inception, Facebook has made its money by profiting from relationships. Like other social media platforms, it allows people all over the world to check in with each other and communicate, both actively and passively. Then, it uses data from their activity to match user profiles with marketed products.
In early 2021, Facebook started testing a prayer tool. Although some religious leaders were excited about this move, others are concerned about privacy, and whether Facebook is the best place for this kind of connection.
Space for good
Facebook's new prayer tool gives church leaders the opportunity to create an online space for sharing and responding to prayer requests. These requests would only be visible to members of a group, and the company has stated that the content of these requests would not be used for marketing purposes.
Many Christian leaders are excited about Facebook's interest in serving people of faith. The company even has a 'head of faith based partnerships' who is herself a Christian (see Premier Christianity's interview with Nona Jones here).
According to Pew Research Center, in 2018, 38 per cent of adults in the UK received their daily news updates on Facebook. This is a lot of engagement for one platform. However, the era of Facebook dominance could be coming to an end, as it emerged today that the site has seen its daily active users drop for the first time in its 18-year history.
During the pandemic, many Christians used online platforms like Facebook to stay connected, and join remote worship services. An increase in use by faith communities is what led Facebook to develop its new prayer tool in the first place.
Common priorities?
However, it's important to remember that Facebook is a secular business. Their goals, in creating faith-based tools, are different from the goals of the religious communities using them. Primarily, Facebook's goal is to make money.
Although the organisation has promised not to use prayer requests for marketing purposes, some Christian leaders are still concerned about how these services could be monetised. While content may be kept private, using the prayer button could impact what posts users see and what's recommended to them.
Other leaders have pointed out that Facebook isn't the best place for sharing personal requests in the first place. Even for private accounts, the information may be too public for sensitive requests. From personal experience, many users know it's almost too easy to post personal information without taking time to think about whether it's wise. And considering that Facebook has already come under fire for privacy violations, it's not a far stretch to imagine sensitive data shared in these groups getting into the wrong hands.
Many church leaders are excited to see Facebook partnering with religious communities
The 2018 Cambridge Analytica scandal, as well as mounting evidence that the design of Facebook's algorithms creates division, has led many church leaders to doubt the ethical integrity of the company. Facebook makes money from engagement, so everything about it is designed to catch and keep its users' attention – whatever the human cost.
Other Christians are concerned about what tools like Facebook's prayer button may communicate about a believer's relationship with God and the nature of prayer. Imagine seeing a friend's prayer request and quickly clicking the "I prayed" button. How many people will actually take a moment to communicate with God?
Personal choice
Although Facebook is widely used, it's not the only option that Christians have for online connection. Think about the social media tools you enjoy and consider leveraging a healthier means of connection for your spiritual family.
Like any other tool, Facebook is ethically neutral on its own. What matters is how people are choosing to use it, and how they let it use them. Whether or not this platform is a good fit for your community depends on many different factors, and the choice of how you engage with it is ultimately yours alone.

April Miller is a senior writer at ReHack Magazine who is passionate about educating readers on understanding the impact of our technological world on our day-to-day lives and relationships.
View full Profile