Even in an increasingly secular age, music and faith are inextricably woven together, says Pete Moorey. We're drawn to music with Christian roots because it offers a counter-cultural message of hope to those who may not otherwise be interested in coming to church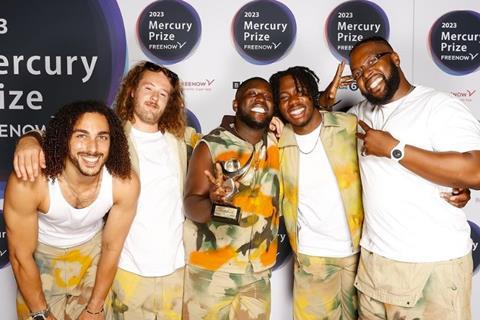 "If a jazz band winning the Mercury Prize doesn't make you believe in God, I don't know what will."
As Ezra Collective's drummer, Femi Koleoso, accepted one of the UK's most prestigious awards – the Mercury Music Prize for album of the year - his first words of thanks were to God.
To cynical Brits, thanking God at award ceremonies may sound like a cliché. We hear it from American musicians and actors at the Oscars and the Grammys, but almost never at the Brit Awards or the Baftas.
We're drawn to gospel music because it's resistance music. It's counter cultural
For Femi Koleoso, this is absolutely no cliché. You only have to follow him on social media to know that being a follower of Christ is at the heart of who he is. The son of preachers, he most probably followed that well-trodden path of first playing the drums in church – before, ultimately, ending up in front of packed crowds at Glastonbury this summer.
And this experience is not unique to Femi. Go to any gig in the UK, any day of the week, and you'll undoubtedly find singers, pianists, guitarists and drummers whose first experiences of playing music was in church.
Music and faith
Music and faith are inextricably woven together. And even in an increasingly secular age, it's not just musicians but audiences who continue to be drawn to music that points us towards God. The other week, I stood in a pub in Brixton, south London, surrounded by a crowd of 20-something hipsters dancing excitedly to Ghanaian gospel band, Alogte Oho and his Sounds of Joy.
I doubt that many in the pub identified as church-goers, yet, as Oho called out "Hallelujah!" and "Praise the Lord!" between songs, they whooped and hollered like a raucous congregation on a Sunday morning.
The week before that, I watched award-winning UK gospel choir, The Spirituals, at Greenbelt. Greenbelt is a festival full of people who struggle to find a place in the Church or mainstream Christianity. But when The Spirituals sang, people who are no longer comfortable singing worship songs in church gave themselves permission to sing the most traditional of hymns.
What is it about this music that draws such a response from us - whether it is Ghanaian or UK gospel, or even the spiritual jazz of Ezra Collective? A stereotypical answer might point to the emotionally-charged nature of the music – not only the lyrics but the melodies, harmonies, rhythms and chord changes.
But I think we're also drawn to gospel and spiritual music because it speaks to something much deeper. It's resistance music. Liberation music. Justice music. And it's counter cultural music.
The sound of justice
I'm not just making an historic point here. Gospel was born out of the spirituals sung by enslaved African people as an act of rebellion and resistance against the oppressive system of slavery. It played a central part in the American civil rights movement of the 1960s. But these messages also speak directly to the issues of today; the times we live in right now.
For Jesus, using words like 'gospel' and 'good news', made a profoundly counter cultural statement. As the theologian NT Wright has pointed out, the Roman emperors of the time used these terms to describe how they brought peace and justice to the world through violent and political oppression.
In an age of anxiety, Ezra Collective say: You Can't Steal My Joy
The gospel, or good news, that Jesus brings is completely counter to that. Where the Romans entered Palestine armed to the hilt, Jesus entered Jerusalem on a donkey. Through the beatitudes, Jesus revealed an upside-down kingdom, one in which it is no longer might that is right but, instead, the peacemakers that he calls blessed.
In an age of climate crisis, increasing poverty at home and globally, and of rising inequality and injustice, many people are still searching for something that speaks (or sings) counter to our dominant culture. Gospel and spiritual music do precisely that.
In an age of anxiety, Ezra Collective say: You Can't Steal My Joy. In a time of racial injustice and inequality, The Spirituals sing: "He's calling us into freedom / Let my people go."
Counter culture
When Femi Koleoso spoke after winning the Mercury Prize, he pointed to the importance of the collective as an idea; of mums and dads, teachers and youth workers. He spoke about the importance of investing in young people, after many years of seeing funding cuts decimate youth programmes.
All of this speaks counter to our culture. A culture that too often focuses on the individual rather than the collective. A culture that all too often cuts rather than invests. Is that why spiritual jazz can win the UK's most prestigious music prize? Is it why so many of us are still be drawn to watching a gospel choir? Is it because of the music and the message?
As the title of Ezra Collective's latest, award-winning album puts it, is this Where I'm Meant To Be?
This autumn, Christian Aid has teamed up with award-winning gospel choir The Spirituals for a UK tour. More information on booking tickets or hosting the choir can be found here

Pete Moorey is head of fundraising and engagement, community and churches for Christian Aid. He has significant experience of NGO and corporate campaigning in the UK, previously leading campaigns at the consumer association, Which?; at the National Council for Voluntary Organisations; and at BT. He is passionate about the power people have to shape and lead campaigns for social change.
View full Profile