The vast majority of UK churches are declining, with Anglican, Catholic and Methodist congregations facing extinction within the next 40 years, according to a new report. Just three of the 13 denominations analysed by Dr John Hayward were found to be growing - Newfrontiers, FIEC (Fellowship of Evangelical Churches) and Elim. Stuart Blount, who is Elim's director of ministry responds to the news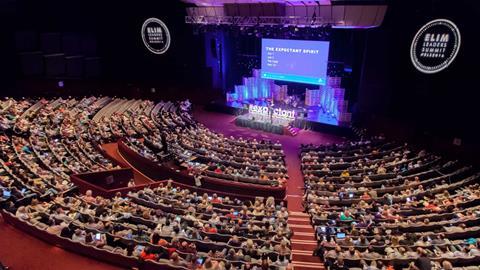 It is hugely encouraging to see the report and to know that, along with other Church groups, Elim is growing.
We believe that people are attracted to churches that are providing a sense of community, particularly after the isolation so many experienced during the pandemic. But we know that Elim is not alone among many church groups in seeking to help people find hope in the face of loss, bereavement, and tragedy. This loss comes in many different forms for people, loss of income, loved ones, homes, jobs and social connection. We have been persuaded that people can be self-reliant - and while this is helpful - we all need support sometimes and may look to an external source of hope outside ourselves. As a Pentecostal movement we express this hope with a vibrancy that comes from the Spirit. It is God's presence in our church communities that enables us to thrive during seasons of personal challenge. He also empowers us to share our stories of hope with those who don't know Christ – this is ultimately the heart of mission.
Many of our churches engage in their communities through initiatives like foodbanks, lunch clubs for the elderly and youth clubs. The passion and commitment to our communities is born out of a conviction that God is real and deeply interested in every part of our lives, not just Sunday worship, and we aim to bring people hope amid the sometimes harsh realities of life.
At the heart of Elim's mission is the message of the gospel
Our churches are ethnically diverse and committed to reaching children and young people who we believe are both our present and our future. This means being adaptable in how we practise the spiritual life of our church communities is increasingly important to us.
As a movement that is 107 years old, we have learned how important it is to evolve in our methodology while staying true to our biblical roots. This flexibility has seen Elim be able to catch the direction of the way the Spirit is moving and adapt in ways that allow us to still connect with our culture. We have often learned more from our mistakes than our successes and in this way, we are reminded of how completely reliant we are on the Holy Spirit.
As a movement of churches, we work regionally across the different parts of the UK seeking to resource and strengthen our leaders, while being aware of their own wellbeing and needs. In this way training is a crucial part of how we develop both existing and new leaders. In every new generation it is important to understand what kind of leadership the Church needs, and therefore we place a high priority on developing leaders.
We are committed to pioneering new church communities that have both the freedom and flexibility to ask – what does this community need? No two towns or cities are the same and church leadership and ministry needs creativity and compassion to respond to the needs of 21st century United Kingdom.
At the heart of Elim's mission is the message of the gospel which we are convinced is still good news for this generation, and we teach our churches and leaders to put this front and centre of all they are and do as local church communities.
How can we halt the decline? Read responses from 12 Christian leaders here.