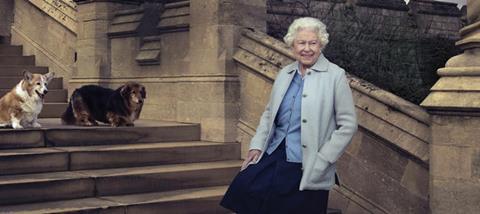 The Queen came to the throne three years before I was born. She's always been part of my life – the head on the stamp, the crest on the postbox, the pictures in the paper, the outfits at Ascot, the speech on Christmas day – but it took me until last year to recognise something as obvious as the tiara on a princess.
Queen Elizabeth is an extraordinary example of a whole-life disciple of Christ in public life. Under the intense and relentless scrutiny of the ever-vigilant media, she has demonstrated a consistency of character, a commitment to service, a concern for others and a clear dependence on Christ that is all the more remarkable because it is ever-present but never domineering. She is, after all, known for many other things: for being Head of State, sounding board to 12 prime ministers, mother, grandmother, formidable rider, accomplished mimic, wife of the refreshingly 'direct' Prince Philip and a senior citizen who still works over 40 hours per week.
Watch what the Queen has said about the faith!
Why her beliefs matter
However, trying to understand the Queen without understanding her Christian faith is like trying to make bread without yeast. Yeast is not the only ingredient in bread but it's the one that makes all the difference. When it comes to the sincerity of her own faith, there is no doubt. William Shawcross put it this way in Queen Elizabeth, the Queen Mother (Pan): 'Two things stand out – the Queen's constant sense of duty and her devotion to God.'
But while most commentators acknowledge the Queen's Christian beliefs, almost no one tries to make the connection between those beliefs and her behaviour and priorities. This is in itself extraordinary – like writing about Richard Dawkins and ignoring his atheism. It is made even more extraordinary by the reality that though we don't know what the Queen thinks about a great many things – Margaret Thatcher, Tony Blair and, in spite of reports, Brexit – she is remarkably, one might say uncharacteristically, open about her belief in Christ and his impact on her life. Indeed, though she doesn't actually have to mention Jesus in her Christmas addresses to her multicultural, multi-ethnic audience, she always does.
An extraordinary example of a whole-life disciple of Christ in public life
At Christmas 2014 she said: 'For me, the life of Jesus Christ, the Prince of Peace, whose birth we celebrate today, is an inspiration and an anchor in my life. A role model of reconciliation and forgiveness, he stretched out his hands in love, acceptance and healing. Christ's example has taught me to seek to respect and value all people of whatever faith or none.'
Brilliantly, in an age that is on the one hand increasingly secular, and on the other, fraught by religious conflicts, her approach is winsomely inclusive. She is the head of the Church yet in her speeches she never tells anyone to go to church. Rather she points to Jesus and how he expands her capacity to love people with different beliefs. Overall, her approach has been testimonial, not argumentative. She tells the world about the inspiration that Jesus has been in her own life and leaves others to decide if they are interested in being inspired themselves. Here, for example, is what she said in her 1999 Christmas address: 'I hope that, like me, you will be comforted by the example of Jesus of Nazareth who, often in circumstances of great adversity, managed to live an outgoing, unselfish and sacrificial life. Countless millions of people around the world continue to celebrate his birthday at Christmas, inspired by his teaching. He makes it clear that genuine human happiness and satisfaction lie more in giving than receiving; more in serving than in being served. We can surely be grateful that, two thousand years after the birth of Jesus, so many of us are able to draw inspiration from his life and message, and to find in him a source of strength and courage.'
More broadly, we can see the influence of Christ on her understanding of her job. At the heart of this is the extraordinary impact of one particular moment in her life. It was not the moment when the solid gold St Edward's Crown was laid on her head and she officially became Queen, but rather the moment in the Coronation that was not televised because it was deemed too holy for mass broadcast. It was the moment when, stripped of all her flowing robes, she knelt in a simple white dress and was anointed with holy oil. It was the moment when she dedicated herself to God to serve him by serving her people. As Shawcross puts it, 'she found, like her mother before her…an almost sacrificial quality at the heart of the service'.
Mark the Queen's birthday on Society Sunday
On the occasion of The Queen's 90th birthday, churches are being encouraged to acknowledge and celebrate her life of service by joining together for 'Society Sunday' on 12 June. The day is designed to enable Christians to thank and pay tribute to all who make our society a better place to live.
Many churches across the UK will use the day to invite representatives from all faiths, those working in public life and everyone who has in some way contributed to building a better society to a special service. The day will also be used as a time to lift up the needs of local communities to God.
For more information and to sign your church up to the initiative visit premier.org.uk/SocietySunday
Sacrifice
Sacrifice is at the heart of the gospel – Jesus giving his life for ours. And it is at the heart of our own discipleship – taking up our cross daily to follow him. But sacrifice is intertwined with service. We no longer live for ourselves but for God and others. And that is what seems to characterise Elizabeth's approach, not only to her own work, but also to her understanding of citizenship. So, for example, in her 2012 Christmas address she wrote, 'This is the time of the year when we remember that God sent his only Son "to serve, not to be served". He restored love and service to the centre of our lives in the person of Jesus Christ.'
Indeed, he did, but I wonder whether I see my own life and calling quite as sharply in focus as the Queen expresses it. We are quite definitely not here just for ourselves.
In the same address, she goes on to say, 'It is my prayer this Christmas Day that his example and teaching will continue to bring people together to give the best of themselves in the service of others.'
It is a theme she returns to repeatedly, summoning us, the people of the United Kingdom and the Commonwealth, to serve our neighbours and our countries in whatever sphere we find ourselves. In that regard, the Queen has been careful not to focus merely on politicians and captains of industry and entertainers but to specifically acknowledge the vital role we all play. So back in 1980 she offered a comprehensive picture of neighbourly citizenship that is unmatched in contemporary public rhetoric. It is as if the Queen has genuinely internalised the biblical truth that 'whatever [we] do, whether in word or deed, do it all in the name of the Lord Jesus' (Colossians 3:17). And because instinctively she believes it, she can celebrate the 'whatevers' – however small. So, after affirming a whole range of ways in which various roles and occupations and professions can contribute to our common good she said, 'To all of you on this Christmas day, whatever your conditions of work and life, easy or difficult; whether you feel that you are achieving something or whether you feel frustrated; I want to say a word of thanks. And I include all those who don't realise that they deserve thanks and are content that what they do is unseen and unrewarded. The very act of living a decent and upright life is in itself a positive factor in maintaining civilised standards.'
Two things stand out – the Queen's constant sense of duty and her devotion to God
How refreshing to find a global leader who sets the bar for making a contribution at what seems such a low level. How refreshing to find someone who, though she has met the leading exponents in a myriad of fields, genuinely seems to appreciate the beauty of an ordinary life lived kindly. Indeed, though she clearly celebrates excellence, she just as clearly values kindness more highly. In this there is more than a faint echo of Paul's letter to the Corinthians (see chapter 13), of John's letters and their focus on loving one another, and indeed of Christ's own highlighting of the great commandment: '"Love the Lord your God with all your heart and with all your soul and with all your mind." This is the first and greatest commandment. And the second is like it: "Love your neighbour as yourself." All the Law and the Prophets hang on these two commandments' (Matthew 22:37-40). Indeed, it is surely no accident that the passage of scripture the Queen has most often referred to is the parable of the Good Samaritan.
Of course, this might be dismissed as a longer expression of JFK's 'Ask not what your country can do for you, ask what you can do for your country'. The Queen's emphasis, however, is not nationalistic but contributory and it is certainly not rooted in Kennedy's optimistic humanism – 'Our problems are man-made – therefore, they can be solved by man' – but in profound humility under God. Indeed, it is very rare for the Queen to write a foreword for a book, and I suspect that one of the reasons that she chose to write one for ours is precisely because the centrality of her faith in Christ has so rarely been explored, never mind highlighted. ITV managed to make a two-hour programme about the Queen and not mention it once.
Wonderfully, the Queen's example to the world is not of a dour, dutiful drudge but of a woman who seems to enjoy life – riding and horses and dogs and family and beautiful clothes and the occasional gin before lunch. Jesus, after all, gives us the freedom to enjoy good things in life as long as they are not our goal. But still here in the way she chooses to spend her leisure time we can see her Christian devotion expressing itself. She doesn't have to invite a different pastor every weekend of her six-week Balmoral holiday to spend time with her family, but she does. She doesn't have to drive herself to the Sunday service in the church on the Sandringham estate when she's there, but she often does. She doesn't have to find out the names of the Sunday school prizewinners and choose and present their prizes, but she does.
Give a book, have a party, share the big story...
With so many celebrations planned for the Queen's 90th birthday, our monarch will be a talking point this summer. New book The Servant Queen and the King She Serves is designed to help Christians spark conversations about the Christian faith. It features a foreword by Her Majesty herself and copies can be bought for just £1. So far, more than 270,000 copies have been sold.
For more about the book visit cpo.org.uk/thequeen
Responding to prayer
Of course, all has not been easy for the Queen. And in such times, she's made it clear where she turns: 'I like so many of you, have drawn great comfort from Christ's words and example.' His words and his way of life. Famously, in 1992, shortly after the Windsor fire and in the aftermath of the announcements of Prince Andrew's separation, Princess Anne's divorce and the revelation of Diana's affair with James Hewitt and Charles' with Camilla, she spoke at the Lord Mayor's Banquet. With characteristic understatement, she said, '1992 is not a year which I shall look back on with undiluted pleasure. In the words of one of my more sympathetic correspondents, it has turned out to be an "Annus Horribilis".' Indeed, it was.In that same speech she clarified how important the prayers of others had been to her. For her, to pray for another is a sign of friendship: 'You, my Lord Mayor, and all those whose prayers – fervent, I hope, but not too frequent – have sustained me through all these years, are friends indeed.' Indeed, any of us who have been through times of sustained difficulty know how true that is. Nevertheless, what an extraordinary testimony to the world about the importance of praying to the one true God and to the wonderful and mysterious way he responds in reassurance and love to those prayers.
There's certainly no doubt about the identity of the King our Queen serves. Nor is there any doubt that the prayer that her people have so often prayed (perhaps without fully realising that it was a prayer) has been answered. God has saved our Queen. Our Queen has been 'gracious' and 'noble' and 'victorious' in the things that really matter – hope and faith in Christ, love of God and of the people she's been graced to serve.
May our nation see her for the godly woman she is; see Christ in her; learn from her and come to know the Christ she points to and honours in all she does.
Mark Greene is the executive director of the London Institute for Contemporary Christianity and co-author of The Servant Queen and the King She Serves, produced in collaboration with Bible Society and HOPE

Mark Greene is Mission Champion at the London Institute for Contemporary Christianity (LICC) His latest book is A Life of Grace: a tribute to Queen Elizabeth II
View full Profile