Survivors are losing trust in the Church of England's ability to do justice in cases of abuse, while a leading bishop says his name has been unfairly "besmirched". Rosie Dawson has the full story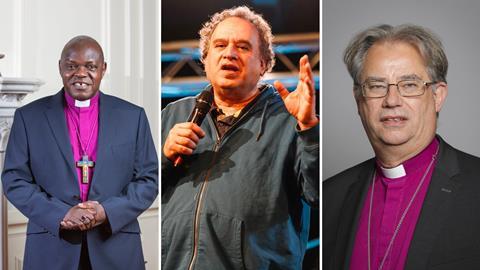 Those half listening to BBC Radio 4 just before 8 o clock on Sunday morning may have found that the words of a guest on the Sunday programme cut through the last remnants of their sleep.
"The adults are arguing over the heads of the children and we are just waiting for them to keep us safe," said Jane Chevous, founding director of Survivors Voices. The adults she was referring to are those tasked in the Church of England with overseeing safeguarding, and the children are people like her, survivors of sexual abuse.
It's no overstatement to say that the Cof E faces a crisis in respect of its safeguarding.
There are questions around the efficacy, and even morality, of its processes. There are allegations of impropriety against one of its most successful and influential leaders, and an independent lessons-learned review into an historic abuse case published last week has led to the suspension from active ministry of the former Archbishop of York, Lord John Sentamu.
The review in question was into the way the Church handled allegations made against the late Rev Trevor Devamanikkam, who took his own life in June 2017, the day before he was due in court to answer to six charges of sexual assault against a 16 year old in 1984. Although there was no conviction, the reviewer, Jane Humphreys, concluded that the abuse did take place.
The survivor, Matt Ineson, who has since waived his anonymity, chose not to take part in the review. But Jane Humphreys was able to draw on evidence he gave to the Independent Inquiry into Child Sexual Abuse(IICSA), in which he claimed he had reported his abuse on multiple occasions. Her review upheld his claims that both the then-Bishop of Sheffield, Rt Rev Steven Croft, and the former Archbishop of York, Lord Sentamu, were among those who failed to take appropriate action. "Sadly, this report would not have been required had the policies and guidance in place at the time the survivor disclosed his abuse been followed," she stated.
Lord Sentamu - now an honorary bishop in the diocese of Newcastle - rejected the review's conclusions, saying that safeguarding was the sole responsibility of the diocesan bishop and safeguarding officer. "Safeguarding is important but it does not trump church law," he said.
His response prompted Rt Rev Helen Ann Hartley, Bishop of Newcastle, to direct him to step back from active ministry while she looked into both the findings and his response to it. Lord Sentamu told The Times that his name had been "besmirched" and described the effect of his suspension as "devastating."
In a letter to clergy in the diocese of Oxford, where he has been Bishop for the last seven years, Croft said: "it is never easy confronting one's own mistakes and weaknesses. In 2016 I wrote that these events had made me determined and committed to listen well to survivors of abuse and to help the wider Church do so as well." Survivors groups are asking why he has been allowed to continue in ministry when Lord Sentamu has not, and are calling for another retired bishop, Rt Rev Glynn Webster, also named in the review, to be suspended as well.
Broken trust
Meanwhile the CofE has been rocked by a growing number of allegations against one of the stars of the evangelical circuit, Rev Mike Pilavachi. In 1993, he founded the Soul Survivor church in Watford and Soul Survivor ministries, which attracted more than 30,000 young people to its annual summer camps. Many of those who attended were inspired to take up ministry in the Church.
It is never easy confronting one's own mistakes and weaknesses
Safeguarding concerns are usually handled by professional safeguarding experts within the diocese but, where the case is complex or concerns senior or high profile clergy, the CofE's National Safeguarding Team gets involved. On 16 May, Most Rev Justin Welby, Archbishop of Canterbury, issued a statement expressing concern for those affected by the revelations and support for the diocese of St Albans, and the National Safeguarding team in carrying out their work. But there is disquiet among survivors and their advocates. The silence about the case from other evangelical leaders has been deafening, they say, arguing that the tentacles of Soul Survivor reach so deeply into the culture of the Church that anything less than a fully independent inquiry could be compromised.
All this is going on at a time when the Church's own process for establishing more independence in its safeguarding is in disarray. In response to the recommendations contained in the IICSA report published in October 2022, it set up an Independent Safeguarding Board (ISB). It started work in January 2022 with an initial two-year remit to explore ways to achieve greater independent scrutiny and oversight over safeguarding.
A statement on the ISB website says "Our mission is to hold the church to account – publicly, if needs be." In its first annual report published in April it did so, referring to "multiple instances in which our independence and freedom to operate has been hampered," adding that "We do not consider that the ISB is sufficiently independent from those it is responsible for scrutinising."
It has been a difficult first year in other respects, too; there were reported tensions between the chair, Prof Maggie Atkinson, and the other two board members, Steve Reeves MBE and the lead survivor-advocate, Jasvinder Sanghera CBE. Prof Atkinson was also found to have breached data protection rules. In March 2023 she resigned, and has now been replaced by Meg Munn. By all accounts Ms Munn is a highly respected expert, but she is also chair of the Church's National Safeguarding Panel - which critics see as a clear conflict of interest. They also say her appointment was made without due process and are demanding that she steps down.
Safeguarding Bishops and staff are currently engaged in intense discussions at Church House in an attempt to resolve the issue of Ms Munn's appointment, but there are unlikely to be any immediate announcements. Meanwhile, safeguarding is on the agenda for the next session of the church's General Synod in July. It is hard to imagine an issue that could generate the same amount of controversy as the discussions around blessing people in same sex relationships – but watch this space; this just might be the one.

Rosie Dawson is a freelance religion journalist, documentary maker and radio producer with more than 20 years of experience in the BBC's Religion and Ethics department. She studied Theology at Oxford before becoming a BBC journalist in the North West.
View full Profile