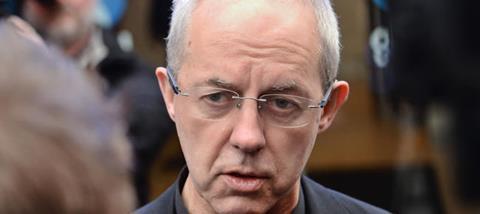 The publication today of the Gibb report into the Church of England's handling of the accusations of abuse against Bishop Peter Ball highlights again the need for robust safeguarding practices to be carried out at all levels of the Church, from parish to palace.
Dame Moira Gibb was appointed as chair of a group whose remit was to review the way the Church of England had handled the allegations against Ball, not just back in the early 90s but also right up to the successful prosecution in 2015.
The report that was published today was shared at a press conference at Church House in which the Archbishop of Canterbury talked about "inexcusable and shocking behaviour" by those in the church who "colluded and concealed rather than seeking to help those who were brave enough to come forward".
The criticism doesn't just cover those who were deeply involved at the time, but also those like Rowan Williams who knew about the accusations after the matter, commissioned a review, but then sat on that review for almost half a year.
Safeguarding in the Church of England has come a long way in the last 25 years (the original allegations against Peter Ball were first made before any formal safeguarding guidelines even existed in the Church of England) and similar allegations today would be dealt with in a much different matter.
The arrival of Justin Welby at Lambeth Palace has coincided with a sea change in attitude to these issues in the established Church, and now it is even a disciplinary offence for clergy to disregard child protection guidelines, even if no abuse ever happens.
This emphasis on safeguarding is part of an emergence of a professionalism culture in the church hierarchy which, at its best, protects and empowers clergy and laity.
Putting rules and processes in place can seem restrictive in a Church that wants to preach grace and love, but love is about nurturing and a key aspect of nurturing is providing secure and safe environments. Formal processes and professional behaviour exist to help us all and unfortunately there are still some in the Church hierarchy who use and abuse their power in small and large ways in order to manipulate and defend themselves.
For example, while all dioceses now have very clear guidelines how to respond to abuse allegations, how to handle abuse victims (especially when they are children) and liaise with statutory authorities, less clarity is given to the support given to those accused of abuse, sometimes maliciously. While some bishops and archdeacons practice appropriate assistance in these circumstances, others seem to only be interested in protecting the reputation of the Church and create frameworks for "supporting" the accused that leave little scope for an accountability of their responsibility of pastoral care. It's very easy to protect yourself against the accusation that you didn't look after someone falsely accused in the proper way when there are no guidelines against which to measure what you did or didn't do. The relevant Church of England document, 'Protecting All God's Children' dedicates a paltry two paragraphs to this whole area and it is an area that the Church needs to do work in as we move forward.
As the Church of England continues to reel from this and similar events (the allegations over John Smyth and the Iwerne Camps are yet to be fully resolved and undoubtedly other tragic stories of similar abuse have yet to be made public) we need to recognise our past faults and build a more professional and redemptive future for all. At the heart of the Christian story is the pain of death and the joy of resurrection. Reports like the one published today remind us that we haven't yet arrived at the end of the journey on safeguarding and that there is still more pain to be gone through before we deal fully with our legacy of inappropriate behaviour, both by those who abused and those who knew about it and did nothing.
The Revd Peter Ould is a Church of England priest based in Canterbury who writes and broadcasts on issue around the church and sex
Click here to request a free copy of Premier Christianity magazine