The Church of England's National Safeguarding Team has said Mike Pilavachi used his spiritual authority to "control" people, and this led to inappropriate relationships, including "massaging of young male interns". But questions remain, and more investigations are set to take place. Megan Cornwell reports on what's likely to happen next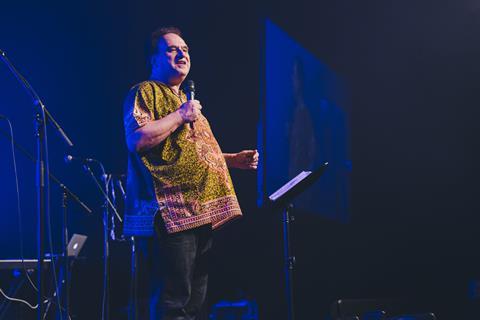 On 6 September the Church of England's National Safeguarding Team (NST) reported that their investigation into Canon Rev Mike Pilavachi had concluded and the allegations were "substantiated".
These were described as both "abuse of power" and "spiritual abuse". The NST said there had been a "systematic pattern of coercive and controlling behaviour".
Its conclusion was that Pilavachi had used spiritual authority "to control people and that his coercive and controlling behaviour led to inappropriate relationships, the physical wrestling of youths and massaging of young male interns".
Why was the report not published in full?
The statement that appeared on the CofE website on 6 September was a redacted version of the full report, which may never reach the public domain.
According to Justin Humphrey's of the independent Christian safeguarding charity Thirtyone:Eight: "A full and completely unredacted report is not likely ever to be a public document. I do not know of any other case where an internal investigation report has been published in full."
A spokesperson for the Church of England told The Telegraph that "those who came forward and contributed did so in confidence with the Church, it is their decision whether to make their comments public".
What will happen next?
The first stage of the NST investigation has now concluded, but there will be a second stage that involves an independent review. Soul Survivor Watford has commissioned Fiona Scolding KC, who will set out her terms of reference shortly. This document will establish the parameters for her investigation, which Premier Christianity understands is likely to be a broader analysis of the culture, systems and processes at Soul Survivor Watford. A full report will be published at the end of the investigation, the timeframe of which has not yet been announced.
Who is Fiona Scolding KC?
Fiona Scolding KC is a highly respected barrister, known for her expertise in public and regulatory law, particularly in relation to inquiries and investigations. She has been involved in several high-profile cases and public inquiries, including serving as lead counsel to the Anglican Church investigation of the Independent Inquiry into Child Sexual Abuse (IICSA).
The 'KC' after her name stands for King's Counsel, which is the title given to barristers or solicitor advocates who have been recognised for excellence in advocacy. According to The Law Society, they are often seen as "leaders in their area of law and generally take on more complex cases that require a higher level of legal expertise".
What will happen to Mike Pilavachi?
Mike Pilavachi resigned and handed back his licence to officiate on 11 July, two months before the NST investigation concluded. This means he no longer leads Soul Survivor Watford and cannot currently minister in the Church of England. He resigned his honorary canonry of St Albans Cathedral at the same time.
Following the outcome of the NST investigation, the CofE made a referral to the Disclosure and Barring Service (DBS), which holds Barred Lists of named individuals unable to work with vulnerable groups, including children. The DBS will now decide whether or not to add Pilavachi's name to these lists.
Some survivors have been calling for him to lose his MBE.
Pilavachi is also the subject of a Clergy Discipline Measure. What is that?
The CDM is a tool pertaining to ecclesiastical discipline. It enables the Church of England to bring legal proceedings, including a tribunal, to bear upon an individual. Among its powers is the ability to impose:
1. A prohibition for life on a minister
2. A prohibition for a specified time
3. Removal from office
4. A revocation of licence
5. An order to refrain from doing a certain act
6. A rebuke
What does this mean for Mike Pilavachi?
It is unclear what powers the CDM has now that Pilavachi has resigned and relinquished his licence. If the CDM does find against him, then its findings may be published and he may be placed on the Archbishop's List, which is a list of clergy that can never again minister in the Church of England.
What will happen to Soul Survivor Watford?
The church is still meeting, and after the release of the NST findings, it issued a statement which said: "We are deeply sorry to all those people who have been victims of spiritual, emotional, and psychological abuse under Mike's leadership through a systematic pattern of coercive and controlling behaviour.
"We are saddened that these behaviours happened in a context that should have provided safety and spiritual support. We are committed to learning lessons from what has happened and to put in place further practices and procedures that will seek to ensure this kind of behaviour does not happen in the future."
What about Rev Andy Croft?
Soul Survivor Watford's senior pastor remains suspended under HR processes while the Church investigates three safeguarding failings.
Rev Croft, who was once one of Mike Pilavachi's interns and who led the church alongside Pilavachi, stepped back from ministry after the investigation found that Croft had "failed to act" on three separate occasions concerning safeguarding allegations.
Last week Premier exclusively revealed that one of the allegations related to the massaging of a former intern by Pilavachi, and that this was disclosed to Croft in 2016.
How has the wider Church reacted to the news?
Gavin Calver of the Evangelical Alliance has said the Church "must do better."
"Too often we are hearing stories of misuse and abuse of power in our churches and by our leaders. Too often we are hearing that individual power is being protected at the expense of victims being heard or believed. Too often we are seeing accounts where faithful service to the gospel is being exchanged for platform and self-promotion.
"As painful as it is, we must not resist the work of God's Spirit to bring to light that which has been hidden in the shadows," he continued.
New Wine described the news as "shocking and deeply disappointing". But their statement was heavily criticised online, with Jane Chevous, co-founder of Survivors Voices, saying it failed to acknowledge the organisation's close connection with Pilavachi: "We cannot prevent further abuse if we don't acknowledge our own complicity and failures", she wrote.
New Wine later said they were "profoundly sorry" for appearing to "minimise the relationship" and announced a "full and independent review" into its relationship with Mike Pilavachi and Soul Survivor.
In her article for Premier Christianity, Chevous also noted that other organisations and individuals close to Pilavachi are yet to respond to the news.
"Visible allyship is not just important to the victims who have disclosed; it sends a vital message to all those who are unable to disclose, to everyone who attended Soul Survivor who may have been an unwilling witness, or present but unaware; to the tens of thousands of Christians who were connected with the movement and are in churches and ministries all over the world," she wrote.
"It sends a message that we will face up to this appalling and devastating truth together. We will not rest until we have accountability and justice."

Megan Cornwell is deputy editor of Premier Christianity magazine. She previously worked at the Guardian and The Tablet. When she's not writing and editing features or interviewing well-known Christians she can be found scrambling around the floor with her one-year-old and pretending to be a puppy with her five-year-old. She loves all things faith, ethics and journalism, and her tea strong, with lots of milk.
View full Profile