The British-Ghanaian entrepreneur explains how his faith inspired him to build a £1m watch company that supports education in sub-Saharan Africa
If you're looking for someone other than William Adoasi who can claim the credit for the exceptional growth of his watch company Vitae London, you'd best start with his "very strict" Pentecostal father. From an early age the importance of education was drilled into Adoasi and his six siblings, who grew up in south London. "Dad despised the television!" he remembers. "He would say to us: 'Why are you sitting there watching other people make money when you could be educating yourself?'"
Adoasi has fond memories of a "busy, hectic" home life and of attending church on a daily basis. His parents worked hard to provide for their children. "They shielded us from the struggle we were surrounded by," he tells me.
But the reality of inequality soon proved inescapable. Sent away to boarding school in Stourbridge, West Midlands, Adoasi discovered many of his peers came from very different backgrounds.
He remembers visiting one school friend's eight-bedroom home and gazing in wonder at the surrounding privately owned land. Quite the change from his own family's mice-infested two-bedroom flat.
Such formative experiences could have easily resulted in righteous anger. But that wasn't the case. "Boarding school opened my eyes to the possibility that the life I was living wasn't the only option in this world," he tells me, smiling. "It inspired me to dream big."
Adoasi's entrepreneurial spirit was evident at university, where he became so "distracted" by a potential business idea that he eventually quit to start a sports academy company. Later, in his mid-20s, he launched Vitae London.
Profits from the sale of every watch fund a school uniform for a child in sub-Saharan Africa. "Vitae is Latin for 'Life' and our whole ethos is to be the fashion brand that changes lives," he tells me when we speak over Zoom.
Given that he has been mentored by Richard Branson, the company has generated £1.1m of revenue and celebrities such as Paloma Faith and Emeli Sandé have been spotted wearing Vitae timepieces, you'd think it would be mission accomplished for William Adoasi. "It has been an amazing journey," he agrees, "but I would say we're just getting started."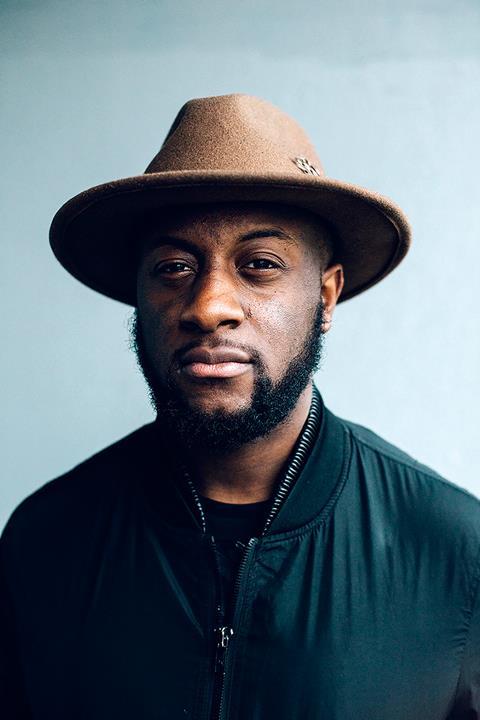 You dropped out of university to start a sports academy business. How did that conversation go with your father?
If I'm completely honest, I didn't tell him at first! I should have, probably! I just wanted the fruit to speak louder than me saying: "I've got this idea." So I just put my head down and carried on working on the business and was able to show him how well we'd done.
And then we had an honest chat. Through that, he just emphasised the beauty of a back-up plan and the beauty that education does pose. That's what pushed me to finish my degree part-time when that business eventually wound up.
I can never deny God. I can never deny Jesus
It strikes me that you had an enormous sense of self-belief to quit university believing you could build a business from nothing?
It's weird, I think I've always viewed risks in a different light. I always focus on the why not? as opposed to any fear of failure. Because, for me, if I drop out of uni to start this business, and the business does really well, we're laughing, we're celebrating for all the years to come.
If it does really poorly, OK, I've missed out on a year, but I can go back and finish that degree.
So the risk-reward was balanced towards the reward. And I think that's how I approach life a lot of the time: Just go for it! Life is too short.
You grew up going to church and your father was a Pentecostal bishop. How has your faith changed since your childhood?
I'm someone who's very inquisitive and I like to question everything. If I'm being completely transparent, my faith goes in waves. I can never deny God; I can never deny Jesus. But there are always questions that come up and things I want to ponder on. I think that is the beauty of faith.
If you knew everything and understood everything, then it wouldn't take faith to believe. One thing I can never deny is God's impact on my life and his hand in my day to day.
How did you grow Vitae London from nothing to where it is today?
I started with £7,000, which I was saving towards a house deposit. And now, we've generated over £1.1m in revenue. We've distributed over 5,000 items of school uniform and free solar lamps to children in need.
It has been a six-year journey and I always describe it as a beautiful struggle, because there's so much beauty in doing what you feel called to do, but there's always hard times where you're questioning yourself and wondering if you're on the right path.
We've seen individuals like Richard Branson wear our watches, Pharrell Williams, Michelle Williams, and one of my favourite singers in the world, Martin Smith. We're now stocked in two of the largest retailers in America, Macy's and Nordstrom. So we're really in a season of growth and scaling.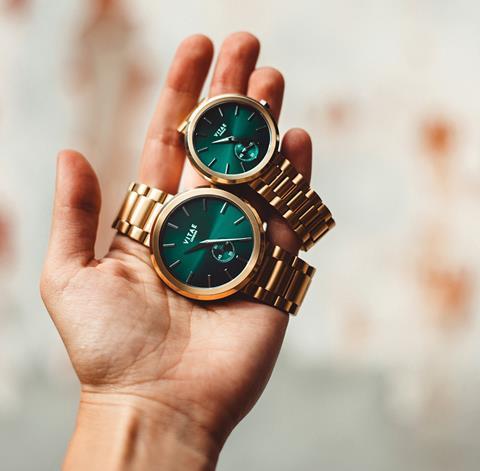 Ten per cent of your profits go towards charitable ends. Why? You could have had a nicer car, a bigger house…what motivates you to give money away?
Sub-Saharan Africa is the one region in the whole world where poverty has actually increased in the past 25 years. That coincides with the fact that it has the lowest amount of young people in education. So when you pair those two things together, it just seems like a no-brainer to try and tackle the inequity through providing means for young people to get an education.
When I was working a job in the City [of London] I was making good money but it didn't really motivate me. But a vision that's bigger than just me – a vision to support these young people – keeps me going in the hard times. It's more than: "'I've sold a watch", it's: "I've supported another child."
The third [reason] is that it actually makes business sense. If we weren't giving back, I don't think we would have had ambassadors like Richard Branson come on board. We're able to flip the watch industry on its head.
For all of history, people have worn watches as statement pieces about how much wealth they can acquire for themselves. But we've been able to provide a statement piece that shows you want to give back to the world.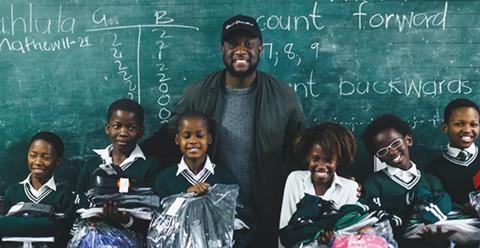 Is there a sense in which you're also trying to right a wrong, when it comes to the history of the watch industry?
Yeah. Oftentimes, it's as if the West just pillages Africa. If you look at the Crown Jewels, you'll find a lot of the materials there – diamonds, gold, etc – have been exploited from sub-Saharan Africa.
So I think it's beautiful that we've been able to create a brand that, in a very small way, reverses some of those effects.
You won Virgin start-up funding which helped you launch Vitae London, and led to you being mentored by Richard Branson. What's the biggest lesson you learned from him?
Own your story and own your scars. When I first started Vitae London, I didn't want to be the face of the brand at all. Maybe it's some kind of trauma from boarding school, but there was this fear that a 50-year-old white guy from the Midlands wouldn't want to buy a watch from a 26-year-old black guy from a council estate in south London.
So I had this mentality that it wasn't wise for me to be the face of the business because it could discourage sales. But after speaking to him, it revolutionised the way I built the business. I ended up putting my story at the forefront a lot more. Literally straight after that decision, we had articles in CNN, Forbes, BBC and I delivered a TED talk.
There's just so much beauty in owning your scars, because you don't realise how many people are scarred in the same way and how they can relate to you overcoming and standing strong.
How do people like Pharrell Williams get hold of your watches? Do you go to celebrities and influencers and ask them to wear them as part of a PR strategy?
If I'm completely honest, a lot of it is God. I remember, with [footballer] Romelu Lukaku for instance, I was just walking around New York one day and saw him. This was a few years ago, before he was with Manchester United, and I recognised him, but forgot his name! I Googled 'Everton strikers' and his name came up! I went over to him and spoke to him about the brand.
There's been so many occurrences where I have genuinely not orchestrated it one bit. I've literally just been in the right place at the right time. And sometimes I feel they're signs from God to keep going. It's just a bit of encouragement on the journey to say: "I'm with you, I've got your back."


Sam Hailes is the editor of Premier Christianity, the UK's leading Christian magazine. He also serves as editorial director for the Premier media group. Sam is husband to Stacey and Dad to Evelyn and Ezra.
View full Profile