We spoke to The Most Rev Michael Curry following the news of Her Majesty's death. He talked about the Queen's quiet, steady faith, our need to pray for our new king and how we can all look to Jesus to help us live a life of faithfulness too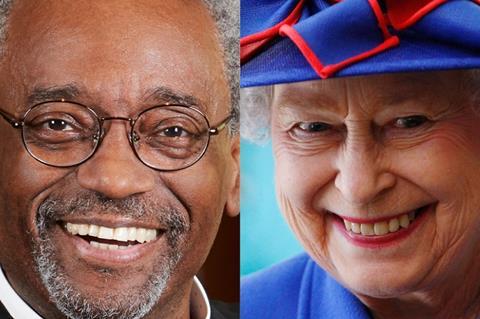 What's your reaction to the news that Queen Elizabeth II has died?
I want the people of the United Kingdom to know those of us here in the United States are praying for you and for the royal family. We give God thanks with you for the life of Her Majesty. She has been, and is, a reminder that human dignity and nobility are possible.
This was someone who made a difference in the lives of people in not just Great Britain, not just the nations of the Commonwealth, but the peoples of the earth. For one brief shining moment, we actually saw humanity lived at its best, through thick and thin, through good days and hard days. Obviously it wasn't always easy for her, but this remarkable woman showed us that God's vision of a human life well lived, lived in his honour and service, is a life that makes a difference and is worth living. And for that, to God be the glory and thank God Almighty.
How are Americans generally taking the news of the Queen's passing?
Once the announcement was made that she was gravely ill most of us knew that meant the end was near, or at least possibly near. I was in the supermarket when I heard that news and a woman said: "I think the Queen is dying." I said: "I fear that that's the case as well." She simply said: "God bless her." I think that is typical; people here loved Her Majesty. There was something about her; her commitment to duty, and to service, and the way she carried herself. She was a remarkable human being in the midst of a world where we're so used to seeing negativity and bad stuff. She was a reminder that the light does shine in the darkness, and the darkness will never overcome it, as the Bible says.
Your sermon at the wedding of Prince Harry and Meghan came a bit like a breath of fresh air to many of us. Can you give us any clues as to how the Queen responded to your sermon that day?
Well, when she was leaving the church, she turned and looked at me. And she smiled and nodded. It was just a brief moment; for me, it was like I received a blessing from her. That's all she did. Nothing more need be said.
You know, the message of that sermon was an attempt to give voice to what I believe is the heart of the Christian gospel. That this God we're talking about loves this world, and loves all of his children. And to learn to live in that love is the path to life for us all. I believe that, and I have a funny feeling that she did too.
I believe that this was a woman of real faith, the real deal. A quiet faith, you know; she was not a bombastic American. She was a quiet, steady, real faith, a way of love that was lived by commitment to duty and service to others, even at sacrifice to self sometimes.
So do you think we need to be sad or predominantly grateful for a life well lived?
Both. You know, we have a set of instructions in the American Book of Common Prayer that says that it is love in many respects that causes us sadness when we are parted by death. It's because we so love and respect and honour the person who has died; we're gonna miss them being with us. And so that sadness and grief is real. It's real for the people of the United Kingdom. It's real for people around the world, but especially for the family. Remember, they're human beings, children of God, just like the rest of us. And it's because of our love for her and their love for her that there is sadness.
And yet, at the same time, that sadness can be tempered, or live alongside of a gladness – a gladness that we have actually been able to behold one such as her. Gladness that she was a reminder that we don't have to, as the psalmist said, be stuck in the muck and mire that is often in the hardship of life. That somehow, by the grace of God, we can rise above it, and live better lives, more noble lives. That is possible; we've seen it in her. So we can give God thanks, even in our sadness, that one named Elizabeth walked among us.
Her model of quiet faith actually came out more in her Christmas messages, didn't it? And the older she got, it seems the more open she was about her Christian faith.
Yes, it really was those Christmas messages. In those messages you can almost see, not so much the evolution of her faith, but the evolution of her willingness to share it, and speak of it in ways that were not pushy, but that were: "This is the faith that I hold and I share it with you." That was rather remarkable.
I do think her faith became more transparent. It was always there, but we got little windows to actually see it. Her faith was a quiet piety, but it was a quiet piety that went deep. And we saw the fruit of it in her life.
What is your prayer for her family now, as they grieve? And for us in the UK and around the Commonwealth as we have a new king, King Charles III – who has lost his mother, but also finds himself with a new role.
I think we should all pray for him, and pray for the family, that even in their sadness, they will know gladness. That even in their sorrow, they will not, as the Bible says, have sorrow as those who are without hope. That they will see the hope that she had, the conviction and belief that she shared, and that the people of Britain and the Commonwealth around the world will give thanks that one such as this walked among us. That if God allowed her to do it then, following her example, as she followed in the example of Jesus of Nazareth, we too can live lives of love, dignity and beauty and of humanity as God intended when he said: "Let there be light."
Bishop Michael Curry was speaking to Michael Fanstone on Premier Christian Radio
Premier gives thanks for Queen Elizabeth II. We invite you to share your prayers of thanksgiving for Her Majesty's life, faith and service here