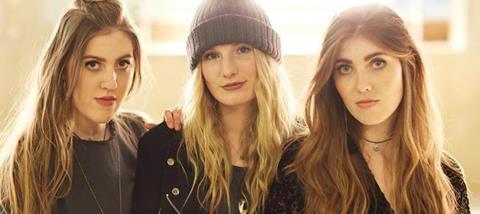 In the current political climate, many artists have been writing songs that vent their anger, frustration and fear. So it is particularly heartening to find Wildwood Kin's eponymous second album entering the charts this week, full of songs of encouragement and hope.
The trio, who are signed to Sony Music, make no secret of their upbringing in church, where their mothers led worship. They've played at Christians festivals including Big Church Day Out, Greenbelt and Creation Fest while simultaneously making in-roads into the mainstream, appearing on the BBC Introducing stage at Glastonbury and entering the top 40 album charts.
Emillie has said in interview that it is important for the band to keep their faith central to their music, which they see as a healing force. Given the declining number of quality Christian acts impacting our culture, Wildwood Kin's faith-based approach is desperately needed.
Gorgeous up-front vocal harmonies define the trio's sound: a spacious, reverb-heavy fabric that owes much to their original sense of composition and production. Their music feels liquidly free. From years of singing together as sisters and cousins, their harmonies are instinctive.
While their début album Turning Tides drew comparisons with Simon and Garfunkel (noticeable on tracks like 'Circumstance') and Fleetwood Mac, they mostly resembled early Fleet Foxes, especially in their more ambient and reverbed moments. There are fewer of those on the eponymous album, and they bring to mind The Corrs on the radio-friendly 'Time has Come'.
While their new album is upbeat, it also deals with tragedy. Drummer/singer Megann Loney lost her brother to suicide and the song 'Never Alone' is a plea to find the source of hope before it is too late: "Let me show you a way to a place where you'll know you're never alone."
It is easy to spot the biblical influences across their lyrics, when their début album's title track includes words like, "There we will transfigure / We'll no longer be enslaved / It's like the Hermon mountain dew / Morning freshness always new / Let's dwell with one another."
The final track of the album feels like a mission statement: "We'll sing out loud and clearly / Where the echoes will touch the broken / Where the spirits will be woken / And they'll run into the horizon / Just to break free into dancing / And a new love has come / That will never be broken."
Although each of them has led worship on her own, as a band they are more outward-looking. Their approach is to write songs that make people feel something special, so inviting one-to-one engagement with people after shows, rather than talking about their faith from the stage.
As well as a richer sound, the new release shows a step forward in their songcraft. It may have come from working with artists like Gabrielle Aplin ('Wake up Sleeper') and Ed Harcourt ('Never Alone'), but the repetition of phrases in their first collection has disappeared. There is virtually no filler of any sort here.
'Beauty in your Brokenness' is based on the art of Kintsugi, where broken things are repaired by mending the cracks with lacquer mixed with powdered gold, silver, or platinum. It may be a Japanese term, but the song takes the core biblical ideas of fresh starts, redemption and renewal and places them in a new context - surely, the main role of Christian artists.
These songs are born of hearts keen to encourage, as if they are God's mouthpiece singing to build up a hurting world. On their first, they sang of "infinite healing" and "a new love." As the album faded out in ambient style, it left Psalm-like lyrics about waters refreshing a dry land. This one ends with 'Signals' a track that alerts the listener to someone's intentional hints about something "beyond a rational reason" that can "realign my perspective," urging a response and the warning, "If I look away from it, I will lose my way." But this is a band much stronger on invitation than admonition.
So be prepared for strong songs with a sumptuous sound from this trio with a vital message of encouragement and healing for a hurting world.
Enjoyed that? Get more articles covering news, culture, faith and apologetics in every print issue of Premier Christianity magazine. Subscribe now