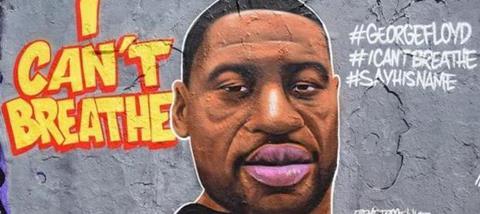 George Floyd's death is infamous, and as a result, his history and character are being both eulogised and demonised as he becomes a target of the ugly culture war that is engulfing the West.
While much of the media reporting is now focusing on the mass protests, removing of statues and heated debates on social media, we must not overlook or forget his life. George Floyd's personal story is one of faith, of trying to escape the lifestyle of drugs and crime that surrounded him, and working to improve his community.
Floyd was closely involved in a church in Houston and friends have spoken of his deep spirituality and his concern for the people around him who were involved in violence. He warns in one video: "One day it's going to be you and God…You going up, or you going down?" In another he urges his community: "I've got my shortcomings and my flaws and I ain't better than anybody else. But these shootings going on, man, I don't care what hood you from, man, where you at, man… put them guns down."
Childhood poverty
He grew up in the tough 'Third Ward' neighbourhood in Houston, Texas. "People are still living in shot-gun shacks that were erected in the 1920s," rapper Ronnie Lillard told the BBC. "The poverty is thorough...and being from that area, it's hard to escape."
Floyd has been described as a 'gentle giant' who played sport and had big hopes for the future.
Getting involved in the trouble that surrounded him meant he was convicted of several drugs offences before he spent five years in prison for armed robbery. But this sentence prompted a change of heart.
Following his release, he got involved with Resurrection Houston, a church in the area. Its website describes a focus on making disciples in the region, as well as a heart for social justice. "George Floyd was a person of peace sent from the Lord that helped the gospel go forward in a place that I never lived in," said Patrick PT Ngwolo, pastor of the church, according to the US-based Christian magazine Christianity Today. And the change in lifestyle inspired others around him. "His faith was a heart for the Third Ward that was radically changed by the gospel, and his mission was empowering other believers to be able to come in and push that gospel forth," Nijalon Dunn said.
He also acted as a gateway for the church to reach out to the community. "He said, 'I love what you're [the church] doing. The neighbourhood need it, the community need it, and if y'all about God's business, then that's my business,'" Corey Paul Davis, a Christian hip-hop artist who attended the church, told Christianity Today.
A person of peace
"When we did community outreach in the hood he was a 'person of peace'," Corey said. "He was one of the people we would connect with. Because he wanted to see change in the community. He wanted to see us come together as a people. He wanted to see all the things that have been stripped from us given back."
In his own personal life, he wanted to live a better life and be there for his children. Speaking to CNN, friend and former NBA player Stephen Jackson said: "The last time I talked to him was about a year ago and every conversation we had in that year was about bettering ourselves and being better fathers. That's all he talked about."
A deeply spiritual man
His partner Courteney Ross describes him as a deeply spiritual man who prayed regularly, who was concerned about those around him. "He stood up for people, he was there for people when they were down, he loved people that were thrown away," Ross told WCCO. "We prayed over every meal, we prayed if we were having a hard time, we prayed if we were having a good time."
Floyd posted videos about the young people he saw around him who were caught in violence and crime. "Our young generation is clearly lost, man… you youngsters just going around, busting guns, in crowds, killed and getting killed," he says in one video which was posted on Twitter.
His life was precious
Like many who have a background in crime and problems with drug use, his faith didn't give him an instant pass out of troubles. George Floyd continued to have problems with drug use, according to the Houston Chronicle, which said he went to Minneapolis to join a drug treatment program.
The state medical examiner said that he had fentanyl in his system at the time of death, and that he had used methamphetamine recently. Fentanyl is an opiod drug that can be prescribed by a doctor, but is also used recreationally and can be addictive.
However a person might choose to judge his character or his faith - his life was precious and its brutal end a tragedy.
Floyd's death at the hands of Minneapolis policemen was caught on multiple video cameras, which showed he was not violent or out of control, or behaving in a way that warranted intensive restraint. He repeatedly told the policemen holding him down, "I can't breathe."
His story highlights his love and concern for others, the difficulties of his community and the challenges of a person coming to faith who has a drug dependency.
Many are now hoping his death will bring about lasting change. As Clorisa Curtis said at his memorial yesterday, "I think everything that's going on right now is powerful. I never seen us as a culture come together let alone multiple cultures coming together so I think right there shows a lot on what change is coming."