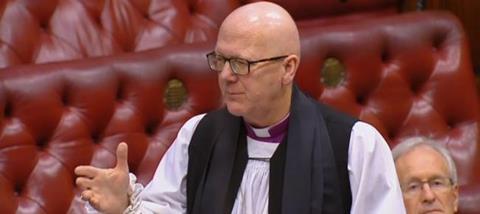 Have you noticed that nowadays you can't watch sport on the television or on your mobile phone without being bombarded with gambling adverts? These are reinforced by the betting logos that many of the sportsmen and women wear on their kit and the adverts surrounding sportsgrounds.
In recent weeks the campaign to reform gambling adverts during sports broadcasts has hit the national spotlight. I see this as a great opportunity to confront the 'gamblification' of sport and use it as part of a wider campaign to reform the gambling sector; this campaign has been central to my political outreach within the House of Lords.
Discovering the facts
I've never been interested in gambling and have never personally gambled. All this changed five years ago when I met a family whose son, after mounting up large debts due to gambling, tragically took his own life. His parents' raw grief was palpable, and, after hearing their story and their expressed wish that no other family should ever have to go through the same horror, we prayed together.
Unaware of where this would end, I submitted a series of questions to the government on gambling-related suicide, only to find out that they were as clueless as I was on this subject. However, the more I raised these issues, the more I was brought into contact with other grieving families as well as a committed network of clinicians, academics, religious organisations, campaign groups and individuals dedicated to gambling reform. They helped me understand the real scope and extent of problem gambling in the UK, the origins of which heavily lies within the 2005 Gambling Act.
The problem with this Act was two-fold. Its regulations were made for an analogue age prior to the advent of mass online gambling, essentially allowing operators to circumvent the rules and promote the worst excesses of gambling provided it was behind a digital screen. Second, the Act permitted gambling operators to advertise across all media platforms leading to an explosion in gambling-related content and exposure.
Gambling addiction, in many cases, starts in childhood. In the UK, between 2019 and 2020, the number of children experiencing problem gambling rose from 55,000 to 62,000. This has obviously not occurred in a vacuum. Gambling advertising has successfully infiltrated what should be the innocent act of watching sport, primarily football, and has helped to normalise gambling amongst young people in a way that is often misleading by showing it to be exciting and fun, and an easy way to win money. Studies have consistently shown that young people have a low understanding of risk, making them ripe for such early conditioning.
A step in the right direction
In 2019, I persuaded the House of Lords to hold a select committee into the 'Social and Economic Impact of the Gambling Industry'. Over a year later our committee's findings were published in Gambling Harm – Time for Action where we set out some of the key facts: nearly one third of a million adults in the UK are classified as suffering from gambling-related harm and it is thought that around one person a day takes their life due to gambling.
As a former member of this committee, and now a vice chair of Peers for Gambling Reform (a group within the House of Lords campaigning for the implementation of the report's recommendations) I believe the announcement of the government's official review into the 2005 Gambling Act is another step in the right direction. However, a backlash is already underway from gambling operators who do not want to lose their most profitable customers, many of whom are suffering from gambling-related harm.
It is thought that around one person a day takes their life due to gambling
When compared with some of the great causes in the past, when Christians campaigned for the abolition of slavery and child labour, this may seem a modest campaign. Nevertheless, it has brought together a wide range of Christian groups with bereaved families, psychologists and politicians to address a serious problem that is still causing great suffering.
Since my first chance meeting five years ago, I have subsequently met many families of talented young people who've taken their own lives due to gambling. Many of these harrowing stories are recorded by the charity Gambling with Lives. The experience of their grief is not something I will ever get used to and reminds me that for those who have lost children this issue does mean everything.
Rt Rev Dr Alan Smith is the Bishop of St Albans
Premier Christianity is committed to publishing a variety of opinion pieces from across the UK Church. The views expressed on our blog do not necessarily represent those of the publisher.