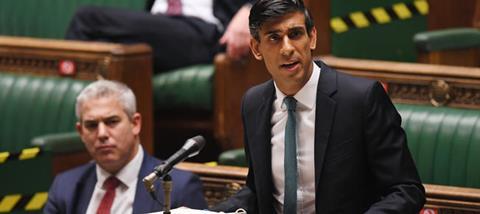 "If anyone has material possessions and sees a brother or sister in need but has no pity on them, how can the love of God be in that person? Dear children, let us not love with words or speech but with actions and in truth." (1 John 3:17-18)
In times of crisis, I look to this well-known Bible passage as a reminder of the Christian call to practical, compassionate action. Even though it might go against our natural inclination towards self-preservation, we are instructed to pay special attention to our brothers and sisters in need.
That's why I was so disappointed at yesterday's announcement that the UK government is cutting its overseas aid budget to 0.5% of national income, down from the supposedly legally-binding target of 0.7%. As the world struggles to recover from Covid-19, it is more essential than ever that the UK maintains its historic commitment to spending 0.7% of national income supporting the poorest people on our planet.
People living in poverty are already pushed to the brink of survival every day. This decision by the UK government is a harsh, badly calculated decision and could not have come at a worse time.
Many Christian organisations and leaders also expressed their deep sadness and concern, including the Archbishop of Canterbury, Justin Welby, who called the announcement "shameful and wrong". This is a moral issue, and will have an ongoing real-world impact for our global neighbours in poverty.
Currently UK Aid represents a very small proportion of our national income – just 7p out of every £10 the nation earns. We know that cutting the aid budget will have dire consequences for those who are suffering the twin horrors of Covid-19 and climate change.
UK aid has been crucial in transforming communities and saving lives. Former Secretary of State for International Development Andrew Mitchell stated that because of the cuts "up to 5.6 million fewer children won't get vaccinated, that could lead to up to 100,000 deaths."
When times are tough with our own personal finances, often the first temptation is to cut back on giving or donating to the causes we believe in. But this doesn't align with the biblical call to radical generosity – especially when our neighbours are suffering. We are called by Jesus to love our neighbours and care for the vulnerable.
And we can't forget that the decisions we make as a country set a precedent on the world stage. Breaking our commitment to the world's poorest people squanders an opportunity to show bold global solidarity during this time of unprecedented need. The UK is due to host the UN climate talks and G7 Summit next year. How can we be seen as a credible global leader if we cut this vital funding?
Please join me in praying for the following:
Pray that the government will have compassion on people living in poverty around the world and restore spending to previous levels quickly.
Ask for the UK government to look for opportunities to reverse the decision, and be transparent about how the remaining aid budget will be spent and what will be cut.
Keep in your prayers people living in poverty for whom this decision will impact the most. Pray for their protection, and for help to reach them so they are able to overcome poverty.
You can also make your voice heard by signing The Climate Coalition's Declaration calling on Boris Johnson to lead the world in a green economic recovery from Covid-19. We can build back better if we increase support for the world's most vulnerable to the impacts of climate change at home and abroad, unleash a clean energy revolution that boosts jobs across the UK and protect our green and wild spaces; allowing nature to thrive, taking carbon from the air and boosting the nation's health.
Nigel Harris is the CEO of Tearfund
Premier Christianity is committed to publishing a variety of opinion pieces from across the UK Church. The views expressed here do not necessarily represent those of the publisher