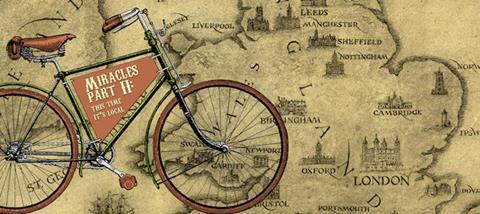 The idea of standing in a town centre to accost shoppers with a leaflet about Christianity would send most believers into a cold sweat. Offering to pray for healing would probably only make things worse. We're British, after all.
Yet on a blustery Saturday afternoon a group of enthusiastic Christians are abandoning their traditional reserve and offering prayer to perfect strangers. I joined a Healing on the Streets team in Woking to find out what results they are seeing from their outreach.
There is a large banner saying 'Healing', with several chairs placed nearby. Those who accept the offer of prayer sit down while the volunteers kneel (on handy foam mats) either side of them.
'I'm not an outgoing person. I have to force myself to do it,' admits Diane, one of the volunteers. 'It's about seeing God's love in action. When we pray, almost everybody is aware of something – peace or warmth – and for others, more dramatic healing. 'A young lad had a problem with his foot. He was hobbling and his mum was with him. We prayed and asked, "How does it feel now?" He stood up and started walking. Then he ended up running around the whole square
saying, "It's great!" He was totally healed. Children don't have the inhibition and doubt adults often put in.'
For those like me who struggle with the flamboyant approach of stage healers like Benny Hinn, there's a disarming simplicity to ordinary Christians like Diane who dare to take a risk. So, could Healing on the Streets be just one example of a quiet revolution taking place in stiff-upper-lipped Britain?
Hearing restored in the south-east
Damian Stayne, leader of the Surrey-based Cor et Lumen Christi Catholic community, recounts praying for a young boy with 90% hearing loss (when not able to lip-read). It meant he couldn't even hear someone on the telephone. After prayer he was tested again by doctors and his ability to hear in different pitches was shown to have dramatically improved. He now no longer wears hearing aids and can speak easily on the telephone.
According to Stayne, the doctor in question has refused to release the chart showing the difference in hearing, indicating why medical documentation can often be hard to come by.
Waves of the Spirit
When the Welsh Revival of 1904 effectively brought Pentecostalism to the UK, it was accompanied by multiple accounts of healing miracles. Then came the charismatic renewal of the 1960s, followed by the so-called Third Wave renewal movement (led by figures such as Wimber in the US). Breaking upon British shores in the 1980s, Third Wave brought a fresh revival of interest in healing. This time the effect was felt across all the mainstream denominations through conduits such as HTB and the Alpha course.
Last year's Welsh Outpouring, in which Victory Church, Cwmbran, became the centre of a revival, was also apparently triggered by a dramatic healing. Paul Haynes, a wheelchair-bound member of the congregation, was not only able to walk after being prayed for, but lifted his wheelchair above his head and ran triumphantly round the church, while the congregation erupted in praise. A year on, the dust has settled, but for several weeks the church welcomed thousands of people from around the country to continuous nights of revival services.
Richard Steel is a pastor in Stratford-upon-Avon who runs a healing ministry. While acknowledging the value of visiting spiritual 'hot spots' such as Cwmbran, he believes Christians should expect to see miracles happen wherever they are.
'We are moving into a new era where God is pouring out his Spirit on all flesh and touching the Church. As Christians we carry the Holy Spirit with us. Gone are the days of the tent revival where it's all about the man at the front.'
Steel has videoed encounters with people on the streets where he lives, even seeing some become Christians as a result of on-the-spot miracles.
'My wife and I prayed for a man who was not a believer and testified to being legally blind in his right eye. After prayer he felt heat on the eye and said, "I can see so much further than I was able to, God has restored my vision." On that day he actually accepted Christ.'
The wheelchair and the Welsh revival
After being involved in a car crash, Paul Haynes suffered a painful condition in his legs that forced him to use a wheelchair and restricted his mobility. When he went forward at a prayer meeting at Victory Church in Cwmbran, he felt a surge of power run down his body into his legs. With the pain gone, he ran around the church sanctuary with the wheelchair carried aloft, while the stunned congregation applauded.
The event marked the beginning of the Welsh Outpouring in 2013, and his redundant wheelchair was placed at the entrance to the church as a reminder of the miracle that started it all.
Making room for healing
While people such as Steel and groups like Healing on the Streets are offering public prayer in town centres, other organisations have set up healing rooms as quiet places for people to receive prayer for healing throughout the week.
Veronica Mee of the National Association of Healing Rooms was able to persuade her local Costa Coffee in Stoke-on-Trent to regularly host a healing team. They are allowed to advertise their presence, giving them the opportunity to pray for many people, including staff from the café. The initiative has been so well received that a similar venture at a branch in Congleton is being launched.
John Ryeland runs a drop-in prayer ministry at the Christian Healing Mission in Hammersmith, London. He prays for both the physical and emotional healing of the clients who visit the centre. 'The majority of people who come are suffering from inner healing issues,' says Ryeland. 'People's lives are crippled because of circumstances in their past and they want help.'
Ryeland says he has also seen miraculous physical recoveries, especially at healing events in churches. In one instance, a woman with a longstanding infection in her hips, who could not bend and found walking difficult, experienced instantaneous healing.
'Nobody actually prayed for her in person, but she felt a fire in her hips. She tried to touch her toes and found all the pain was gone. I wrote to her months later and she still said all the pain was gone.'
However, not all healings are immediate, says Ryeland, and some clients return on multiple occasions for prayer. Nor should it be assumed that those with disabilities are always looking for physical healing.
'I used to do a healing service for the deaf community and the chaplain who invited me said, "Please don't assume that deafness is their greatest need." We must never assume that we know what people need healing from. When we just see a wheelchair, we aren't honouring that person.'
A blind person sees in London
John Ryeland describes praying for a woman who was completely blind in one eye. Ryeland put his hand over the eye during prayer, and when he removed it the woman said, 'I can see light out of my blind eye!' Within a month, with subsequent times of prayer, full sight was restored in the eye. 'It was a wake-up call for me,' says Ryeland. 'It made me think, "Crumbs, this is for real." I'm now learning to expect it more.'
Disputing the evidence
Not everyone is enthusiastic about the miracle claims of Christian groups. In 2012 the Advertising Standards Authority upheld a complaint against a leaflet produced by a Healing on the Streets team in Bath. Phrases such as 'God can heal you today' were deemed by the watchdog to be misleading. The ensuing debate saw Christian politicians such as Gavin Shuker and Gary Streeter defending the right of churches to promote belief in the power of prayer.
However, controversy over healing is not limited to the concerns of secularist organisations. Peter May is a retired GP and former chair of the University and Colleges Christian Fellowship. An evangelical believer, he has nevertheless been at the forefront of challenging numerous miracle claims by prominent healing evangelists over the years.
In 1991 he famously had a run-in with American evangelist Morris Cerullo during a live television interview at his Earls Court rally. May directly challenged the healer to produce his three best miracle stories (and says Cerullo was furious about it). He claims that none of the cases Cerullo eventually provided stood up to scrutiny when he investigated them for the BBC.
May believes that overblown claims about healing damage the credibility of the gospel and that very few modern-day miracle claims are akin to the majority of healings performed by Jesus. He defines these as the complete and instantaneous healing of non-remitting, incurable diseases. He says that his research has turned up no contemporary accounts that could be medically classified as a miracle.
'Lots of things are unexplainable,' says May. 'You can have a remarkable recovery, but is it a Christ-like miracle?'
Ironically, May himself recently experienced a remarkable recovery from leukaemia after undergoing a new medical trial. The disease was completely eradicated, a very rare occurrence according to his clinician. But was it a miracle?
'I have to conclude that my prayers were answered,' he responds. 'But I wouldn't describe it as a miracle. I had the full course of chemotherapy.'
Medicine and miracles
While acknowledging the importance of not exaggerating miracle claims, many Christians with a particular interest in the miraculous believe sceptics such as May are too dismissive in their approach. Professor Craig Keener of Asbury Theological Seminary has documented hundreds of healing accounts in his two-volume book Miracles (Baker). He accuses May of being too 'one-sided'.
'He seems to hold a double standard in some cases: when Jesus healed someone blind or deaf these are incurable disorders that do not "spontaneously remit," but he is less prepared to admit such claims today though they are sometimes better documented medically than the ancient cases could have been.'
Stayne is aware that that many of the miracles he has witnessed are difficult to document medically. He gives an example of a woman with a missing ear drum. After prayer, her hearing in the ear was fully restored despite the drum still being missing upon examination. Her doctor simply described her as 'very lucky'.
SHE FELT A FIRE IN HER HIPS AND FOUND ALL THE PAIN WAS GONE
In others cases, says Stayne, obtaining medical documentation of a healing is not always straightforward. 'I think some doctors, because there is no guide for healing, are afraid that they must have misdiagnosed the person, and are afraid of legal baggage.'
It's perhaps unsurprising that doctors are, in general, unwilling to categorise extraordinary recoveries as 'miraculous'. Divine intervention is not listed as an option on most medical documents – healings are simply categorised as 'extraordinary exceptions to the norm'. For most healers, whether medically verified or not, the fact that an individual's health and outlook has been transformed should be evidence enough for sceptics.
Taking risks
Miracles will always remain, by definition, mysterious. Attempts to explain them scientifically seem doomed to failure, and the evidence that convinces one person will often be inadequate for the confirmed sceptic. Even when individuals are convinced of a miracle, questions such as 'What about those whom God doesn't heal?' inevitably loom large.
Colon healed in Burnley
Vanessa had suffered from irritable bowel syndrome for 20 years when a friend told her to visit a healing room. She was due to have a doctor's appointment to arrange surgery to fit a colostomy bag, but during prayer felt movement in her colon as well as being suddenly filled with 'life, energy and vitality'.
No surgery was needed in the end as the doctor diagnosed that her colon was completely healed and functioning perfectly. Problems with her womb were also eradicated and food intolerances disappeared. In the process, Vanessa became a Christian. Read Vanessa's testimony in full here.
For the brave street volunteers that I spent an afternoon with, such questions shouldn't prevent believers taking a risk and praying for healing anyway. Whenever they do, things happen and people sense the love of God. Physical healing isn't always the first priority, it seems.
I'll admit, it would have been nice (and convenient for this article) had I witnessed a dramatic miracle that afternoon, but I didn't. What I did witness, however, was a handful of genuine, compassionate and loving people who wanted others to experience God's love.
Perhaps the most moving testimony of the afternoon came from a young woman who told the team that she had been prayed for several weeks before, having been estranged from her mother after a falling out. They had just reconciled the previous day, something she viewed as an answer to the prayers the volunteers had offered for her.
It was a powerful reminder that healing takes many forms. I certainly can't vouch for the miraculous status of every healing claim, nor does every prayer yield the hoped-for results. But I'm not a sceptic either. God seems to turn up when Christians, moved by authentic love, take a risk in his name.
Got a comment about this article? Tweet us @christianitymag. You can hear recent debates on healing between Christians and atheists on Premier Christian Radio's Unbelievable?