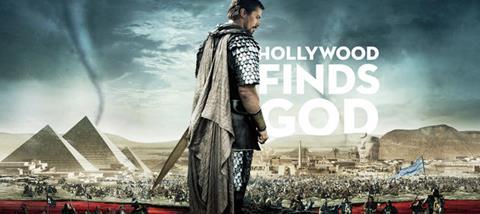 Just over a decade ago, The Passion of the Christ opened Hollywood's eyes to an almost untapped, sizeable film audience. Today, Mel Gibson's retelling of Christ's crucifixion remains the highest–grossing R-rated film in US cinemas, having brought in more than $370 million.
A forward-thinking Gibson had personally organised preview screenings for church leaders, which were held at some of America's largest churches. This led to the endorsement of the film by Billy Graham, Rick Warren, James Dobson and many other influential church leaders.
Hollywood likes to repeat a successful formula. Seven of the ten highest-grossing films in 2014 were sequels or part of a successful series. So when The Passion of the Christ hit such a high with viewers, studio chiefs subsequently set up divisions to make and market films specifically for the 'faith audience'.
I WOULD RATHER WATCH A GOOD FILM MADE BY AN ATHEIST THAN A BAD FILM MADE BY A CHRISTIAN
A YEAR OF GOD ON SCREEN
Last year began with mixed expectations concerning Darren Aronofsky's Noah. Paramount held test screenings in autumn 2013, concerned at how the film would be received by faith communities. These previews did little to calm studio bosses' fears and, independently of the director, a number of revised versions were produced. However, Aronofsky's original version held sway and the film released in British cinemas last April was an 'imaginative' account – for which read 'not entirely faithful to Scripture' – of the events recorded in Genesis 6-9.
March saw the release of God's Not Dead, a low-budget apologetics film that made $62 million in worldwide sales (more than $60 million of which was made in the US). A month later came Heaven is for Real, the film adaptation of Todd Burpo's memoir of his son's out-of-body experience of heaven, which made $101 million worldwide. Apocalyptic thriller Left Behind, released in the autumn, was based on the popular series of novels. It had a much bigger budget but was less successful.
The year ended with the release of Ridley Scott's Exodus: Gods and Kings. While Noah took liberties with the Genesis story, Exodus was a more faithful and fairly straightforward retelling of Moses' adult life.
Few of these films grabbed the hearts of film critics, but several were undoubtedly successful with the audience for whom they were made: American churchgoers.
SHOULD WE FEEL OBLIGED TO WATCH FILMS MADE BY CHRISTIANS?
As religious-themed cinematography becomes par for the course, we may feel obliged to watch, or even endorse, the onscreen creations of Christians. But we shouldn't have to. If I have a burst pipe in my home, I will call the plumber whose work I know to be the best and the one who will arrive soonest. Whether that tradesperson is a Christian is of secondary importance.
If Christian screenwriters and directors want their films viewed and reviewed positively, give me a film that shouts loud enough without needing to drag in the views of its creators. I would rather watch a good film from an atheist director than a bad film made by a Christian. The first would probably make me think, while the second would almost certainly make me cross.
WHAT MAKES A FILM 'CHRISTIAN', ANYWAY?
On the one hand, we have Exodus, a fairly straightforward retelling of a biblical story directed by a filmmaker who is not known to have a personal faith. On the other hand, and from an earlier era, we have The Robe (1953), a work of imaginative fiction based around the character of the centurion at the cross and adapted from a book written by a Christian minister. Is one more 'Christian' than the other because of its author's faith?
Is Frozen (2013), with its sacrificial love theme, a Christian film? What about One Flew Over the Cuckoo's Nest (1975), in which the death of one character leads to the freedom of others? At some level the makers of these films were simply mining themes of sacrifice and salvation that are also found in scripture.
Other films seem to have a more intentional connection with biblical narrative.
During the 1930s, Jerry Siegel and Joe Shuster, the sons of Jewish immigrants, were respectively the writer and artist who created the Superman character. Their Superman was a type of Moses: dispatched by his parents to save him from certain death, then brought up in a foreign land to become a saviour for his people.
In the New Testament, Matthew makes the connection between Jesus and Moses, so perhaps it isn't surprising that a connection has more recently been made between Superman and Jesus. In Superman Returns there are a plethora of visual and verbal references to Jesus.
In a voiceover, Superman's father says to his son: 'You will see my life through your eyes, as your life will be seen through mine. The son becomes the father. And the father, the son.' Bryan Singer, raised in a Jewish New York home, has used conscious religious symbolism and language. But is Superman Returns a 'Christian' film?
SUPERMAN: BROUGHT UP IN A FOREIGN LAND TO BECOME A SAVIOUR FOR HIS PEOPLE
THE NARRATIVE OF NARRATIVES
In Acts 17, we read Paul's address to the Athenians in which he quotes from pagan poets. He takes words originally written about Zeus and uses them to describe the God of Abraham, Isaac and Jacob. The words were not 'Christian', but Paul believed that God's Spirit spoke through them.
Jesus takes a more subtle approach. Some of the stories he told – such as the parable of the Rich Man and Lazarus – appear to have their roots in existing folktales, into which Jesus has breathed new life. Sometimes he offered an explanation, but often he left it to his audience to make up their own minds.
The best films tell the best stories best. They are the parables of the modern age that remain in the viewer's mind without laying a message on thick. Regardless of the faith stance of the director or how apparently irreligious the subject matter, the most powerful films open the eyes, ears and hearts of their viewers to the overarching narrative: the Gospel of Jesus Christ.
Click here to receive your free copy of Premier Christianity magazine.